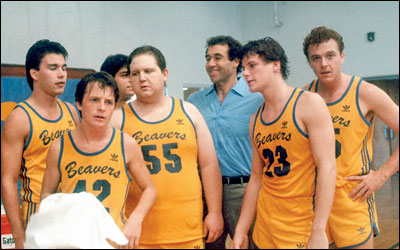 MGM owns the rights to the 1985 Michael J. Fox starrer 'Teen Wolf.' The company's TV division is now teaming with MTV for an hourlong series version.
James Bond may be on hold at MGM, but "Teen Wolf" is a go.
Even as the Lion faces a very uncertain future, execs on the TV side of the studio are quietly working to set up new business and expand existing ventures, such as the This TV digital movie service. Feature activity at MGM is largely in limbo, save for a handful of long-gestating projects, because of the studio's debt crisis and larger financing commitments required by movies.
But Jim Packer and Gary Marenzi, the industry vets who are co-presidents of MGM Worldwide TV, are still actively hunting for deal opportunities and partnerships to keep some level of activity going at the studio while its long-term situation is sorted out by the steering committee of creditors who hold the bulk of MGM's $3.7 billion in outstanding debt.
Last week, MTV ordered 12 hourlong episodes of a smallscreen rendition of the Lion's 1985 cult-fave pic "Teen Wolf," to be co-produced by MGM and MTV, with MGM controlling worldwide distribution rights. The "Teen Wolf" pilot is being screened for international buyers in town this week for the L.A. Screenings.
On Tuesday, MGM announced a carriage extension agreement with Tribune Broadcasting for its 18-month-old This TV service, a 24/7 movie channel designed to be carried by local broadcast TV stations as a digital multicast offering. MGM was the most aggressive of Hollywood's majors in developing a programming service for local stations as the nation made the transition to all-digital broadcasting.
This TV started slowly in its November 2008 debut, but it has since been picked up by stations covering about 85% of U.S. TV households. The new pact with Tribune gives This TV a clearance in New York for the first time, via Tribune WPIX-TV, as well as expanding to other Tribune stations in Miami, St. Louis, San Diego and Grand Rapids, Mich. The channel is also getting significant carriage on cable systems, as local stations push for the inclusion of their This TV subchannel as part of retransmission consent deals with cable operators.
MGM continues to produce new segs of the "SGU Stargate Universe" drama for Syfy. And execs are actively mining the Lion's extensive film and TV library for remakes and reboots along the lines of the "Teen Wolf" model. MGM's Chris Ottinger spearheaded the packaging and sale of the project to MTV.
MGM's dealmaking ability is certainly compromised by the cloud of the debt problem that became acute for MGM late last summer, and the auction process that drew underwhelming bids from a handful of suitors. But Packer's focus is on making the most of what they've got — and with a library of 4,100 pics and 10,000 hours of TV programming, they've got a fair amount to work with.
"We have a solid core of an asset here and if you work it properly, good things will happen," Packer said. "Obviously there's a lot of chatter around (about MGM) and that makes for a difficult situation. But I look at This TV as an amazing example of what you can do by taking advantage of a market opportunity, which was the opening of the digital spectrum."
This TV has garnered enough distribution to allow MGM to cut a deal with Nielsen Media Research to provide ratings for the channel. That in turn will allow MGM to expand its ad base beyond direct-response spots. MGM and its This TV partner, Chicago-based Weigel Broadcasting, make the service available to stations in exchange for 50% of the ad time in each hour, or about six minutes.
As the local TV ad market has improved, This TV is becoming a vehicle for local TV stations to tap into smaller advertisers who might not be able to afford a spot on the operator's primary station, Packer said. MGM and Weigel package their spots for sale to national advertisers.
Beyond U.S. shores, the Lion has MGM-branded movie channels operating in 130 countries, with an aud base of about 75 million. It's a steady source of income that has helped keep the lights on for Leo during its most recent rough patch.
A decision on the next step for MGM is expected in the next few weeks. The studio faces a July 14 deadline for making a large debt payment, although those deadlines have been extended several times during the past nine months as creditors and senior management grapple with finding a way out for the Lion. That group is believed to be focused on recruiting a strategic partner that could provide enough of a cash influx to keep MGM going as an independent entity, probably at a much downscaled level on the film side. An outright sale also remains a possibility, although the options there are limited to the last bid standing from Time Warner, believed to be around $1.5 billion.
In the meantime, Packer and Marenzi and their exec teams are working all of their industry relationships and connections to keep MGM as active as possible.
"We're not the kind of group that's just going to sit around," Packer said. "There are some things that we'd like to be doing that are trickier now, but we're persevering. We're hoping a resolution of the company's situation comes quickly and in a way that is most effective for this company and its assets."