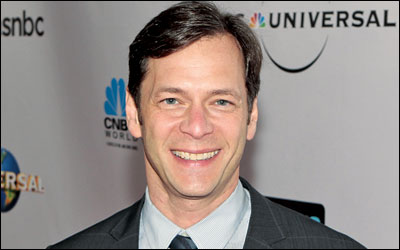 NBC Universal TV Entertainment chairman Jeff Gaspin found himself dousing yet another house fire on Thursday.
Chalk that up to the hazards of taking over one of the most treacherous jobs in TV: saving the Peacock network.
Thursday's drama was fueled by rumors that "Law and Order" had been axed, even as NBC execs insisted that talks with Dick Wolf and its sibling Universal Media Studios were still ongoing.
On a brighter note, Gaspin was also poised to pull the trigger on news that would send fans into fits of joy, giving a long-awaited renewal to cult fave "Chuck."
But the Wolf flap repped the latest in a series of challenges that the unflappable Gaspin has tackled since taking on the job last July.
The "Law and Order" negotiation, of course, isn't even the most difficult issue of his tenure, as he was front-and-center in January's "Tonight Show" scuffle. Gaspin took the credit — or blame — in January for giving Jay Leno back the 11:35 p.m. timeslot, which eventually led to Conan O'Brien's departure.
Gaspin's most pressing issue now (besides making amends with Wolf) is restoring NBC's once-dominant and now also-ran primetime perf.
The Peacock has already picked up six pilots: dramas "Undercovers," "Chase" and "The Event"; romantic anthology "Love Bites"; and comedies "Perfect Couples" and "Outsourced." And they're not done.
NBC is expected to order a few more, including Jimmy Smits starrer "Garza" — now known as "Outlaw" (from O'Brien's company, believe it or not); "Harry's Law" (the David E. Kelley project formerly titled "Kindreds"); superhero entry "The Cape"; and laffer "Friends With Benefits."
Given the roller-coaster tenure of Ben Silverman — whose exploits were covered as extensively as NBC's primetime performance — the presence of Gaspin has added a sense of stability to the still-fragile network. Gaspin spoke to Daily Variety this week about what's in store for NBC.
What's different this year at NBC?
We had a goal from the beginning of the development season to create an environment that supported the creative process. And one of our goals was to just stabilize the network. I think we've accomplished a lot of that.
Describe Jeff Gaspin's guide to restoring the trust with the creative community.
You have to make a bold statement that you want them to come in and use NBC as a great outlet for their thoughts and ideas. You try to keep as much stability on the schedule as possible. Clearly, we made some big changes post-Olympics, but we were very stable in primetime once we made our changes. You can't look like you're panicked and making changes left and right. We invested in our development and our content in a big way. I remember the first thing Jeff Zucker said to me when I took the job was, 'Do we have enough? Are we putting enough money into development?' The answer was no. We need to reinvest in NBC. I don't want to say he backed up the Brinks truck, but he did (what was) needed.
Can you quantify what you spent on pilot season this year?
I would say it was probably about 40% more than we spent last year on development. We also added to promotion, so we had the promotional funds post-Olympics to launch new series. And we have more promotional dollars available for the fall as well. It wasn't one lump sum, it was a realistic number to invest in development, promote that development and have a shot at success. It was a full yearlong investment.
Is that something you can do every year, or is this a one-time gamble?
I think the goal will be to try to keep at these levels at this point going forward. We retreated for several years. We used this year to reinvest, and hopefully, we have now set a new level for us in terms of how much we're going to spend.
Where do those funds come from?
In a way, all the belt-tightening we did over the last several years allowed us, as the economy rebounded and some of our businesses improved, to actually take some of that money and reinvest it.
Compared to what your rivals spend on pilot season, where would you place NBC?
I think we're probably in the middle. There are some we do more than, and some we still do less than.
How is the impending Comcast merger impacting development?
We're just operating as NBC Universal, and my team is just concentrating on shows.
Have Comcast's Brian Roberts or Steve Burke been briefed on pilots and scheduling?
Nope, it's still church and state.
What's Jeff Zucker's involvement in this year's pilot process? Is he in the scheduling room?
I've been partners with Jeff for 10 years now back at the network. Jeff has been involved, not in every meeting, but some meetings I have with just the two of us, and some we have with the broader group. I really appreciate his instinct. And I need somebody to challenge me on my thinking. And your boss is always a better person to offer that to you than those that work for you.
Is there an air of uncertainty right now? There is talk, of course, about potential changes at NBC Entertainment, perhaps after the Comcast deal is done. Will the folks who developed this fare still be in place to see it through?
We have lived with mergers and acquisitions and divestitures for a long time. We know how to operate business as usual until deals close. Simple as that. I've had a great time with this team, and I think they've done an amazing job this development season. We all know we live and die by our sword. We are extremely excited about what we have to present on Monday to our advertisers.
By Thursday, you had already picked up six shows. What was the strategy there?
After we screened our pilots, Angela (Bromstad) and her team made a real plea, "If we pick these shows up early, we can start staffing and get a jump start." We were scratching our heads — what are we holding these decisions for? So we can make a big splash next week at upfronts? Because that seems silly. When we realized that was the main reason we were holding back decisions, we said, "No, let's just go for it."
How many shows can you launch in the fall?
I don't know what the right number is. I don't know that there's a formula. And if you go by the old rules, it will stop you from taking some chances. I think the rules have changed. We need to put on the shows that we feel good about. We're trying not to stick to any convention.
NBC's pickups appear to be a little more like what you might find on USA. Is that by design?
I don't see how you can't not look at the success of USA and say to yourself, how did they do it? How did they launch so many shows so successfully? I don't care what channel you work for, what network you work for, you can't be impressed by what they accomplished and to some extent emulate it. I suspect there will be a lot of imitators. Both here and at our competition.
Had NBC been giving the wrong message to the creative community?
Honestly, I don't know what message NBC was giving. I wasn't part of that process for quite a few years. I know that when I came back in July, we were well underway in sending the message (that) that we want your best projects, we'll pay for them and we'll give you creative freedom.
What blowback did the network get?
I think we had to make a few extra phone calls, we had to personally call J.J. (Abrams) and David (E. Kelley) and Jerry (Bruckheimer) and their teams and work with Peter Roth over at Warner Bros. Many different executives at different times. We had to put a few more dollars on the table. We know in some cases we were not the first choice. But in the end all that mattered to us was that we got the projects.
At the time, there was question of being able to do a 10 p.m. show for NBC.
Most of the hit shows on TV right now are on at 8 and 9. To argue that you couldn't get a show on the net because we didn't have a 10:00, then you'd be arguing that you also wouldn't go to Fox, and you'd be missing the opportunities that are there at 8 and 9.
Was there an opportunity to go back and edge things up once 10 opened up?
Honestly, no, it was just the simple message that we now have five new hours to program. Whatever you do at 10 I think you can do at 9.
What's the holdup with the "Law & Order" negotiations?
We hope and expect to be in business with Dick Wolf for years to come. We're still working on some details.
It's been four months since the "Tonight Show" mess. Is there anything you would have done differently?
I'm sure there are things I could have done differently. But I'm kind of beyond it at this point. This is an odd analogy, but we just moved to a new house three weeks ago, and we can't even remember the old house. We haven't even traveled the route accidentally to the old house. This is the new house for NBC. This is our schedule going forward. You don't look back. You just don't. I think that's human nature. What good does it do me? I have to really focus on looking forward. Here's where I am now — where do I want to get to and how do I get to it?
Are you satisfied with Jay's performance?
Jay's doing great. He's No. 1 in his timeslot for all but I think two days since he came back into latenight. He works his ass off. I couldn't ask for more right now.
Why did you tell the New York Times that Conan O'Brien wasn't competition now that he's moved to cable?
That was taken a little bit out of context. I did not intend to be glib about Conan or cable. I think Conan is very talented, and I truly wish him well. And you know how much success I've personally had in cable, and NBC Universal has had in cable. All I'm pointing out is that story is not my focus any more.
Why did you pick up all three midseason reality shows?
When we made the choice to go back to shows at 10, we didn't have a lot to choose from. We had to come up with things we could do relatively quickly. "Who Do You Think You Are" and "Minute to Win It" we didn't promote all that much, and far exceeded our expectations. The audience is finding those shows on their own. "Marriage Ref" we helped guide the audience there. Seeing comedy perform well at 10, which is not a traditional comedy time period, we felt it deserved its pickup.
And you own "Minute to Win It."
It didn't have anything to do with being inhouse, other than we could turn it around quickly.
Anything unique you're doing financially this year?
This is not about who can we help pay for our content. This year is really about finding the best shows and then finding a way to put the on the schedule, and then hopefully there's a robust upfront market that gives us an upside on CPMs, combined with a financial expectation that is more realistic.
Are you bullish on the upfront marketplace?
Scatter has been very strong, there seems to be a real desire to do business. I think as we found out over the years and as many consumer companies have found, you can only spend less for so many years before your share starts to erode. And that happens in every business out there. You have to be competitive. You can all pull back one year because of the economy, but you cant do that year after year. Inevitably your competition doesn't.
With "Lost" and "24" going off the air, and Simon Cowell leaving "Idol," you see opportunity in midseason?
You have to look at what's going on at the competition to know that it's not necessarily as scary in the spring as it has been.
What's the long-term impact of sites like Hulu?
We know as a marketing tool it's still stronger than ever… Streaming in general, I think we're getting to a point where we have to assess streaming as a strategy. We always look to find that moment where watching online is as valuable as watching on air. And we're actually getting a little closer. It's just not enough yet. At some point you hope there's a world where no matter where people watch, you get the credit for it. And it's the same value on-air, online, mobile, wherever you go. That you get to monetize that viewing. There's no question people want to watch it when they want and where they want. And you've got to be in that game.
Are you satisfied with how Nielsen is currently measuring your programs?
We need to get credit for all the viewers that are watching our content. We know that linear viewing is down. But we also know that non-linear viewing is increasing exponentially. And we have got to get credit for that.
Has Nielsen been responsive?
I think they have been responsive but we have a long way to go.
How have you balanced picking up inhouse productions vs. outside suppliers?
The first priority was just to put the best shows on. That really was our thinking. As it happens 60 percent of the schedule or more will still be NBC U owned product. Warner Bros. Is our largest third-party supplier this year, and as it happens we picked up many of those shows. That still accounts for less than 50% of both our pickups and our schedule. Because there are so many targeted players in broadcast and cable, some shows don't work for everybody. If you develop a show that would have a better home elsewhere, we'll certainly consider that. But our first priority is clearly going to be NBC.
What's the mood in the scheduling room?
It's always a little harder than you think its going to be. There are great debates that go on. Good points that are made by various people throughout the process. Seventy-five percent of the schedule there's consensus and 25% there was great debate.
What's the message going to be when you hit the stage at the New York Hilton this Monday?
The message is really simple. The shows are what's important. This is not about me, this is not about Angela, this is not about Jeff. This is about the content that we're putting back on NBC. This is about the executive producers we're working with, this is about the talent we're putting on air. This is about NBC sending a message to the advertising community, to the creative community, that we're excited about the content we have to offer for the fall.
Turner will likely take on the networks next week in its upfront presentation — and if history is a guide, NBC will likely be the whipping boy in particular.
Why should I be the whipping boy if I'm supplying them all of their content?
As someone who wears both hats, what do you make of that strategy and their message?
I like the guys at Turner, they're smart, they have some good shows. I do get a little confused by being bold about emulating broadcast. They don't seem to celebrate cable as much as they knock broadcast. Not quite sure about that philosophy, quite honestly.
What will be the barometer for success this fall?
Certainly you'll just have to look at our performance. And you can make judgements about our creative and whether you think it has improved or not. But in the end, the ratings will speak for themselves.