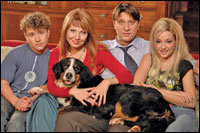 A quality scripted show never really gets canceled — it just hits the road.
With world television markets remaining economically challenged, international TV buyers have become more interested in buying scripted formats from U.S. studios and turning them into local comedies and dramas.
Adapting a show is much less expensive than buying the original, and the adaptation is often just as popular, if not more so. And selling adaptations allows studios to continue to monetize their libraries years after the original shows have ended their runs on U.S. networks.
It's not a new trend — Sony has been doing it for nearly two decades – but it's an expanding one. Fox has has gotten into the business in the last 18 months, and Warner Bros. is currently setting up shop in the U.K.
"Using a brand that is already well-known makes it easier for consumers to find it," says Ronald Goes, exec veep and head of international television production for Warner Bros. Intl. Television. Goes was hired in August to set up Warners' international local production shop.
Goes notes that local producers in France are picking up storylines of "Without a Trace" and adapting them for the French market, using French actors and production teams. The U.S. version of "Without a Trace" already airs on France 2, which Goes thinks will only benefit the adapted version.
"The advertising recession hurt the international markets even more than the domestic market," says former NBC Entertainment honcho Ben Silverman, founder and CEO of IAC's Electus, which is focused on creating formats and distributing them globally. "An opportunity to come in there with a known brand is really helpful."
With production costs problematic while ratings decline, U.S. studios and producers are always looking for new ways to monetize their content. One way to do that is to reach back into libraries and turn musty old formats into shiny new brands.
"We're doing 'I Love Lucy' and 'The Odd Couple' in several territories, and we're getting ready to do 'Numb3rs' in a couple of territories," says Paul Gilbert, senior veep of international formats for CBS Studios Intl. "We've also got deals pending for 'Love Boat' and 'Dynasty.'
"Obviously some tweaking will need to be done with these shows, but if you've got a 50-60 page script for an hour-long show, at least you've got something to start with."
Sony is credited with starting the business of selling popular U.S. scripted brands into foreign markets. Nearly 20 years ago, Sony sold "Married with Children" into Germany, and even today, a local version of the sitcom is popular in Russia. Local versions of Sony's mid-'90s hit sitcom "The Nanny" still air across the globe.
"Just like 'Married with Children' was considered groundbreaking here, it's considered groundbreaking in Russia," says Jeff Lerner, senior veep of international production at Sony Pictures TV. "Sony has this library of very successful series. There are universal themes in these stories that work in a lot of different cultures."
Adapting the shows means rewriting the original scripts with a team of local writers to include jokes and situations that are familiar to local audiences. "It's the United Nations," jokes Lerner.
"What makes a show work internationally is the same thing that makes it work here," says Marion Edwards, prexy of 20th Century Fox Intl. Television, which has licensed 40 episodes of its off-CBS hit "How I Met Your Mother" to Russian television for local adaptation. "Any good TV show has to be bigger than the moment in which it lives."