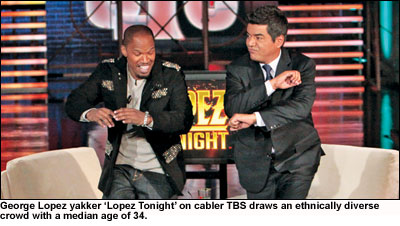 Attracting Conan O'Brien is a watershed moment for TBS, the one-time Atlanta superstation that morphed into a basic cable titan, and has focused on laughs since a mid-2000s makeover.
More recently, TBS has made huge latenight strides in a short period of time, thanks to the arrival of George Lopez's "Lopez Tonight" five months ago.
Lopez, who was instrumental in persuading O'Brien to come to TBS, will now be paired with O'Brien to make up a two- hour, Monday-through-Thursday chat block — which the net hopes will entice viewers to a previously unfamiliar channel.
Although the coin put down to land O'Brien is clearly more than TBS has spent for anything in its programming slate, Turner's laffer-centric net — which split off from drama-oriented TNT — can now brand itself as a true comedic destination with a potent latenight doublebill.
"Conan is the kind of personality who will bring people to TBS who might not have been with us before," Turner Entertainment Networks president Steve Koonin told Daily Variety . "We're heavily investing in comedy and believe Conan is the exact person who can kickstart this."
"Lopez Tonight" averages 1.2 million viewers and attracts an ethnically diverse aud with a median age of 34.
It's difficult to say how Lopez's numbers will be affected by O'Brien's arrival: He could benefit by having O'Brien as a lead-in, but may lose viewers with the later start time.
Koonin said he felt O'Brien's chances for success on "The Tonight Show" at NBC were hurt because of poor lead-ins, specifically local newscasts around the country that were suffering ratings woes due to the weak numbers for "The Jay Leno Show" at 10 p.m.
Koonin offered that TBS' lineup leading into 11 p.m. will give O'Brien a much better chance for success.
Citing skeins such as "Family Guy," "The Office," "My Boys" and "Tyler Perry's House of Payne," Koonin said O'Brien will be a perfect complement to TBS' laffer lineup and a serious alternative to broadcast competition. Network also has two original skeins in the pipeline: "Are We There Yet?" and "Neighbors From Hell."
Many of the network's existing comedies play to a broader audience — Perry also exec produces "Meet the Browns" and other offnet pickups for TBS include "My Name Is Earl," "Friends" and "Sex and the City" — and Koonin reiterated that O'Brien's humor would be a good fit.
"Having a once in a lifetime chance to pick up a guy like Conan was too good to pass up," Koonin said.
TBS' new offering "Are We There Yet?" preems June 2 and stars Terry Crews ("Everybody Hates Chris") and Essence Atkins as a newly married couple dealing with a blended family. Ice Cube, who starred in the theatrical pics, exec produces and also appears. Series comes to TBS from Debmar-Mercury, Cube Vision and Joe Roth's Revolution Studios. Roth, Matt Alvarez and Ali LeRoi also exec produce.
Like TBS' two Tyler Perry comedies (also distributed by Debmar-Mercury), "Are We There Yet?" is designed to be produced for at least 100 episodes, allowing for an instant strip.
TBS is also set to premiere "Neighbors," a 30-minute toon from DreamWorks Animation, on June 7. Pam Brady, who wrote the pilot episode, and Mireille Soria are exec producers. Molly Shannon, Will Sasso and Patton Oswalt provide voices for this series about a family from hell who come to Earth and act as typical suburbanites.