It wasn't that long ago that pubcaster Czech TV caused consternation by showing little interest in airing "Citizen Havel," a documentary about Vaclav Havel, the dissident who became president of the Czech Republic.
With nearly 3,000 employees and roots dating to the Cold War as the state's primary agitprop tool, Czech TV has been slow to change since 1989's Velvet Revolution, say many industryites.
The 2005 spat over "Citizen Havel" was in many ways typical of the lumbering institution's past.
Fast-forward five years and things are very different.
Alena Mullerova, head of longterm program strategy and development for Czech TV, is opening up the pubcaster — which runs terrestrial webs CTV and CT2, and digital channels CT24 (news), CT4 (sports) and CT HD — to more challenging, engaging and relevant local documentaries and non-fiction series.
Czech TV is also creating a program development department.
"Documentaries are the priority," Mullerova says, along with educational programming.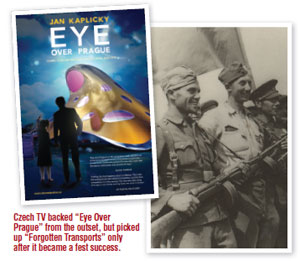 The pubcaster, in concert with the Czech Cinematography Fund, is one of the primary sources of support for most Czech films, and has enormous influence over what gets produced. Czech TV provides backing more in the form of expensive technical support — crews, gear and editing facilities, plus promotions and broadcasts — than in cash.
However, there are other funding sources. The Ministry of Culture hands out nearly $14 million a year to filmmakers plus a further $9.2 million annually through 2011, thanks to new coin from digital TV licenses.
This money has contributed to the bumper crop of new Czech films, running at 35 to 40 a year.
It also means that the pubcaster doesn't have to ante up co-production support and can cherrypick the docus it wants to buy.
Because of this, Czech TV now boasts a docu and public affairs portfolio with an increasing number of creative and provocative projects that have more international appeal.
They include: "Eye Over Prague," about architect Jan Kaplicky's controversial plan for an ultra-modern building to house the National Library, axed by the government in 2008; Filip Remunda and Vit Klusak's "Czech Peace," a comical look at the geopolitics of the proposed U.S. anti-missile radar base in the Czech Republic; and "Forgotten Transports," a series of four feature-length Holocaust docus about Jews deported to virtually unknown camps.
But some of the most promising local docus, and those winning fest berths and distribution interest abroad, aren't necessarily backed by Czech TV, at least at first.
Lukas Pribyl, who spent 10 years combing archives and finding witnesses and survivors for "Forgotten Transports," says it's understandable that the station would hesitate to co-produce such a vast project by a first-time filmmaker.
"In the beginning, my vision was all I had," he confesses.
However, after the docu won over foreign fest auds, Czech TV bought rights to his series and is running it in primetime. "It's a huge institution and they want a safe bet," he says.
On the plus side, producer Eliska Kaplicky Fuchsova says Czech TV was the only station willing to co-produce her "Eye Over Prague," after commercial broadcasters shied away because of the political controversy over the library project.
"Program director Katerina Fricova is really a very brave lady who backed us in the moment when all the political representatives, including then president Vaclav Klaus, were against the architecture project," says Kaplicky Fuchsova.
At the same, time, the pubcaster could do more, she adds.
"Czech TV is a big player, and it should be co-producing the films and representing them abroad," she says, although her docu has attracted attention from U.K. buyers. "Czech TV is receiving only the benefits of the films and not (taking) the risk."
Klusak and Remunda won Michael Moore's admiration with their "Czech Dream," a send-up of consumer-mad Prague shoppers. Their "Czech Peace" was co-produced by Czech TV. Now they are scouting other docus for the pubcaster via their Hypermarket Film production company.
Zuzana Drazilova, meanwhile, says Czech TV stepped up early to back her seven-part look at daughters of Czech Cold War political prisoners, "Children of Stalinism," which has since won kudos at the WorldFest independent film festival in Houston, Texas, and a berth at New York's Indie Film and Video fest.
But she's been frustrated by the broadcast timeslots assigned to the show: non-primetime on weeknights in the fall.
"I'm not saying foreigners shouldn't see it," Drazilova says of her project. "But Czech people are first in line because they should see it."
Jana Svehlova, a colleague of Drazilova's whose mother was a political prisoner, believes that Czech TV's evolution is like that of the country's society at large; it has to admit past mistakes and move on.
The real enemy, she says, is "indifference and forgetting."