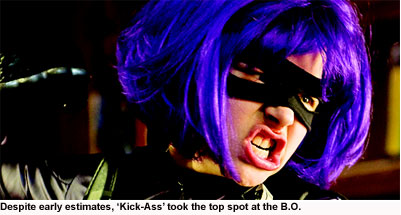 For the second consecutive week, the top two spots at the domestic box office have swapped places, with this week's No. 1 position going to Lionsgate's superhero comedy "Kick-Ass."
Pic's revised weekend figures held steady on Monday at $19.8 million, while Paramount and DreamWorks Animation's 3D toon "How to Train Your Dragon" dropped from its estimated $20 million to a revised $19.6 million.
The B.O. shuffle comes a week after Warner Bros.' "Clash of the Titans" was renamed the B.O. champ with its weekend actuals, ousting 20th Century Fox laffer "Date Night."
In its soph sesh, "Date Night" saw a solid hold of 34%, claiming the No. 3 spot with $16.7 million, while actuals for "Clash" totaled $15.5 million. Cume for "Date Night" stands at $48.7 million; "Clash" has reached $132.6 million in its third frame.
Without any major tentpole releases entering the market in the past two weeks, solid holdovers have been pitted against aud-specific debuts like "Date Night" and "Kick-Ass."
"Kick-Ass," about an average teenager who dons a superhero persona, played best among young males, with a 60%-40% male-female split. The pic's healthy launch could bode well for "Kick-Ass" in repeat frames, as Lionsgate hopes fanboy enthusiasm will help fuel strong word of mouth among wider demos.
"'Kick-Ass' is fantastic, highly original entertainment, and our marketing and distribution teams have brilliantly positioned it for a long and successful run," Lionsgate prexy Joe Drake said in a statement. "That kind of run is precisely what we are seeing on the international front, where 'Kick-Ass' has demonstrated a very strong hold at the box office."
The film has grossed some $13.8 million internationally, since its early bow overseas April 2.
Meanwhile, "Dragon" saw a strong hold in its fourth frame, slipping just 21%. The toon's 3D component helped boost holdover potential, which accounted for 65% of the weekend take on 56% of the total location count.
"Dragon," whose cume reached $158.3 million as of Monday, should have a clear playing field until Par/DWA's "Shrek Forever After" is released May 21.