Click here for Tony news and features
Gallery: 2010 Tony nominations
"Fela!" and "La Cage aux Folles" led the list of 2010 Tony Award nominations with eleven nods each. "Fences" notched ten, while "Memphis" garnered eight.
"Fela!" and "Memphis" vie for the top new musical prize with "American Idiot" and "Million Dollar Quartet."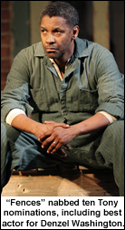 New play competish comes down to three American entries — "In the Next Room or the Vibrator Play," "Next Fall" and "Times Stands Still" — and one Brit import, "Red."
In a star-heavy season, several big-name thesps walked away with noms also, including Denzel Washington ("Fences"), Catherine Zeta-Jones ("A Little Night Music"), Christopher Walken ("A Behanding in Spokane"), Jude Law ("Hamlet") and Scarlett Johansson ("A View from the Bridge").
The nominations were announced this morning at 8:30 a.m. EST by Lea Michele and Jeff Daniels.
The ceremony for the 64th annual Tony Awards is set for June 13.
And the nominees are:

PLAY
"In the Next Room or the Vibrator Play"
Author: Sarah Ruhl
Producers: Lincoln Center Theater, André Bishop, Bernard Gersten
"Next Fall"
Author: Geoffrey Nauffts
Producers: Elton John and David Furnish, Barbara Manocherian, Richard Willis, Tom Smedes, Carole L. Haber/Chase Mishkin, Ostar, Anthony Barrile, Michael Palitz, Bob Boyett, James Spry/Catherine Schreiber, Probo Productions, Roy Furman, Naked Angels
"Red"
Author: John Logan
Producers: Arielle Tepper Madover, Stephanie P. McClelland, Matthew Byam Shaw, Neal Street, Fox Theatricals, Ruth Hendel/Barbara Whitman, Philip Hagemann/Murray Rosenthal, The Donmar Warehouse
"Time Stands Still"
Author: Donald Margulies
Producers: Manhattan Theatre Club, Lynne Meadow, Barry Grove, Nelle Nugent/Wendy Federman

MUSICAL
"American Idiot"
Producers: Tom Hulce & Ira Pittelman, Ruth and Steven Hendel, Vivek J. Tiwary and Gary Kaplan, Aged in Wood and Burnt Umber, Scott Delman, Latitude Link, HOP Theatricals and Jeffrey Finn, Larry Welk, Bensinger Filerman and Moellenberg Taylor, Allan S. Gordon/Elan V. McAllister, Berkeley Repertory Theatre, Awaken Entertainment, John Pinckard and John Domo
"Fela!"
Producers: Shawn "Jay-Z" Carter and Will & Jada Pinkett Smith, Ruth & Stephen Hendel, Roy Gabay, Sony Pictures Entertainment, Edward Tyler Nahem, Slava Smolokowski, Chip Meyrelles/Ken Greiner, Douglas G. Smith, Steve Semlitz/Cathy Glaser, Daryl Roth/True Love Productions, Susan Dietz/Mort Swinsky, Knitting Factory Entertainment, Alicia Keys
"Memphis"
Producers: Junkyard Dog Productions, Barbara and Buddy Freitag, Marleen and Kenny Alhadeff, Latitude Link, Jim and Susan Blair, Demos Bizar Entertainment, Land Line Productions, Apples and Oranges Productions, Dave Copley, Dancap Productions, Inc., Alex and Katya Lukianov, Tony Ponturo, 2 Guys Productions, Richard Winkler, Lauren Doll, Eric and Marsi Gardiner, Linda and Bill Potter, Broadway Across America, Jocko Productions, Patty Baker, Dan Frishwasser, Bob Bartner/Scott and Kaylin Union, Loraine Boyle/Chase Mishkin, Remmel T. Dickinson/"Memphis" Orpheum Group, ShadowCatcher Entertainment/Vijay and Sita Vashee
"Million Dollar Quartet"
Producers: Relevant Theatricals, John Cossette Productions, American Pop Anthology, Broadway Across America, James L. Nederlander
BOOK OF A MUSICAL
"Everyday Rapture"
Dick Scanlan and Sherie Rene Scott
"Fela!"
Jim Lewis & Bill T. Jones
"Memphis"
Joe DiPietro
"Million Dollar Quartet"
Colin Escott and Floyd Mutrux
ORIGINAL SCORE (MUSIC AND/OR LYRICS) WRITTEN FOR THE THEATRE
"The Addams Family"
Music & Lyrics: Andrew Lippa
"Enron"
Music: Adam Cork
Lyrics: Lucy Prebble
"Fences"
Music: Branford Marsalis
"Memphis"
Music: David Bryan
Lyrics: Joe DiPietro, David Bryan

REVIVAL OF A PLAY
"Fences"
Producers: Carole Shorenstein Hays and Scott Rudin
"Lend Me a Tenor"
Producers: The Araca Group, Stuart Thompson, Carl Moellenberg, Rodney Rigby, Olympus Theatricals, Broadway Across America, The Shubert Organization, Wendy Federman/Jamie deRoy/Richard Winkler, Lisa Cartwright, Spring Sirkin, Scott and Brian Zeilinger
"The Royal Family"
Producers: Manhattan Theatre Club, Lynne Meadow, Barry Grove
"A View from the Bridge"
Producers: Stuart Thompson, The Araca Group, Jeffrey Finn, Broadway Across America, Olympus Theatricals, Marisa Sechrest, The Weinstein Company, Jon B. Platt, Sonia Friedman Productions/Robert G. Bartner, Mort Swinsky/Joseph Deitch, Adam Zotovich/Ruth Hendel/Orin Wolf, Shelter Island Enterprises, The Shubert Organization

REVIVAL OF A MUSICAL
"Finian's Rainbow"
Producers: David Richenthal, Jack Viertel, Alan D. Marks, Michael Speyer, Bernard Abrams, David M. Milch, Stephen Moore, Debbie Bisno/Myla Lerner, Jujamcyn Theaters, Melly Garcia, Jamie deRoy, Jon Bierman, Richard Driehaus, Kevin Spirtas, Jay Binder, StageVentures 2009 Limited Partnership
"La Cage aux Folles"
Producers: Sonia Friedman Productions, David Babani, Barry and Fran Weissler and Edwin W. Schloss, Bob Bartner/Norman Tulchin, Broadway Across America, Matthew Mitchell, Raise The Roof 4 Richard Winkler/Bensinger Taylor/Laudenslager Bergrère, Arelene Scanlan/John O'Boyle, Independent Presenters Network, Olympus Theatricals, Allen Spivak, Jerry Frankel/Bat-Barry Productions, Nederlander Presentations, Inc/Harvey Weinstein, Menier Chocolate Factory
"A Little Night Music"
Producers: Tom Viertel, Steven Baruch, Marc Routh, Richard Frankel, The Menier Chocolate Factory, Roger Berlind, David Babani, Sonia Friedman Productions, Andrew Fell, Daryl Roth/Jane Bergere, Harvey Weinstein/Raise the Roof 3, Beverly Bartner/Dancap Productions, Inc., Nica Burns/Max Weitzenhoffer, Eric Falkenstein/Anna Czekaj, Jerry Frankel/Ronald Frankel, James D. Stern/Douglas L. Meyer
"Ragtime"
Producers: Kevin McCollum, Roy Furman, Scott Delman, Roger Berlind, Max Cooper, Tom Kirdahy/Devin Elliott, Jeffrey A. Sine, Stephanie P. McClelland, Roy Miller, Lams Productions, Jana Robbins, Sharon Karmazin, Eric Falkenstein/Morris Berchard, RialtoGals Productions, Independent Presenters Network, Held-Haffner Productions, HRH Foundation, Emanuel Azenberg, The John F. Kennedy Center for the Performing Arts, Michael Kaiser, Max Woodward
PERFORMANCE BY A LEADING ACTOR IN A PLAY
Jude Law, "Hamlet"
Alfred Molina, "Red"
Liev Schreiber, "A View from the Bridge"
Christopher Walken, "A Behanding in Spokane"
Denzel Washington, "Fences"
PERFORMANCE BY A LEADING ACTRESS IN A PLAY
Viola Davis, "Fences"
Valerie Harper, "Looped"
Linda Lavin, "Collected Stories"
Laura Linney, "Time Stands Still"
Jan Maxwell, "The Royal Family"
PERFORMANCE BY A LEADING ACTOR IN A MUSICAL
Kelsey Grammer, "La Cage aux Folles"
Sean Hayes, "Promises, Promises"
Douglas Hodge, "La Cage aux Folles"
Chad Kimball, "Memphis"
Sahr Ngaujah, "Fela!"
PERFORMANCE BY A LEADING ACTRESS IN A MUSICAL
Kate Baldwin, "Finian's Rainbow"
Montego Glover, "Memphis"
Christiane Noll, "Ragtime"
Sherie Rene Scott, "Everyday Rapture"
Catherine Zeta-Jones, "A Little Night Music"
PERFORMANCE BY A FEATURED ACTOR IN A PLAY
David Alan Grier, "Race"
Stephen McKinley Henderson, "Fences"
Jon Michael Hill, "Superior Donuts"
Stephen Kunken, "Enron"
Eddie "Red"mayne, "Red"
PERFORMANCE BY A FEATURED ACTRESS IN A PLAY
Maria Dizzia, "In the Next Room or the Vibrator Play"
Rosemary Harris, "The Royal Family"
Jessica Hecht, "A View from the Bridge"
Scarlett Johansson, "A View from the Bridge"
Jan Maxwell, "Lend Me a Tenor"
PERFORMANCE BY A FEATURED ACTOR IN A MUSICAL
Kevin Chamberlin, "The Addams Family"
Robin De Jesús, "La Cage aux Folles"
Christopher Fitzgerald, "Finian's Rainbow"
Levi Kreis, "Million Dollar Quartet"
Bobby Steggert, "Ragtime"
PERFORMANCE BY A FEATURED ACTRESS IN A MUSICAL
Barbara Cook, "Sondheim on Sondheim"
Katie Finneran, "Promises, Promises"
Angela Lansbury, "A Little Night Music"
Karine Plantadit, "Come Fly Away"
Lillias White, "Fela!"
SCENIC DESIGN OF A PLAY
John Lee Beatty, "The Royal Family"
Alexander Dodge, Present Laughter
Santo Loquasto, "Fences"
Christopher Oram, "Red"

SCENIC DESIGN OF A MUSICAL
Marina Draghici, "Fela!"
Christine Jones, "American Idiot"
Derek McLane, "Ragtime"
Tim Shortall, "La Cage aux Folles"
COSTUME DESIGN OF A PLAY
Martin Pakledinaz, "Lend Me a Tenor"
Constanza Romero, "Fences"
David Zinn, "In the Next Room or the Vibrator Play"
Catherine Zuber, "The Royal Family"
COSTUME DESIGN OF A MUSICAL
Marina Draghici, "Fela!"
Santo Loquasto, "Ragtime"
Paul Tazewell, "Memphis"
Matthew Wright, "La Cage aux Folles"
LIGHTING DESIGN OF A PLAY
Neil Austin, "Hamlet"
Neil Austin, "Red"
Mark Henderson, "Enron"
Brian MacDevitt, "Fences"
LIGHTING DESIGN OF A MUSICAL
Kevin Adams, "American Idiot"
Donald Holder, "Ragtime"
Nick Richings, "La Cage aux Folles"
Robert Wierzel, "Fela!"
SOUND DESIGN OF A PLAY
Acme Sound Partners, "Fences"
Adam Cork, "Enron"
Adam Cork, "Red"
Scott Lehrer, "A View from the Bridge"
SOUND DESIGN OF A MUSICAL
Jonathan Deans, "La Cage aux Folles"
Robert Kaplowitz, "Fela!"
Dan Moses Schreier and Gareth Owen, "A Little Night Music"
Dan Moses Schreier, "Sondheim on Sondheim"
DIRECTION OF A PLAY
Michael Grandage, "Red"
Sheryl Kaller, "Next Fall"
Kenny Leon, "Fences"
Gregory Mosher, "A View from the Bridge"
DIRECTION OF A MUSICAL
Christopher Ashley, "Memphis"
Marcia Milgrom Dodge, "Ragtime"
Terry Johnson, "La Cage aux Folles"
Bill T. Jones, "Fela!"
CHOREOGRAPHY
Rob Ashford, "Promises, Promises"
Bill T. Jones, "Fela!"
Lynne Page, "La Cage aux Folles"
Twyla Tharp, "Come Fly Away"
ORCHESTRATIONS
Jason Carr, "La Cage aux Folles"
Aaron Johnson, "Fela!"
Jonathan Tunick, "Promises, Promises"
Daryl Waters & David Bryan, "Memphis"