As a Texas-based right-wing corporate monolith, Clear Channel was never a great fit with Broadway. So when the company sold off its entertainment division in 2005 to focus on radio and billboards, Gotham's legit community didn't exactly crumble in tears at the loss of its investment money.
Over the past two years, the company known as Broadway Across America has quickly filled the Clear Channel void, investing in shows and taking over all of the old company's theaters on the road except Chicago. The differences are, well, clear, to the Broadway community.
"They're kinder, gentler," says one legit producer.
Clear Channel, with its vast network of theaters in the sticks, had used its road power to lock up such blockbusters as "Hairspray" and "Spamalot," but it also put its clout behind duds like "Dance With the Vampires" and "Lennon." And producers who resisted Clear Channel's investment money sometimes found it difficult to find enough theaters to book a national tour.
Now that Broadway Across America has come to the fore, the legit realm has embraced the change.
A creative who's worked on shows produced by both companies says, "The guys at Broadway Across America gave me very few notes, so I like them."
John Gore, after a long career in the West End, is CEO, launched BAA parent company Key Brand Entertainment in 2005. Beth Williams, who started up Clear Channel/SFX's producing arm in 1999 and toiled there briefly, is now head of production at BAA.
"This new company is only about 2 years, 2 months old," Williams says. "We started from ground zero, investing in other people's projects and rebuilding relationships."
Broadway producers have opined that Clear Channel was interested in producing largely so it could present productions on the road. BAA has put the emphasis back on producing, but not entirely.
"We own and control the pipeline, so we need stuff to put through it," Gore says of the 42 markets nationwide in which BAA presents. "We need to create the net to catch the next big one."
BAA has put as little as $100,000 into some Broadway shows, but "others are $500,000 and up to $1 million or more," Williams says.
So far, BAA's investments have paid off better than Clear Channel's.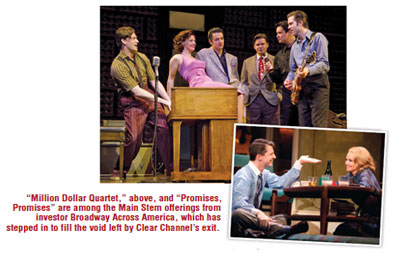 Under the umbrella of the new company, "Hair," "West Side Story," "A View From the Bridge," "Blithe Spirit" and "Boeing-Boeing" recouped; "A Little Night Music" looks likely to; after a shaky start, the weekly grosses of "Memphis" are growing nicely; and "Million Dollar Quartet," on which BAA takes its first lead-producer credit, recently opened to good notices.
That six-actor tuner about the historic 1956 Sun Records session with Elvis Presley, Carl Perkins, Jerry Lee Lewis and Johnny Cash had been doing well in Chi when its original producing team (Gigi Pritzker, Ted Rawlins and John Cossette) started to dream big, which led them to Williams.
"We felt BAA had the expertise and relationships that we needed not only in New York and the road but London. Initially, we thought we'd be going to London first," Pritzker says. "None of us had really done something on this scale before."
The trio wanted to keep the investor pool small on the $4 million budget show. "BAA, and the Nederlanders, were willing to put in the rest of the money," Pritzker adds.
If "Quartet" is the little tuner that could, "Promises, Promises" (set to open on April 25) looms as the big one this spring for BAA — the first production the company has done from the ground up, including the initial reading with Sean Hayes and Anne Hathaway.
The company also has another half-dozen stage projects in development, most of them original tuners, like Claudia Shear's stage adaptation of Natalie Babbitt's fantasy novel "Tuck Everlasting," with songs by Nathan Tysen and Chris Miller, and Casey Nicholaw at the helm. And there's a new musical by Harry Connick Jr. and David Grimm, with Connick to star under the direction of George C. Wolfe.
More immediate is the Broadway revival of "How to Succeed in Business Without Trying," starring Daniel Radcliffe, set for next spring that BAA is producing with its "Promises" lead producers, Craig Zadan and Neil Meron, for the 2010-11 Broadway season. If it clicks, it could be a marriage that turns the powerful Hollywood producing duo of "Chicago" and "Hairspray" into major legit players.
According to Meron, it was their CAA agent who played matchmaker with BAA. As Meron tells it, Bryan Lourd pitched them: "You guys are making a big mistake careerwise. In addition to movies and TV, you should be doing Broadway."
Regarding BAA, Zadan says: "It's a really good match because John (Gore) and Beth (Williams) have a whole aspect of stage production that we don't have. And we're able to bring our expertise in terms of (movie and TV) musicals and casting. We have all these talent relationships in Hollywood." (Zadan and Meron packaged the "Promises" team of Hayes, Kristin Chenoweth and director Rob Ashford.)
If the current zeitgeist prevails, the 1968 musical about philandering execs could play into two major cultural phenoms of the moment:
"?'Mad Men' is part of our thinking to bring back 'Promises,'" Gore says.
And then there's extramarital sex, 2010-style. "All these infidelities, from John Edwards to Tiger Woods and Jesse James," Meron says. "Once again, it demonstrates the hypocrisy of it all, which goes back to what 'Promises' is all about."