Once upon a time, the ultimate Hollywood ambition was to direct.
Nowadays, clients are more likely to tell their reps: "What I really want to do is polish scripts."
For Hollywood's dozen or so top-tier script doctors, that means commanding $250,000-$300,000 a week, being booked months in advance and keeping their efforts largely cloaked in anonymity.
Script rewrites have been part of the filmmaking process since the days when Irving Thalberg kept a stable of scribes competing for his affections at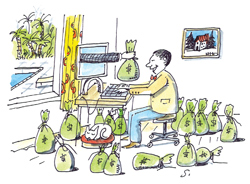 MGM. But in recent years, the trend of tapping the industry's most expensive writers to polish studio pictures has become a high-end cottage industry as the majors increasingly bank on tentpoles and seek the extra bit of insurance that comes from getting the second (or third, or fourth) opinion of writers they trust.
And it's not just studio execs. Stars such as Will Smith, Matt Damon and Vince Vaughn have their go-to writers who are brought in, at some point, on virtually all of their projects.
The current crop of in-demand rewriters is mostly male and differ in their levels of experience. Some have Oscars, which usually brings a salary bump. All are paid handsomely for polishes. David Koepp, Hollywood's reigning top-paid scribe for penning such scripts as "Indiana Jones and the Kingdom of the Crystal Skull" and "War of the Worlds," also leads a pack of script surgeons that includes John August, Jamie Vanderbilt, Aline Brosh McKenna, Steve Zaillian, Scott Frank, Akiva Goldsman, Brian Helgeland, Simon Kinberg, Dana Fox, Eric Roth, Gary Ross, John Logan, Lowell Ganz and Babaloo Mandel, Paul Attanasio, Allan Loeb, Aaron Sorkin, Susannah Grant and Ron Bass.
The downside, of course, is that so many hands on a screenplay can leave the voice of a picture disjointed at best and schizophrenic at worst. The results of test screenings and focus groups play a big part in driving the urgency for last-minute rewrites on pics that have already reached the post-production stage. And while even A-list screenwriters have had to endure rewrites, there's a hush-hush aspect to these jobs that makes the whole issue something that few in the creative community want to address. (A number of writers contacted for this story declined to speak for the record, as did numerous studio execs and talent reps.)
"This current system is broken," says one lit manager. "You have your midlevel writer responsible for most of the screenplay, and then the studio pays a ton of money for someone else to come in and own it, and it doesn't make for a cohesive thing."
For top-shelf scribes, however, the rewrite market is a welcome growth area at a time when film and TV salaries are getting slashed and studios are cutting back on their development spending and release slates. For the lucky few, it's steady work that's outrageously lucrative.
During the past year, studio fave Scott Frank came in to punch up dialogue on everything from Universal's remake of "The Thing" to Fox's upcoming Tom Cruise-Cameron Diaz starrer "Knight and Day."
Dana Fox, another scribe high on the script polishing food chain, also did work on "Knight and Day" and has become the favored script doctor for thesp Vaughn. Will Smith relies on Goldsman, and Damon counts on George Nolfi for 11th-hour dialogue tweaks.
Like talent, studios keep their favorite writers on speed dial. For instance, Sony frequently works with Zaillian, who was brought in during post-production for less than a week of uncredited emergency work on the upcoming Angelina Jolie starrer "Salt." Though Helgeland and Terry George had previously contributed to the Kurt Wimmer-penned screenplay before lensing began, Zaillian "did the Hail Mary at the end," as one insider described it, by writing material for reshoots.
20th Century Fox is partial to McKenna and Kinberg, who are known for their respective specialties: romantic comedy dialogue and action sequences. The two scribes did uncredited rewrite work on the Steve Carell-Tina Fey starrer "Date Night."
Some of the most frequently tapped polishers haven't had official onscreen credits in years. Jim Uhls, who has only one screenplay credit since penning "Fight Club" more than a decade ago, works regularly as an uncredited gun-for-hire. Shane Black, who once earned the distinction as Hollywood's highest-paid screenwriter, also is high on many studio wish-lists for being a closer.
But as rewriting becomes the norm, some biz veterans wonder if it is worth the extra time and expense.
In the view of one production prexy, the answer is "sometimes." But the exec cautions "sometimes you have to spend even more money to fix the problem created by the script doctor you just hired. It's a crapshoot."
Another production topper explains that spending big on late-stage revisions is a necessity.
"Once a movie is greenlit, you're no longer spending development dollars, so it's not speculative spending," the exec says. "You're now making an investment on making this the best movie it can be. And at that point in the process, that last 10% of the script is the most important."
Though the job seems ideal — big bucks and no fingerprints if a film flops at the B.O. — experienced rewriters note that they face unique pressure to perform, which makes them earn every penny.
"You have a director, a studio head and an actor who are all freaked out when you come on to a project for a couple of weeks of work," said one busy rewriter. "Their careers are on the line, and they're looking to you to save this f—ing thing."
Furthermore, the writer said that a two-week $500,000 gig can often turn into six weeks or even two months.
"I've never turned it in and said, 'Good luck with that. Bye," the scribe explains. "It's not like it's two weeks and you can go to Europe for rest of the year. I'm on call. And they will call you constantly. And I'll always do the extra work because you never want to burn out a studio."
Manager-producer JC Spink likened it to a high-wire act. "For that kind of money, you have to be able to close consistently," he explains. "You don't get many strikes for that kind of money."
Some writers, particularly those who are successful in selling original screenplays, might look down on these assignments. But one agent bristles at that attitude.
"I tell my writers, 'Alexander Payne did rewrites on 'Jurassic Park 3.' You're not above it,' " the agent quips.
In fact, Payne and partner Jim Taylor became two of U's favorite comedy script doctors. The pair came in on a polish assignment for the Adam Sandler vehicle "I Now Pronounce You Chuck and Larry," wound up overhauling the script and eventually shared screenplay credit with the pic's original scribe, Barry Fanaro.
Beyond the pool of established screenwriters, there are plenty of TV scribes who put in uncredited time on features. As studios become more budget-conscious, TV writers have become an inexpensive (by comparison) alternative. One "baby" TV scribe recently signed up for a three-week rewrite gig with a studio that couldn't afford to throw big rewrite money at a particular project. The writer earned a mere $1,500 a day but delivered a fresh perspective.
"TV workers know how to work under extreme pressure, and they are totally collaborative," said one production prexy.
Sitcom writers have long picked up extra coin during summer hiatus periods doing polishes and punch-ups on scripts. For years, the "Friends" writers room was famously the go-to place for any studio with a comedy script in need of more yuks. Nowadays, scribes on "The Office" and "30 Rock," among other hit series, have no shortage of offers.
But not all TV writers come cheap. "Arrested Development" creator Mitch Hurwitz is among the notable showrunners who has pulled down big bucks for his uncredited labor on feature scripts.
Despite earning up to $60,000 a day, the gig isn't right for everyone.
As another lit manager notes, "You don't see Diablo Cody doing polishes. Her voice is too original, and if she came in and punched up dialogue on someone else's script, it would probably sound out of place."