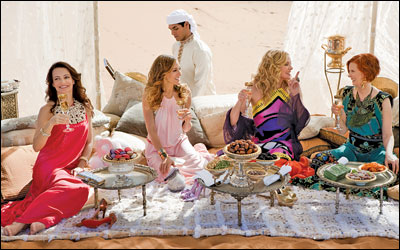 Kristin Davis, Sarah Jessica Parker, Kim Cattrall and Cynthia Nixon revive their friendship on a trip to Dubai in 'Sex and the City 2.'
Fans were so rapturous about "Sex and the City's" return in theatrical form they accentuated the positive and mostly ignored the shortcomings. The inevitable sequel, alas, requires similar forbearance — again overstaying its welcome at nearly 2 1/2 hours — which won't prevent Warner Bros. (the inheritor of this New Line presentation) from humming a box office tune as jaunty as the show's opening-title music. Part of the action occurs in the desert, which inadvertently proves apt, since the oases of enjoyable moments — and they do exist — suffer from being spaced too widely in what's otherwise a long, arid trek.
Then again, writer-producer-director Michael Patrick King seems to realize that for many of the franchise's loyalists, simply experiencing the gang back together again and revisiting these characters is an event worth celebrating — something to be luxuriated in for as long as possible, like a warm bath."Sex and the City 2″ nevertheless puts all that goodwill to the test, based on the story's limited merits. After centering on the guys' bad behavior last time, here King generates only one really fleshed-out plot — a marital crisis for narrator-protagonist-author Carrie (Sarah Jessica Parker) — while leaving her three talented companions adorned in the narrative equivalent of second-hand clothes.
Although the first movie finally brought Carrie together with Mr. Big (Chris Noth, the only member of the series' mates with anything substantive to do), marital bliss can't last for long when there are more movies to be made. So after attending a fabulously campy gay wedding — complete with Liza Minnelli and show tunes — that might be the movie's highlight, Carrie begins to grow bored with her guy, who just wants to stay home and watch TV.
Meanwhile, wide-eyed Charlotte (Kristin Davis) begins to wonder if she can trust her husband (Evan Handler) with a buxom nanny, and workaholic lawyer Miranda (Cynthia Nixon) chafes at her interaction with a dismissive boss.
That drags on for about an hour, before free-spirited Samantha (Kim Cattrall) receives an offer she won't let her friends refuse: A lavish trip to Abu Dhabi (actually, Morocco), all expenses paid by an admiring sheik.
Unlike the first movie, this international excursion — again serving the purpose of providing Carrie time apart to chew over her relationship with Big — plods on and on. Making the time go by, King engages in a modest travelogue on a money-is-no-object budget, improbably produces a run-in with Carrie's old boyfriend Aidan (John Corbett) and tosses off plenty of bad puns, like the reference to suffering a "mid-wife crisis."
There are good sequences sprinkled in, where the movie sparks to life, from a karaoke version of "I Am Woman" to Charlotte and Miranda — over several cocktails — discussing the struggles, frustrations and guilt associated with motherhood. But these dunes prove too few and far between, and are generally followed by oddities like Carrie melting down over her latest book garnering a poor review in the New Yorker, which might be a preview of coming detractions.
Beyond Minnelli, the celebrity cameos feel oddly gratuitous. There's also some not-very-convincing rumination on the treatment of Muslim women — even in what's supposed to be a relatively progressive Arab country — that seems more condescending than stirring.
Happily for the studio, none of these factors matter much. In a sense, the former HBO staple approximates the female equivalent of effects-oriented action extravaganzas — a movie whose target audience can't be kept away, regardless of its failings.
That said, if as is posited in "SATC 2," distance truly can lend enchantment to a relationship, the interval between movies should perhaps be longer — say, until they determine how to put four fashion-conscious women on Venus, or at least Mars.