Related article from this feature:
Movies and Morocco making desert magic

Stars from Hollywood's Walk of Fame will grace the Red City's red carpet this year at the Marrakech Intl. Film Festival.
Martin Scorsese, Keanu Reeves, Sigourney Weaver, Susan Sarandon, Harvey Keitel, James Caan and many others will fly in for the fest's 10th anniversary bash.
"We've got a star-studded screenplay for this year's edition," says fest artistic director Bruno Barde.
Cinephile King Mohamed VI has used the seventh art as a central pillar of his strategy to modernize and liberalize Morocco, and Marrakech's 10th anniversary provides an opportunity to celebrate the fest and the country itself.
"Marrakech has carved a distinctive identity in the festival ocean," says filmmaker Nabil Ayouch. "It stands at the center of the East-West, North-South crossroads, showcasing the best of world cinema."
Popular on Variety
Fest prexy Prince Moulay Rachid, the king's brother, has pioneered a new Cinecoles short-film competition this year, open to Morocco's burgeoning film schools, as part of a broader national strategy to open doors to new film talent.
Weaver, who received a lifetime achievement award at Marrakech in 2008, will preside over the short-film jury.
Other Marrakech returnees include five former jury presidents — Charlotte Rampling, Volker Schlondorff, Alan Parker, Milos Forman and Barry Levinson — who will join this year's prexy, John Malkovich.
Martin Scorsese remains one of the fest's most enthusiastic ambassadors, having often said Morocco "left a lasting impression on my work and my life."
Scorsese shot "The Last Temptation of Christ" and "Kundun" in Marrakech and attended the fest in 2005 and 2007, acting as sponsor to the city's ESAV film school, which opened in 2007. This year marks his third visit, to host the 80-film tribute to Gallic cinema, with a legion of 60 leading French directors and actors attending including Costa-Gavras, Catherine Deneuve, Sophie Marceau and Marion Cotillard.
Ten first films and three sophomore outings will compete in the 15-film Official Selection, including David Michod's Australian thriller "Animal Kingdom"; Philip Seymour Hoffman's helming debut, "Jack Goes Boating"; and Park Jung-bum's drama about North Korean defectors, "The Journals of Musan."
In the fest's Coup de coeur section, guests have selected their favorite French film, including Alain Resnais' "My American Uncle," chosen by Scorsese, and Jean-Paul Rappeneau's "Cyrano de Bergerac," chosen by Weaver.
Marrakech's iconic square, Place Djemaa el-Fna, will be the scene of nightly open-air screenings in the presence of film actors Reeves, Malkovich, Sarandon and Keitel. Filmmakers ranging from Francis Ford Coppola to Chang-dong Lee will conduct master classes. And career tributes honor Caan, Keitel, Japanese director Kiyoshi Kurosawa, Moroccan director Mohamed Abderrahman Tazi and late Moroccan actor Doghmi Larbi.
Barde believes that the 10-year-old Marrakech Fest has now reached maturity. "We've become a credible player in the festival circuit" he says. "People know that during the packed one-week agenda, the heart of world cinema will be beating in Marrakech."
Fest VP Noureddine Sail, prexy of Morocco's film institute, CCM, is equally enthusiastic: "We now have all the resources — above all, the human resources — to become the most important film festival in the Arab world."
Movies and Morocco making desert magic
Over the past decade, Moroccans have channeled their talent and flair into building a formidable national film industry, catering to major international productions that dominate at the local box office.
In 2009, 21% of the national box office was taken by just three Moroccan films — Nour Eddine Lakhmari's film noir "Casanegra," Aziz Salmy's forbidden love story, "Amours voilees" and Mahmoud Frites' racy comedy "Ex-Shamkar."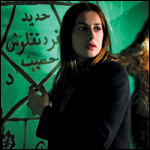 Current box-office champ is Said Naciri's social drama "Le clandestin," with 120,000 admissions, and the supernatural thriller "Kandisha" by Jerome Cohen-Olivar is also expected to perform well.
This impressive track record is the direct result of a concerted strategy by the film institute CCM, headed by Noureddine Sail, and two-channel pubcaster SNRT, topped by Faycal Laraichi. Sail joined CCM in 2003 and has increased feature production to 18 films per year, complemented by 80 shorts.
His next objective: to increase national screens from 72 to around 250 by providing public incentives for multiplex construction.
SNRT is the nation's main fiction producer and this year is making what Laraichi calls a "major leap forward" by producing a $1.5 million, 120-episode telenovela inspired by the growing success of homegrown soaps.
SNRT also backed Nabil Ayouch's "Film Industry" project, which in the past four years has produced 42 low-budget genre films by first-time directors; the last of which, the psychological thriller "Mirages" by freshman Talal Selhami, world preems at the Marrakech Fest.
The third pillar of the Moroccan film industry is international production, which brings vital resources and expertise to the sector.
Morocco was voted No. 1 international location in a 2009 Variety industry poll and, indeed, foreign production skyrocketed between 2005 and 2008, from $35.3 million to $111.6 million.
In the wake of the current economic crisis, foreign production spending slumped to around $50 million per annum in 2009 and 2010.
CCM topper Sail believes production will recover in 2011, citing advanced negotiations for a major Hollywood pic.
Local films mix high production values, humor and romance with taboo-breaking themes such as women's rights, religious customs, ethnic diversity, immigration and crime. They're made by a knowledgeable group: Many of the country's most successful filmmakers have spent long sojourns abroad and, as a result, are endowed with an international perspective and honed film-making skills.
For example, Lakhmari spent 22 years in Norway, and for the local hit "Casanegra," paired intense visuals from Italian cinematographer Luca Coassin with a jazzy score by American composer Richard Horowitz. For his next two film noir projects, "Zero" and "Le Retour," Lakhmari reunites with Coassin and Horowitz in hopes of cracking the international market.
Also, Ayouch is completing the documentary "My Land," on Palestinian-Israeli tensions, and is prepping the $4 million feature "Les Etoiles du Sidi Moumen," about the 2003 Casablanca bombings, in co-production with Luc Besson's EuropaCorp.
Ayouch aims to explore the complex social tensions unleashed in Morocco in the wake of the death of King Hassan II in 1999, 9/11 and the Afghan and Iraqi wars.
This new wave of provocative films, however, has fueled unease in more conservative sections of Moroccan society.
Madrid-based tyros Swel and Imad Noury, who garnered international acclaim for "Heaven's Doors" and "The Man Who Sold the World," believe their funding requests have been rejected due to criticism of their latest work.
El Massae, the leading Moroccan newspaper, has been one of the most vocal critics, and even made personal attacks on Sail, which resulted in a 400-signature petition in his defense. Sail dismisses such controversy as a healthy sign of an open democracy.
Lakhmari also shrugs off critics: "For years we've relied on Egyptian, French and American cinema to talk about our problems," he says. "Now we can tell our own stories. I think something big is about to happen".