As distribs, sales execs and producers head for Cannes, along with their passports and business cards, they'll be packing a certain amount of anxiety.
Despite the fact that some economists are seeing green shoots in the global economy, changes in consumer habits are a cause for concern, with the rise in VOD revenue failing to fill the vacuum left by the decline in DVD sales. A number of distribs have drifted toward insolvency in the past year and minimum guarantees have been falling. All of which creates nervousness among all the various parties.
"Buyers have become more cautious and take their time making decisions. There is little impulse buying," says Thorsten Ritter, head of Bavaria Film Intl.
"That cautiousness comes out of uncertainty about the future. It is a very transitional time for the business," says Michael Barker, co-prexy of Sony Pictures Classics.
Popular on Variety
Nicolas Brigaud-Robert, a partner at Films Distribution, agrees: "We are into a technological transition where the business models are not yet all stabilized."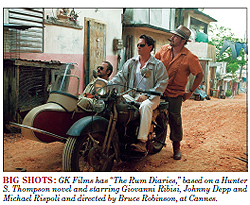 Buyers are adapting to the shifting landscape in different ways, which has led to a lack of consensus when it comes to picking up titles. "The market has no sense of direction, because there are many different business models competing with each other," says Brigaud-Robert, whose slate includes comedy "With Love … From the Age of Reason," starring Sophie Marceau, and "L'amour fou," a docu about Yves Saint Laurent.
The two strands of the indie market — mainstream and arthouse — continue to diverge. Reasonably priced mainstream pics are more likely to be picked up at script stage, whereas arthouse buyers prefer to wait until there's footage to see or a festival berth secured before they'll commit.
Many buyers and sales companies have responded to the demands of this bifurcated market by having a foot in both camps.
"Arthouse films have become very tough, and even some companies that are very good at arthouse movies are trying to find some more genre and commercial films that still have a kind of artistic way," says Youngjoo Suh, head of Finecut, whose slate includes genre pics, like Korean War movie "71 — Into the Fire" and festival films like Pablo Trapero's "Carancho."
Stewart Till, CEO of the Icon UK Group, is not keen on such distinctions. 'Arthouse' is a dangerous term," he says. "We've had enormous success with films like 'A Single Man' and 'Precious' that you might call arthouse, although ironically both of them did a lot of their business in multiplexes."
Among the films Icon is showing at Cannes are Julie Taymor's "The Tempest" and Noel Clarke's heist movie "4.3.2.1," both of which are "wonderful examples of filmmaking, and accessible and commercial," Till says.
For Optimum Releasing CEO Will Clarke, each project should be judged on its own merits.
"What I'm looking for is something that will make an impact from a creative, artistic and commercial point of view," he says. "I want to have my cake and eat it."
David Garrett, prexy of Summit Intl., admits to the same desire. "There are two schools of thought out there," he says. "One is you are looking for things that appear to work every time in the market, and at the same time you are looking for things that are different and original. Ideally you want some combination of the two — it's a little bit like alchemy."
Whatever the type of film, most filmmakers are attempting to achieve the same thing. "It all goes back to finding a good story well told and that can be in any particular genre and in any particular style. The buyers and the audience are all looking for something that has a voice to it," says Garrett, whose slate includes $45 million epic tsunami drama "The Impossible," helmed by Juan Antonio Bayona ("The Orphanage"), and romantic comedy "Something Borrowed," starring Kate Hudson.
The divorce between mainstream and arthouse has not been helped by the fact that the tastes of the festivals and the market have also diverged. "Even the arthouse distributors are looking for more accessible films than the main festivals offer," says Ritter, who slate includes Paula van der Oest's drama "Black Butterflies," about South African poet Ingrid Jonker, and docu "Jane's Journey," about wildlife researcher Jane Goodall.
Sales prospects for the right kind of project remain strong, says Helen Lee Kim, president, international, at Lionsgate. She points to "Machine Gun Preacher," which has a strong director, Marc Forster, and an international star, Gerard Butler, attached, as well as genre elements, as the kind of film that is selling well.
"If the projects have a clear demo in mind and cater to a mainstream audience, then buyers are willing to prebuy," she says.
Lionsgate's "Hunger Games," a teen gladiator film set in the future based on Suzanne Collins bestselling trilogy, also has sparked strong interest. "Franchise movies are definitely something that people are looking to partner up on," Kim says. "Warrior" is another property with good selling points: action, drama, up-and-coming cast (Jennifer Morrison, Tom Hardy) and seasoned vet (Nick Nolte).
As in previous years, the major auteurs are well-represented at Cannes, but not all of them carry the same attraction for distributors. While Steven Soderbergh and Ang Lee are "hit or miss," says Eagle Pictures' head of acquisitions Maria Grazia Vairo, "Woody Allen is a fantastic name to have, as are the Coen brothers. They are a kind of brand almost."
However, as is true of other buyers, Vairo needs more than a well-known director to draw her to a project. "I tend not to go after things just because of the director. I tend to look at the whole package," she says.
Harold Van Lier, StudioCanal exec VP of international sales, emphasizes that it is important to have a strong marketing hook and a particular audience in mind. "What we are doing very well with are films that have a clearly identified angle, a very strong theatrical potential and are priced sensibly," he says, citing as an example sci-fi actioner "Attack the Block," which is aimed at a multiplex audience of young males, and "Brighton Rock," an adaptation of the Graham Greene novel, with the action moved into the 1960s.
Certain territories are performing more strongly than others, sellers report. Japan is "challenging" as local content continues to play well at the expense of Hollywood and other foreign pics.
Spain and Italy are also soft, with comedies and romantic comedies a particularly tough sell in the latter. Russia is strong for action pics, but a difficult market for other films, and the state of the U.S. indie market is also a concern for most sellers, although Barker sees no reason to be alarmed.
"I've been doing this for a really long time," he says, "and the fact of the matter is the people that go away get replaced by other people. It's cyclical."
Barker remains optimistic that he will be able to unearth strong films at Cannes.
"We've been happy with what we've been finding at the festivals," he says. "Last year at Cannes was a very good festival for us. We always look for that gem under the rock, and occasionally we find one."