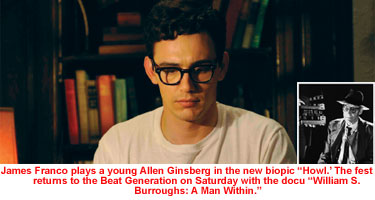 From a legendary beat poet to a junior-high misfit, this year's Outfest (aka the 28th Annual Los Angeles Gay and Lesbian Film Festival) delivers a broad look at the LGBT experience. Story development is strong but, more important, the stories are diverse.
"We're seeing all different kinds of stories, and that's the beauty of gay and lesbian filmmaking right now," says Outfest exec director Kirsten Schaffer. "It's not limited to just 'coming out' films anymore."
This year's program kicks off with the Allen Ginsberg bio pic "Howl," starring James Franco, and closes with the musical comedy "Spork."
"To cast James Franco as Allen Ginsberg in his youthful years is a fresh take on an important historical subject," Schaffer, referring to the obscenity trial that is the basis of the fest's opening-night pic. "And 'Spork' is not an overtly gay or lesbian story. Anyone who's ever felt like an outsider is going to relate to this movie."
In between "Howl" and "Spork," Outfest screens 58 features and 87 shorts from 23 countries, an output that runs from gamut from the doc "William S. Burroughs: A Man Within" to the Charles Ludlam rarity "The Sorrows of Dolores."
That's a lot of gay-themed pics. Not that Hollywood is at the forefront of this phenom.
"We see a lesbian and gay film coming out of the studio system every few years, but they are not consistent," says Schaffer. "There's not a lesbian and gay movie coming out of the studios every year the way you know there's going to be half a dozen big action-adventure movies every summer."
In addition to the movies unspooled, Outfest celebrates comic thesp Jane Lynch, who is this year's recipient of the org's Annual Achievement Award.
Whether Lynch is playing straight ("Julie & Julia"), lesbian ("Best in Show"), nemesis ("Glee") or Mary Hart ("For Your Consideration"), "Jane has always been true to herself," says Schaffer. "She's been a touch point for the gay community. And she's been an out actress for a really long time, of which there are a few."
The 49-year-old star has been out for 30 years, and looking back Lynch points to a few advances in LGBT portrayals, especially in television with "All in the Family" and "The L Word."
"There are 10% of us in the world," Lynch points out. "And we're weaving ourselves into this society we call American mainstream. It's slow happening, but you just have to keep plugging away."
The actress gives high marks to director Lisa Cholodenko's gay kitchen-sink comedy "The Kids Are All Right" in which Annette Bening and Julianne Moore play a couple coping with family problems. "But it's an almighty battlefield out there," Lynch believes. "And the big bucks go towards what they think the male demographic wants. If somebody from another planet stopped by Sunset Boulevard and looked at all the billboards, they'd think that only men lived on this planet."
Lynch and her longtime partner, Dr. Lara Embry, were married in Sunderland, Massachusetts on May 31. "I would have rather gotten married in my own state, California," says the actress. "But that's OK. We'll go where they'll take us."
Today, life is rich for the thesp: "I'm having so much fun with 'Glee' and I have a new family now with a child. That kind of hungry ambition that I used to have for the next job, the next challenge, is either gone or it's asleep. I'm not bored with Sue Sylvester. I'm having the time of my life."