Herve de Luze
editor
Recent Scores: Luckily for de Luze (Oscar-nominated for "The Pianist"), "The Ghost Writer" was nearly done when director Roman Polanski was arrested in Switzerland, though the setback left de Luze to deal with second-unit reshoots and last-minute details in a virtual vacuum. "There were some choices still to make," says the Paris-based editor. "He was not allowed to speak to anybody except his wife and his lawyers." De Luze (who also edited Alain Resnais' "Wild Grass") sent DVDs of his progress to Polanski, who would watch on his laptop and reply via hand-written letters.
COMING UP: Wrapping up "Little White Lies" with director Guillaume Canet ("Tell No One"), followed by films from Andre Techine and Atiq Rahimin (the Afghan refugee who won France's Prix Goncourt literary award).
Chris Innis & Bob Murawski
editors
RECENT SCORES: The pair won Academy, BAFTA and Eddie awards for their work on best picture Oscar winner "The Hurt Locker." Murawski was editor on all three Sam Raimi "Spider-Man" films. Innis was an assistant editor on "Spider-Man 3." "It's a lot of attention very fast, and it can get overwhelming," say Innis of their lives in the last six months. "That's not something editors have to deal with since we're usually in the background; I have a new respect for actors who have to handle that all the time."
COMING UP: Murawski and Sage Stallone, son of Sylvester, run "Grindhouse Releasing," a company that focuses on eccentric exploitation films. Murawski and Innis are collaborating on and releasing films under the "Box Office Spectaculars" banner.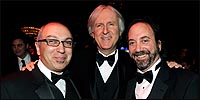 John Refoua, James Cameron & Stephen Rivkin
editors
RECENT SCORES: Editors Rivkin and Refoua, along with co-editor/helmer Cameron, received Academy noms for their work on "Avatar." The three invented a new way to edit performance capture. Rivkin is a veteran of all three "Pirates of the Caribbean" films in addition to the Michael Mann-helmed biopic "Ali." Refoua's screen credits include TV's "CSI: Miami," "Dark Angel" and "Reno 911" as well as the feature "Balls of Fury." "Working on 'Avatar' and being part of those sorts of groundbreaking advances was incredibly fulfilling and exciting," says Rivkin.
COMING UP: Rivkin continues to collaborate with Cameron on upcoming projects. Refoua, after a break following "Avatar," is considering scripts.
Profiles written by Iain Blair, David Cohen, Peter Debruge, Jack Egan, Marjorie Galas, Karen Idelson, Chris Morris and Bruce Shutan.