Hong Kong's film biz is booming, and driving the industry are revenues from across the border in Mainland China.
There were 70 movies made in Hong Kong last year, 30% more than made in Hong Kong in 2008, and the number is expected to increase this year.
Driving these figures is the Mainland market; in many cases, Mainland Chinese revenues account for 70% of B.O. for Hong Kong movies.
"China is now proving to be a fast-growing market for Chinese-language movies. At least six or seven of the top 10 box office hits are Hong Kong movies or co-productions, so this really has given a tremendous boost to the industry in Hong Kong," says Jack So, chairman of the Hong Kong Film Development Council and the Hong Kong Trade Development Council (HKTDC).
Closer cooperation across the border is transforming the once-moribund Hong Kong biz.
The former Crown colony, which reverted to Chinese rule in 1997, has reaped the benefits of rules aimed at encouraging closer ties with China. Hong Kong, for example, does not fall under rules restricting the number of foreign movies distributed in China, and it also enjoys favorable regulations, such as the Closer Economic Partnership Arrangement (CEPA) trade deal.
Among the collaborations taking shape are Cinema Popular, which allies China Film, HK helmer Peter Chan and Chinese producer Huang Jiangxin, and First Cuts, a project headed by HK producer Daniel Yu and Chinese filmmaker Tang Xiru.
"Speaking very personally, the Hong Kong film industry is still very much at a crossroads stage," says Albert Lee, chief executive of Emperor Motion Pictures, which is putting the finishing touches on a classic Hong Kong-Mainland China production: "Let the Bullets Fly," which brings together Hong Kong action star Chow Yun-fat and top Chinese helmer Jiang Wen.
"The opening up of the China market gives us a lot more chances and opportunities because the market is enormous, and it hasn't realized its full potential yet. It's also a challenge. We have to examine the way we make our films. The rest of the traditional market for Hong Kong films, places like Southeast Asia, has been very soft. The emerging market is China, for which we are grateful."
The rise of Mainland cinema has seen an exodus of Hong Kong helmers across the border and many of the territory's biggest names, such as Peter Chan, Teddy Chan and John Woo, have made major films in China.
Hong Kong-Mainland co-productions have tripled since 2004, when CEPA went into effect. The trade deal allows Hong Kong-Mainland co-productions to be treated as Mainland domestic productions for purposes of distribution, which exempts them from foreign quotas, among other benefits.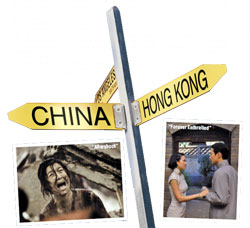 From 2006 to 2008, nine of the top 10 domestic films shown in Mainland Chinese cinemas each year were, on average, the result of such co-productions.
The refocus on the China market has meant a change in the kind of films Hong Kong directors are making. They have to learn to accommodate the strict censorship rules on the Mainland, which prohibit ghost stories and a lot of comedies.
"Many Hong Kong filmmakers want to make contemporary comedies, but not many have found the pulse of the audience in China, except for Jeffrey Lau's recent success" explains Nansun Shi of Asian pic sales outfit Distribution Workshop.
"So Hong Kong filmmakers tend to make action films, period and contemporary," adds Shi, who also serves as managing director of Irresistible Films, which promotes the work of new filmmakers, and as producer of her helmer husband Tsui Hark's films via their Film Workshop shingle.
Shi says that Chinese investors are not investing in pure Hong Kong films or films that are not for the Chinese market. "There are more and more co-productions between China and Hong Kong," Shi notes, adding that at the same time, many emerging Chinese directors are also successful in making commercial films. So, maybe, in time, Chinese investors will not be so obsessed with using Hong Kong directors.
Ricky Tse, head of distribution at Media Asia, believes the links between Hong Kong and China are strong, but says that there still is room for expansion of these relationships.
"Hong Kong filmmakers are now more familiar with the procedures, the systems and the requirements of Mainland China, and they know more about the culture and habits of Mainlanders," Tse says. "It's easier to have a co-production with Mainland nowadays."
While there is a mixture of themes in movies being made in Hong Kong, for the China market, big-budget films are the norm. And with success comes an inevitable increase in expense.
"Costs are rising in China rapidly, but big-budget movies are less risky in the long-term," Lee says.
Indeed, Chinese auds made event pic "Aftershock," which also played on Imax screens, the highest-grossing Chinese film ever, with some $78 million as of Aug. 11.
China has proven a notoriously difficult market to crack for Hollywood. But Lee feels that Hong Kong's input could help make the Mainland market more accessible, since it has a good legal framework, is international in flavor, and has a history of expertise in dealing with both Western and Mainland Chinese shingles.
Lee feels the Mainland also holds the key to success for Hong Kong filmmakers as well.
"The long-term outlook for most companies is China," Lee says. "If we can do well (on the Mainland), it lifts a lot of pressure. If Hong Kong companies can establish a foothold in China, they are fairly secure. China is our final frontier — and it's our own backyard."
Language proves no barrier at B.O.
By Clifford Coonan
Closer entertainment industry ties with Mainland China is good news for the Hong Kong biz, but what does cooperation with the Mainland, where Mandarin Chinese is the main language, mean for Cantonese cinema, the very different language spoken in Hong Kong?
Could the language of Bruce Lee die out in world cinemas in favor of Mandarin?
Most filmmakers think Cantonese cinema will survive the pressure of Mandarin, partly because of the Hong Kong market but also because Cantonese is spoken in the south of China.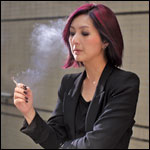 "Several films with a very strong local Hong Kong flavor have done well this year; i.e., films not reliant on the China market to recoup, such as 'Echoes of the Rainbow,' 'The House of the 72 Tenants,' 'Love in a Puff,' " says Distribution Workshop's Nansun Shi. "This is a very good sign. Hopefully this trend will continue.
"Nowadays, all the co-production films are released in Cantonese in Guangdong province. Certain films with a strong southern China psyche do exceptionally well in Guangdong, such as Raymond Wong Pak Ming's 'All's Well that Ends Well.' The box office from the southern provinces is much higher than the northern part of China. I think Cantonese cinema, especially for films in a contemporary setting, will be here to stay."
Producer Terence Chang has also seen a comeback for purely Hong Kong films in the past year or so, citing Cantonese films such as "Echoes of the Rainbow" by Alex Law, Janet Chun's "La Comedie Humaine" and "72 Tenants" as examples.
"It is good that filmmakers and investors in Hong Kong are willing to give up the mainland market (except for Guangdong Province), make local films and still make their money back," Chang says.
Emperor Motion Pictures' Albert Lee says his company will continue to produce films for the Cantonese market. "There is always a market for Cantonese films, in Hong Kong, southern China and many parts of Southeast Asia," says Lee.
However, be prepared for some changes in the kind of movies made.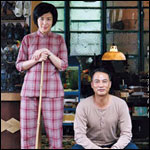 "The films will be produced, but the business model will have to be examined. In the future, Hong Kong filmmakers will have to readapt, evolve their products," Lee says. "Local-style gangster movies and comedies will have to evolve — gangster movies and ghost stories may not be approved in China. We need to find a way around. We can't turn back now. And it's difficult to make the whole of China watch a Hong Kong-style comedy."
Helmer Wilson Yip believes martial arts films will continue to play a key role in the Hong Kong biz.
"In the past, kung fu stars like Bruce Lee and Jackie Chan brought Hong Kong movies to the world, so I believe action films are a crucial reason for our success," Yip says.