Fest sets changes | Nurturing talent at the ADFF | Q&A: Mohamed Al Daradji | Circle Conference looks to future
Abu Dhabi Film Festival exec director Peter Scarlet has been shaking up the event in its soph sesh. The first thing that changed was the name, from the Middle East Intl. Film Festival.
"It was a no-brainer," Scarlet says. "Our focus was and is on work from this region, and we aim to have half the films in our various competitions reflect that. But the customary fashion of naming a film festival is almost universally to name it after the town it's held in. And when one is based in as special a town as Abu Dhabi, it seemed silly not to say so."
But a festival will be judged on its fare, whatever the name. So Scarlet has expanded the program and the competitions, screening 70 films from 28 countries, including a decent selection of Arab films and 12 world premieres, all vying for a total of $1 million in prizes.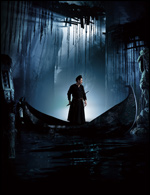 Randall Wallace's "Secretariat" opens the fest Oct. 14, and Tsui Hark's "Detective Dee and the Mystery of the Phantom Flame" closes it Oct. 23. There are six competitions — narrative feature, documentaries, shorts, the Emirates section for local filmmakers, Showcase for recent international pics and Scarlet's new New Horizon competish for works from first- and second-time directors.
"Last year we had barely four months to prepare," Scarlet says. "This year we've had 12. But it's not only the preparation for the festival — many of us have moved here, and we're learning about the area and the culture every day."
"Our goal has never been to operate a 'carpetbag' festival, like some I could name, but to train a staff of people who will eventually operate a great festival on their own," he adds.
One step in that direction is the new screening venue, the 450-seat Abu Dhabi Theatre on the city's shore, creating a different atmosphere from the films shown at the malls and the other main venue, the Emirates Palace.
In terms of the films from the Middle East that are screening, there is one overriding difference from previous years — nearly all are riskier and more controversial, but, says Scarlet, the crop to choose from was relatively small.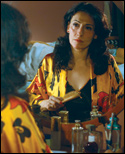 "This year the films we had to choose from in the Arab world were less numerous than last year, but they showed an intriguing trend — they were in many cases riskier, more offbeat. There seem to be real signs for a burgeoning indie movement here, and that's tremendously exciting."
Indeed, particularly compelling from the Arab point of view are the world premieres of Emirati director Saeed Salmeen's debut feature, "Sun Dress," along with two Lebanese films, "Here Comes the Rain" by Chatti Ya Dini and "OK, Enough, Goodbye" by Rania Attieh and Daniel Garcia, all of which received funding from the ADFF's funding arm Sanad. There are also premieres from Iraq, Egypt and Syria.