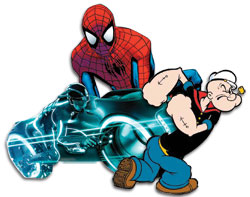 Hollywood is downsizing.
Though studio heads aren't exactly clipping coupons, they are imposing a sort of de facto salary cap on even the highest-profile projects. As a result, a number of cost-saving writers and directors are being entrusted with a slew of potential and established franchise projects from "Tron" to "Spider-Man."
"There is an austerity across the board," says a studio exec. "But less expensive does not equal inferior product."
That's the mindset behind a spate of recent moves putting the studios' crown jewels in the hands of cheaper talent. The most publicized example found helmer Marc Webb, whose filmography includes just one pic — the critically lauded "500 Days of Summer" — nabbing the reins to Sony's next "Spider-Man" installment for a payday that insiders peg at near $1 million. That figure is far from what a gross participant director like Sam Raimi, who was behind the camera for the franchise's first three films, typically commands.
Similarly, Sony is looking to bring an animated "Popeye" to the bigscreen with relative newcomer Mike Jones penning the screenplay. Jones (a former Variety staffer and current contributor) landed the job on the strength of his unproduced spec "The Minotaur Takes a Cigarette Break," which caught the attention of "Popeye" producer Avi Arad.
"The traditional seven-figure writers are so hit-or-miss for the studios," says one agent with a number of so-called inexpensive clients working on coveted projects. "With the top-tier writers, the studios get one meeting with the guy and get one draft. The cheap writers often come from TV, where they are used to being super-collaborative and working in rooms with other people. These writers will give a studio exec 30 meetings on a project. … And they're super hungry."
So what exactly does "cheap" mean these days? It translates to up to $500,000 for a screenplay (which typically includes a number of free rewrites, despite that practice being a WGA no-no). Shelling out less than $1 million on a director is considered affordable.
Just a few years ago, Sony spent top dollar for not one, but two of the industry's highest-paid screenwriters — David Koepp and Akiva Goldsman — to adapt Dan Brown's "Angels and Demons." For its third Robert Langdon adventure — Brown's "The Lost Symbol" — the studio tapped Brit scribe Steven Knight, who earns considerably less than Koepp and Goldsman.
"You don't need to hire (the highest-paid writers) anymore for the original draft because you're going to hire them later anyway for the uncredited rewrite or polish," says a lit manager who has seen his roster benefit amid increasingly tight-fisted regimes. "It's simple math. Now, you see a studio pay a new writer rather than a high-paid veteran and save $5 million right there. And then the studio gets Koepp or (Lowell) Ganz and (Babaloo) Mandel on the rewrite."
Sony isn't the only studio looking for cost-savings on its prized projects or high-profile remakes. Disney tapped tyro helmer Joseph Kosinski for its tentpole "Tron: Legacy." Similarly, Universal is high on its horror remake "The Thing," which features first-time director in Dutch commercials helmer Matthijs van Heijningen. U also two high-profile Hasbro-based titles being shaped by lower-cost scribes: "Ouija" (Edward Kitsis and Adam Horowitz, from TV's "Lost") and "Battleship" (Jon Hoeber and Erich Hoeber).
Paramount courted director
Ruben Fleischer for "Mission: Impossible 4." (Though the deal didn't work out, the helmer, who's completed only one film, is high on every studio's wish list thanks to his reasonable quote.) The Melrose studio also has let two untested writers — Josh Zetumer and Chase Palmer — take turns on its "Dune" remake.
Rupert Wyatt, whose sole previous credit is the indie prison pic "The Escapist," is attached to direct 20th Century Fox's effects-heavy "Planet of the Apes" prequel, tentatively titled "Caesar." The studio is also developing a new "Alien" based on a take by fledgling writer Jon Spaihts.
Warner Bros. is the only major to largely buck the recent trend. Agents say that over the span of a few months, studio topper Jeff Robinov went through his development slate and fired any first-time directors from projects. Still, Warners placed its DC Comics property "The Losers" in the hands of sophomore helmer Sylvain White, who followed his 2007 "Stomp the Yard" to beat out more seasoned competition. And for its remake of "Arthur," the studio is looking to TV helmer Jason Winer to make his feature debut.
With development money freezing up, and studios taking a thrifty approach on even tentpoles, cheaper writers and directors are becoming ever more threatening to Hollywood's A-list lit talent.
One insider spoke of a director bake-off taking place on New Line's "Journey to the Center of the Earth" sequel.
"It's down to the final round and there are five directors with a range of quotes and levels of experience," the insider says. "There's one guy who had no credits under his belt. He came to the meeting with storyboards in 3D! He actually handed out glasses to the executives. They were blown away."
Though that would-be director hasn't landed the job yet, don't be surprised if he does.