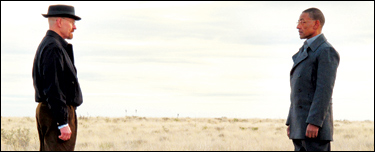 Though the state's diverse topography doubles for many locations, in AMC's "Breaking Bad," New Mexico plays itself.
In 2005, Gerry Fuentes lost his job as a home health care provider in New Mexico. With film production in New Mexico booming, Fuentes thought he'd try his hand at some of the below the line opportunities that seemed to be coming up everywhere. It was a decision that wound up turning his life around.
"I'm able to have a good job, get out of debt and have medical insurance," says Fuentes, who has worked as a background actor, greensman and prop maker on many different productions, including "3:10 to Yuma." "Having this work has completely changed my standard of living."
Former residential home builder Jim Twocrow, a member of the Oglala Lakota tribe and originally from South Dakota, began retraining to work in the film business in 2005 at his brother's suggestion. At the time, Twocrow hesitated a little because the home market was also booming. Now, he couldn't be happier he left it when he did.
"The unions have helped us a lot, and the state is working to bring business into the state, so even though things were a little slow in 2009, they're coming back and things are good," says Twocrow, a prop maker with "Breaking Bad" since the pilot episode. "The thing is, if you're willing to work hard and learn, you'll make it."
Like many industries, New Mexico's film business was hit by the economic storm that began in late 2008. As a result, production slowed. However, Lisa Strout, director of the New Mexico Film Office, has seen increases lately and is quick to point out that the state is still one of the most popular production centers outside of Los Angeles and New York.
In the last eight years, since New Mexico introduced its 25% production tax rebate, more than 100 major film and television projects have been produced in New Mexico (including such upcoming films as "Love Ranch," "True Grit" and "Cowboys and Aliens").
The estimated economic impact of this activity is more than $3 billion, with direct and indirect film-related jobs in the state numbered at approximately 10,000, plus another 250 business and services tied to local production.
Business is good enough that Entertainment Partners, a production services company that offers payroll and residual processing, among other services, created a satellite office located in Albuquerque Studios. There continues to be so much production activity that having someone on site to answer crew questions and other things that come up just makes sense, according to Marco Cordova, the company's director of business development and business planning.
New Mexico's local above the line talent is now looking to take advantage of the state's solid reputation in film production and continuing incentives program as the worldwide economy slowly recovers.
"There's no excuse now," says Luca Ceccarelli, co-owner of HDNM Entertainment, a local production services company that offers line producing services and rebate incentive optimization strategies. "Sure, it's more difficult to get financing, but we have three films in development, so with our infrastructure it can be done."
Navajo film director Larry Blackhorse Lowe is also among a set of New Mexico-based creatives poised to take the state's filmmaking to the next level. Lowe made a short film called "Shimasani" through the 2007 New Visions/New Mexico award program. The short screened in 2009 at the Tribeca Film Festival. In January, it was an official selection at the Sundance Film Festival.
"I think this is a place where you can come and tell stories about people who are not represented as much — Native Americans, Mexicans, African Americans," says Lowe. "People are interested in that in New Mexico."
Strout says the state plans to focus on getting more of those underrepresented voices to the screen by educating the local talent pool. In mid-June of this year, New Mexico Gov. Bill Richardson announced that $385,000 has been allocated to fund film training programs at Eastern New Mexico U.-Roswell, New Mexico State U.-Carlsbad and Luna Community College in Las Vegas, New Mexico.
"If you're a creative person, you always have to struggle," says Lowe. "But here you have a better chance to see your dream happen."