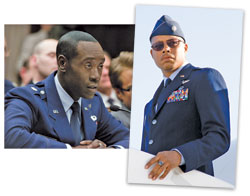 While the meteoric rise of tentpole costs is steering some studios to turn to lower-priced first-timer writers and helmers, Marvel Entertainment has found it doesn't need to supersize its budgets to land pricey thesps for its superhero pics.
Its selling point: the chance to star in their own franchise.
When Marvel began financing its own slate of pics, starting with "Iron Man" and "The Incredible Hulk," execs at the company stressed it would wield a Thor-like hammer over their budgets in order to make the films as profitable as possible.
The comicbook publisher knew it would have to spend more than $100 million to film the pics and create the costly special effects needed to get "Iron Man" off the ground and have the not-so-jolly-green Hulk rampage through New York City's streets. And it knew it needed some recognizable names to make those characters believable to moviegoers.
But it didn't have a Hollywood studio-sized budget to play with.
Instead, Marvel has offered actors far less in upfront pay than they'd get elsewhere.
Chris Evans, who decided last week to don the star-spangled Captain America suit for Marvel, will reportedly be paid around $300,000 for "The First Avenger: Captain America," set to unspool in theaters in 2011. Once the negotiating is done, that paycheck will likely wind up higher, of course, but not by much.
Either way, the deal calls for Evans to star in two more sequels, as well as to be prominently featured in "The Avengers," which plans to team up Iron Man, Thor, the Hulk and other Marvel heroes in 2012. He'd also appear in cameos in other Marvel pics. Overall, the deal is said to include nine films, guaranteeing the thesp work at a time when it's tougher to land high-profile roles.
As an upside, each additional pic comes with a pay raise, as well as a healthy bonus check should the films prove powerhouses at the B.O. and on DVD and through merchandise sales.
It's similar to Robert Downey Jr.'s deal to appear
in at least three "Iron Man" films, "The Avengers" and cameos like his appearance at the end of "Hulk."
That kind of sweet deal is also what made Samuel L. Jackson a card-carrying Marvel man. Only weeks after he said he'd walk away from playing the role of Nick Fury, the leader of the espionage unit S.H.I.E.L.D, Marvel locked down Jackson for nine films, including the launch of his own franchise.
Mickey Rourke also almost dropped out of playing the villainous Whiplash in "Iron Man 2" when he balked at an offer of $250,000, but is said to be earning more after Marvel ponied up additional coin.
Ultimately, the chance to be part of a major summer blockbuster, and enjoy a career boost, is what's also enabled Marvel to attract not only Downey, Edward Norton and Jackson, but actors like Gwyneth Paltrow, Jeff Bridges, Terrence Howard, Anthony Hopkins, Rourke, Sam Rockwell and Natalie Portman, directors Jon Fav-reau, Louis Leterrier ("The Incredible Hulk"), Kenneth Branagh ("Thor") and Joe Johnston ("Captain America"), as well as writers like Zak Penn ("X2" and "X-Men: The Last Stand"), Justin Theroux ("Tropic Thunder"), Mark Prostovich ("I Am Legend"), Stephen McFeely and Christopher Markus ("The Chronicles of Narnia" pics) and "Children of Men" scribes Mark Fergus and Hawk Ostby.
Marvel is one of the few companies that can get away with such lowball offers.
Until "Iron Man's" $101 million opening weekend in 2008, none of Downey's movies had earned $100 million overall, and the pic easily put him back in Hollywood's spotlight — especially after it went on to earn $585 million worldwide. It was also the biggest moneymaker for Favreau. Meanwhile, "Hulk's" $263 million worldwide haul was also Norton's biggest-earning film to date.
That's not to say everyone's happy with Marvel's game of hardball.
A financial dispute played a part in Howard walking away from "Iron Man 2," with Don Cheadle now playing the part of Col. Jim Rhodes.
Of course, all of this could change now that Disney owns Marvel.
While Marvel had to pinch pennies, given that it was putting its own dollars on the line, it could wind up spending more in the future now that it has the Mouse House's money to play with.