As the adult-skewing drama becomes an endangered species at the studios, is there any hope for that venerable subcategory, the literary-book-to-screen adaptation?
Such books — with their focus on characterization and ideas rather than plot — have proven awards fodder for decades, in both book and film form. The pics also helped give studios and audiences a balanced diet by offering quiet and thoughtful fare that was uplifting, enlightening — and entertaining. Pics such as "Greed" and "All Quiet on the Western Front" drew from literary sources in the early days of film. In the last few years, there has been a wide range of such prestige projects, including Dennis Lehane's "Mystic River," Laura Hillenbrand's "Seabiscuit," Michael Cunningham's "The Hours," Ian McEwan's "Atonement," Cormac McCarthy's "No Country for Old Men" and just about any manuscript Scott Rudin gets his hands on.
But what was once a steady stream of bigscreen book adaptations has become a trickle. As one exec wryly notes, "Clint Eastwood is single-handedly holding up the adult drama at the studio level."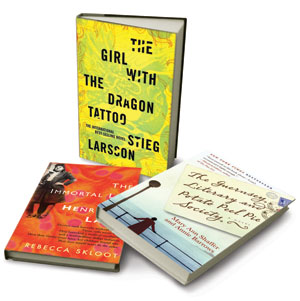 According to the Publishers Marketplace database, 205 Hollywood book deals were reported between June 1, 2008 and June 1, 2009. That number declined to 190 over the same span in 2009-2010. The biggest drop was in literary fiction, from 30 in 2008-09 to just 17 in 2009-10.
However, some book genres are doing well. The action-thriller-suspense field rose from 19 to 21. The number of deals held steady for vampire and zombie books, comic tomes, chicklit (think Nicholas Sparks or "The Devil Wears Prada") and for kids' fantasy (tomes in the style of "Percy Jackson," "How to Train Your Dragon").
The biggest growth area for Hollywood acquisitions? Young adult (YA) books, which grew from 21 pickups to 36 during the timeframe.
That may be in large part due to TV, which has been a voracious consumer of young adult novels ever since "Gossip Girl," which was based on a book series by Cicely von Ziegesar, started to sizzle for the CW.
While book-to-film deals are still being done, the style and scope of these deals has changed.
"Studios are clearly not interested in anything that's considered small, and anything under a $50 million or $40 million budget is considered small," says Bill Contardi, a lit and dramatic rights agent with Gotham-based Brandt & Hochman. "Serious fiction is often considered'not big enough,' and there are fewer buyers for this material now. Many producers have lost their deals and they don't have the ability to option material on their own. They really need a studio backing them, and the studios want all the elements laid out in advance. So producers now have to do a lot of preliminary development on a book-to-film project that they wouldn't have done before, before they can even get a studio to pay attention."
Jennifer Rudolph Walsh, head of worldwide literary for William Morris Endeavor in New York, adds, "The biggest change we've seen is the need to internally package our books before going out to buyers. We feel like we're an inhouse production company, from the beginning of a book proposal or blog, to the point where we match up material with our writers, directors and other talent."
The reason for the shifts are not surprising. Many of the most voracious acquirers of highbrow material — from Miramax to Warner Independent to Paramount Vantage — have either shuttered or stopped developing. Rudin, the genre's biggest champion for the past decade, has a first-look relationship with a Miramax-less Disney that's focusing on family fare. Studio development spending is down, while discretionary spending is being slashed.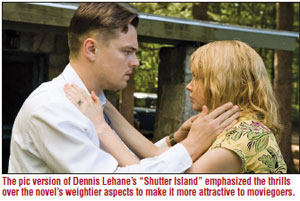 And many studios are looking for multiplatform-generating franchises, and are banking on games like "Battleship" and "Monopoly," rather than books, to help them with presold titles that they hope to turn into huge hits.
"The pressure now seems to be not just that the book is a bestseller, it has to be a mega-bestseller," says Richard Curtis, prexy of lit agency Richard Curtis Associates. "The publishing and movie businesses are converging, and they both have the same thing in common: They're running scared."
But hope springs eternal. Stieg Larsson's "The Girl With the Dragon Tattoo" marked a big recent sale, with Columbia Pictures and Rudin ramping up a David Fincher-helmed film for 2012. With such paydays in mind, the tome-to-film teams were among the thousands who gathered May 23-26 in New York at Book Expo, North America's largest booksellers convention.
A contingent of studio scouts, independent producers, literary agents, book-to-film agents and other players descended on the sprawling Jacob Javits Center. While this year's confab was dominated not by hot fiction titles but by debates over e-books and the future of publishing, the showbiz contingent was there to scope out newly published books, assess the buzz on bestsellers and angle for a crucial early look at manuscripts that could eventually become hot film properties.
"We try to get a look at literary material as soon as the studios get it, and maybe earlier," says producer Paula Mazur, who hit the expo to meet with agents, publishers and authors along with her business partner, South Florida bookstore owner Mitchell Kaplan. The duo have "The Guernsey Literary and Potato Peel Pie Society," from authors Mary Ann Shaffer and Annie Barrows, in development at Fox 2000.
The urgency to find and package a "sure thing" has only ramped up, say producers and lit agents.
Many hope that the constricted market is temporary. Jane Dystel, president of Gotham-based Dystel & Goderich Literary Management, laments the current state of the books-to-screen biz.
"Nobody is spending money the way they used to, not the Hollywood studios, not the networks," she says. "I'm finding that it's just harder to place feature films, to get options on wonderful books.
"How bad is it? I haven't ever seen the market down this far, and I've been doing this work for over 20 years. It's a new bottom."
Some see TV as a salvation, though not on the scale of some bigscreen deals that a decade ago earned high-six- or seven-figure paydays. For the most part, TV's greatest book appetite is for the kind of genre fare that tends to draw modest acquisition fees — but can pay off big for publishers down the road in extending the life of a book series.
The success of the CW's "Gossip Girl" ignited interest in the potential of young-adult novels as TV adaptations. Gotham-based Alloy Entertainment, which produces "Gossip Girl" with Warner Bros. TV, has become a specialist in developing book series that are designed from the get-go for TV adaptations, which in turn spur sales of the books.
Alloy fielded another hit for CW this past season based on the "Vampire Diaries" series. The company has two book-derived series in the works for ABC Family: "Huge," which revolves around the teenagers and staff of a weight-loss camp; and "Pretty Little Liars," a mystery potboiler about friends who are reunited when the leader of their group disappears.
TV has become something of a beacon for literary adaptations, though cable channels have their own particular demands of source material.
"Cable seems to be a possibility, but really only for certain kinds of material, and it's usually nonfiction," Contardi says. "You hear what producers are looking for — they want books that lend themselves to TV series, which is casting the net wider than it used to be for just movies alone. But TV movies are much harder to set up than they used to be. In TV, there are very few places to go with young adult material, and in features, the buzzword is that the material has to be 'Harry Potter'-esque."
HBO got the book world's attention with its recent acquisition of Rebecca Skloot's nonfiction bestseller "The Immortal Life of Henrietta Lacks," for Alan Ball and Oprah Winfrey's Harpo Films to produce as an HBO tele-pic. The book's reps, UTA and Writer's House, were aggressive in shopping the tome to film and TV buyers months before it hit bookstores in February.
Ball received a pre-publication copy in November and fell in love with the story of a poor Baltimore mother of five who died of cancer at 31 but wound up making incredible contributions to medical science through the resiliency of cells that were removed from her body without her family's knowledge. That story would probably be an impossible to sell as a studio picture, but with the Ball-Winfrey imprimatur, it's a natural prestige play for the pay cabler.
HBO, with its deep pockets and strong appeal to top talent, remains the gold standard for the smallscreen.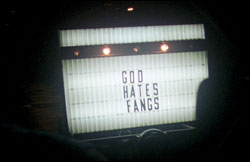 HBO and Ball scored a huge hit by tapping into the vampire-lit craze with "True Blood," based on the Sookie Stackhouse novels by Charlaine Harris. And HBO's first foray into fantasy-drama fare, "Game of Thrones," is derived from the long-running sci-fi book series, "A Song of Ice and Fire" by George R. R. Martin.
On the film side, even the literary material that draws the attention of Hollywood buyers is getting much closer scrutiny. Gone are the heady days when prestige fiction drew multiple bidders in advance of publication.
"I'm trying to finalize a deal right now for an older book that was a major bestseller," says Dystel. "And even though we'll probably option it for a feature, it will go for a lot less money than it would have two or three years ago."
Still, Hollywood's long ties to literature aren't likely to be severed entirely.
"There will always be (Hollywood) buyers for the written word. It was true 50 years ago when the film business went into freefall after TV came in, and it's true now when there's freefall because of all these new technologies," says ICM's Ron Bernstein. "Great literature and writing still attracts prominent talent in Hollywood, and they always want the best stuff. If you have really good material, there's always someone out there who wants it. Someone who has real passion for it. But it's harder today to find those connections because passion has been beaten out of people in this corporatized environment we're in."
Risk-averse studios are increasingly shying away from material that can't be rendered in 3D or spawn a series of action figures. Even the attachment of big-name talent can't sway a studio head the way a Hasbro toy line can.
That's leaving all but the biggest names in adult fiction in a precarious position in Hollywood.
In marketing Lehane's "Shutter Island," Paramount downplayed the weightier aspects of the book and played up the thriller-horror angle. And Lehane is one of the lucky ones: Other dramatic bestsellers — including Jonathan Franzen's "The Corrections," Caleb Carr's "The Alienist," Yann Martel's "Life of Pi" and Michael Chabon's "The Amazing Adventures of Kavalier & Clay" — have been in development for years with barely a pulse.
"The change in the studio structure has had a direct impact on the kinds of books that they're interested in developing for films," says Simon Lipskar, a lit rep with Gotham-based Writers House, the agency behind Stephenie Meyer's "Twilight" behemoth. "I've seen continued and strong business in book-to-film sales. (But) they're clearly looking for franchise properties now much more than adult dramas."
As a result, many lit agents are shifting their focus to different genres, particularly books that skew to the under-18 crowd, like James Frey and Jobie Hughes' young adult novel "I Am Number Four," which is seen by DreamWorks as a potential franchise. Others with adult fiction clients are beginning to spend more time packaging material for TV than film.
Several agents echoed that as the film studios' interest in weightier fare wanes, buyers like Lifetime are picking up the slack. One agent cited the unlikely success of Showtime's "Dexter," which is based on Jeff Lindsay's novel series.
But don't bet against the prospect of a drama comeback at the cineplex.
"Nobody can predict what's going to happen," one New York lit agent cautions, invoking the "Twilight" phenomenon. "If you had asked a random assortment of Hollywood executives five years ago if the biggest film franchise at the beginning of this decade was going to be a franchise whose primary audience is teenage girls, they would have said you're being absolutely ridiculous."
Cynthia Littleton contributed to this report.
RELATED ARTICLES:
• Studios scale back on literary adaptations