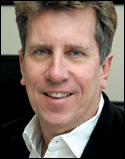 Bob Lewis, CFO
Hyde Park CFO Bob Lewis is responsible for crunching the numbers for the broadly diversified company, which he says that he immediately sparked to when hired in 2008 "because its not too corporate."
"This is a small, lean, hands-on company," Lewis adds, "so it allows me to be involved with the production side in ways that larger organizations simply wouldn't allow for. I'd say that this is part of the secret of Hyde Park's success so far: It has a global reach and international ambition, but it remains at a human scale."
Describing himself as someone for whom numbers always came easy, Lewis was a UCLA math major who spent more than two decades in T.V. production via mini-moguls Stephen J. Cannell and MTM. After a brief break from the biz to spend more time with his children, Lewis' re-entry with Hyde Park thrust him into a film business which, he observes, must operate with a much longer timeframe than television.
With Hyde Park International, Lewis tends to the financial dimensions of foreign distribution and sales, which places him at the nexus of the company's considerable reach into Asia and the Mideast.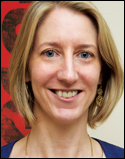 Mimi Steinbauer, President
The global nature of Hyde Park Intl., Hyde Park Entertainment's non-domestic arm, would appear to ideally suit its president, Mimi Steinbauer. Austria-born, trained in German-language production in Austria and Germany and a graduate of the USC cinema school's Peter Stark program, Steinbauer's Europe-U.S. ties complement the Asia-U.S. ties of Hyde Park topper Ashok Amritraj.
A veteran of both TV (Trimark's international television division) and film production (Capella, Village Roadshow, New Line, Franchise), she has plowed several fields in both distribution and sales areas, shepherding high-profile films like "Lord of the Rings" and "Three Kings" to make her a respected name in the marketplace where sellers and buyers meet.
Just this year, Steinbauer has steered important acquisitions for Hyde Park Intl., with the Ryan Gosling starrer "Blue Valentine" and Robert Rodriguez's actioner, "Machete," starring Danny Trejo and Robert de Niro.
Acquisitions is in fact Steinbauer's main arena, though her responsibilities also include packaging of projects (including foreign casting input), as well as foreign sales and distribution. In the past for sales and acquisitions, she says, if one territory is challenged, then another is strong enough to pick up the slack.
"Were not seeing that right now," she says. "But we have theatrical product and we have names, so we're in a pretty good position, since people look to us for high-quality theatrical titles."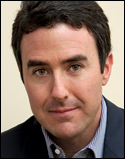 Patrick Aiello, Creative affairs president
Back when he was a screenwriter-for-hire in the 1990s with his brother-in-law, Patrick Aiello took advantage of a business opportunity that would never occur to most of his fellow scribes. With proceeds from earnings for studio assignments, he purchased the rights on material that, in his words, was accessible to four-quadrant audiences and had strong-branded titles and nostalgic pre-awareness.
That meant shrewdly grabbing up remake rights for such items as "The White Shadow" and "Cannonball Run" and supplying studios with family-friendly stories that, in Aiello's words, "made me good friends with studio folks and really opened doors."
In 2003, Aiello offered Hyde Park his slate of accumulated titles as a package, with the proviso that he would serve as co-producer. Hyde Park chief Ashok Amritraj upped the ante, offering Aiello a first-look, two-year producing deal.
This is where Aiello's second smart move came in: He remained loyal and exclusive to Hyde Park, so that when the position of creative-affairs president opened up, he was the natural pick to fill the spot, just as the indie company was planning its long-term global strategy for multinational pacts and co-productions.
His promotion in 2008 to exec veep of worldwide operations for Hyde Park International was part of Amritraj's methodical process of extending Hyde Park's reach to Asia and the Mideast. But it also reinforced Aiello's position in the company as a producer with a keen eye for genre film projects with potentially broad appeal, such as "Street Fighter," based on the globally popular vid game.