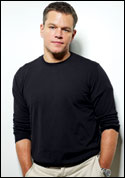 With his rugged good looks and guy-next-door appeal, Matt Damon is one of the most in-demand actors in the business. Having recently starred in "Green Zone," he also wrapped "Hereafter" with Clint Eastwood, and is about to start shooting the Coen brothers' remake of "True Grit" — a few of the varied projects on his slate.
But 10 years ago, Damon faced being a "where are they now?" contender at age 30. After winning a screenplay Oscar in 1997 with pal Ben Affleck for "Good Will Hunting" and starring in "Saving Private Ryan" and "The Talented Mr. Ripley," Damon saw his red-hot film career gradually cool, and a few high-profile flops later, the phone stopped ringing.
"I hadn't been offered a movie in a year," he recalls. "?'The Legend of Bagger Vance' had come out and bombed, and 'All The Pretty Horses' had come out and bombed. So I was doing a play in the West End, and coincidentally the run ended the same weekend 'The Bourne Identity' came out, and the word on 'Bourne' was that it was also going to tank because they'd pushed back the release date a few times."
Despite the bad omens, Damon didn't panic. "I actually got very calm," he says. "I still felt I'd be able to work, still be able to do theater and lower-budget movies. I never felt I'd never work again. If you get removed from that small A-list in Hollywood, it just means you can't headline big major movies, but that's one small part of the business."
Prepared for the worst, the actor flew back to New York only to find himself the star of a hit movie — and back in demand. "By Monday morning I had 20 scripts that had arrived over the weekend, and I was back in the club again," he says with a laugh, "and I thought, 'I haven't changed as an actor — it's the perception that's changed overnight.' So I'll always be eternally grateful to (first 'Bourne' director) Doug Lyman for believing in me, because the success of the 'Bourne' films has allowed me to do all the other great projects since — and work with top directors, as often as I can."
In the past decade, Damon has teamed up with Eastwood ("Invictus," "Hereafter"), Martin Scorsese ("The Departed"), Steven Soderbergh ("The Informant," "Che," the "Oceans" franchise, the upcoming "Contagion"), Francis Ford Coppola ("Youth Without Youth"), Terry Gilliam ("The Brothers Grimm") and Paul Greengrass. In turn, the actor seems to have become the favorite go-to guy for many of these directors, although the self-deprecating star opines, "I've just been lucky — and available when they needed someone."
His collaboration with Greengrass has been particularly successful, but Damon confirms that differences over budget derailed a third "Bourne" teamup.
"At least in the short term," he says. "They're trying to figure out what to do with the property, and maybe they'll do a prequel with another actor. I won't be involved, but hopefully I'll do a fourth one in five or 10 years with Paul."
And while he agrees that the "Bourne" films "really pushed me in a new direction," he balks at the idea that he's now an action star.
"Bourne is just one character, so I don't know that I'd describe myself that way," he says. "It's hard to find really good action movies, and this is a very particular type of action hero, as he's flawed and has a dark past, so there's a lot of stuff to play as an actor."
Damon's easygoing, sunny personality seems an odd fit for Bourne's tormented, haunted character, but then, Damon is an actor. "I have demons and stress like anyone else, but hopefully I've got them under control, and then I just let them out for work, which is always healthier," he says.
Talk of demons inevitably leads to talk of the tragic early death of Heath Ledger, with whom Damon co-starred in "The Brothers Grimm."
"Heath was still largely unknown, but I remember telling everyone, 'This guy's the real deal — he's something very special,'?" he recalls. "We had a great time working together, and the whole experience with Terry Gilliam was amazing. Terry's a genius and a madman — in the best way. He's just so passionate about the work."
Being directed by Eastwood also had its benefits.
"I was warned ahead of doing 'Invictus' that I'd become completely spoiled — and they were right," says Damon. "I'm able to do the work I want to do, yet Clint moves quickly enough that you're basically working French hours. You can spend the morning and evenings with family, and yet still accomplish everything you want to do — to say nothing of what I learned about acting and directing from Clint. He's so prepared and expects everyone else to be, and so there's nothing wasted, ever. It's a real lesson in how to run a super-efficient set."
As for "The Departed," Damon calls Scorsese "a walking film encyclopedia (who) knows everything about film."
And there are also fond memories of making "The Informant," says the actor, "which first came to me during that period when I got no offers. Steven called me and told me to read the book and that he wanted me to star in the movie, and I was really surprised, as no one was interested in me at that point." It ended up taking seven years before Damon and Soderbergh made the film, "But Steven's theory of comedy is that you prepare the script as much as possible and then shoot it as fast as you can — and we shot it in just 30 days. And like Clint, it was a blissful experience. If I could just keep working with the same directors I've already worked with, I'd be a happy man."
The actor has balanced high-profile projects and starring roles with smaller supporting roles in such arthouse films as "Che" and "Youth Without Youth."
"They're really cameos for friends, and I love doing that," he reports. "I was in Spain promoting the last 'Bourne' movie, and 'Che' was on such a shoestring budget while they were shooting (in Spain) that I managed to squeeze in a day's shoot for Steven in between interviews for 'Bourne.' And then Coppola called me about 'Youth' and talked about Ingmar Bergman and how he wanted a similar small ensemble of actors, and I told him I'd go anywhere to do it for him. So I flew to Bucharest for one day to do those few scenes."
Damon, who's done "very little" screenwriting since "Good Will Hunting" — "it's far easier to find the time when no one wants you and you're unemployed like Ben and I were," he wryly points out — has also expanded his career behind the cameras. He formed LivePlanet with Affleck to produce film, television and new-media projects — most notably the three Emmy-nominated seasons of "Project Greenlight."
Some crix lambasted "Project Greenlight" for putting novice filmmakers in the high-pressure environment of reality TV — one that might have KO'd careers before they ever got started. But Damon doesn't see it that way.
"Not at all," he says. "It was always a tricky balancing act, as we were trying to make a movie with a first-time director with a very small budget and have this TV show that documented the experience, and we had to sell that to the network — and we didn't manufacture any drama to help sell it. The fact is, any film set is rife with drama, there's intense pressure, and we knew it'd make for riveting television. And then we were also trying to build a whole Web community of writers, so they could share work and peer review and so on."
He admits that the project was "very ambitious — and ultimately we ended up with a really good TV show and some not-so-great movies."
Regardless, Damon seems more interested in directing than producing these days.
"I just have to find the right project," he states. "Plus, I keep getting great jobs with these directors I really admire." In addition to "True Grit," in which Jeff Bridges essays Rooster Cogburn to Damon's La Boeuf, played by Glen Campbell in the 1969 original, the actor stars in George Nolfi's supernatural love story "The Adjustment Bureau," and does cameo duty on Kenneth Lonergan's new one, "Margaret."
"And I already did some work on 'Happy Feet 2,' so I'm pretty busy," he points out.
Regarding any plans to go behind the camera, Damon opines, "I don't feel I'm doing any damage to my directing career by holding off a bit longer and learning more. You learn so much just by osmosis, and working with guys like Clint, Marty, Paul and Steven is like very advanced film school. I've always viewed these things as trades, and if you want to be a carpenter, start building houses. So I've been able to stand next to some of the best carpenters in the business and really learn how it's done."
Damon turns 40 this fall — which gives him time, he says, to develop an acting-directing career "something like Clint's."