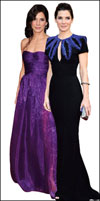 • Gallery: Award season fashion
Sandra Bullock should put herself in Giorgio Armani's hands. So should Meryl Streep. Penelope Cruz should, for once, not wear black. It ages her. Mo'Nique knows how to wear clothes for her voluptuous body. Carey Mulligan and Anna Kendrick are New Hollywood's fashion darlings. Gabourey Sidibe would look great in Oscar de la Renta. Vera Farmiga is head-to-toe chic. Maggie Gyllenhaal dresses intellectually. She could be this year's Tilda Swinton. And Helen Mirren, well, she's fashion perfect.
Red carpet fashion experts all have their opinion about the look of this year's 10 actress nominees.
"The idea is to distinguish yourself without showing up like a circus performer," advises InStyle style director Hal Rubenstein. "The stars may not pick the exact right dress, but if people are looking for the major gaffe, no stars will make that gaffe. They're too smart and the people around them are too smart for that. In some ways, it takes the big chuckle out of it."
CNN commentator and stylist Phillip Bloch, who has dressed Bullock for numerous award shows for "years and years," recalls the star resisting glamour at every turn.
"Sandy didn't care about fashion. She made fun of it," Bloch says. "She did it with a sense of humor. And she was always about the black dress, so it was really interesting to see her embracing designers like Bottega Veneta and Alexander McQueen at the Globes and SAG. That's really progressive for her."
According to Cameron Silver of the vintage clothing store Decades, Bullock's likability is a major factor that elevates whatever she wears.
"You can put a really likable person like Sandra in an avant-garde dress and still get won over because of the persona," he says. "She's been taking risks, and I expect that she's going to be in a great color for the Oscars and do something somewhat unexpected."
Cruz's problem, claims Entertainment Tonight's style guru Steven Cojocaru, is that "she ages herself by years by wearing matronly dresses that overwhelm her — that eat her alive. That dress she wore for the Globes would have been better suited for Sophia Loren than for her. Penelope needs to look fresher and wear color. Black is such a lame excuse to wear to an awards show."
Rubenstein contends that there is a greater simplicity, a fresh elegance in the way in which Young Hollywood dresses. "With Carey Mulligan and Anna Kendrick, it isn't always about the gown. Sometimes it's a short dress," he observes. "And these girls don't choose to get weighted down by jewelry simply because a big company is offering them 80 carats of rocks to drape around their necks. When a 25-year-old actress dresses in that way, they look like they're wearing mommy's clothes."
Also, a young actress's best accessory is her luminous skin. "It doesn't matter what gets injected and what gets pulled back," Rubenstein adds. "You can get rid of facial lines, but you can't have that gleaming elasticity of youthful skin."
Mulligan certainly has that "it" factor. "That's undeniable," concurs Bloch. "She definitely has the Audrey Hepburn thing going, but she has to play it up more. She's lost in the pony show. I thought she was going to bring it in that Nina Ricci at the Globes — very disappointing. But then, at the SAG's, she wore that beautiful Lanvin."
Cojo applauds Mo'Nique for her consistent style. "Her looks have been so clean and polished. She knows how to dress for her body. I loved what she wore to the Golden Globes. It was well suited for her. Mo'Nique is the perfect example of how a full-figured and curvy girl can dress well."
Mulls Bloch: "Meryl, Meryl, Meryl. She surpassed herself in bad taste with that outfit at the SAG Awards. I don't understand. She's made a fashion career about resisting the fashion. Just when you think it couldn't get any worse or she couldn't care any less, this one really went there."
Cojo's advice to Streep: Don't stand in your own way. Leave the fashion choices to the professionals. "She's royalty and she doesn't dress for her position," he says. "She needs to have a powwow with Helen Mirren, who dresses age appropriate and sexy. Mirren's looks say: 'I'm important. I'm a movie star.' I'd like to see Meryl more elegant in an Armani silver or satin column dress with cap sleeves. That would be breathtaking on her."