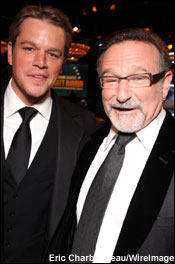 Matt Damon's buddies lined up to "fete him as he's never been feted before" as Don Cheadle put it at the American Cinematheque's gala Saturday at the BevHilton.
Jimmy Kimmel started off the evening talking up Damon's work. "The metamorphosis he went through to play Precious, I didn't even know it was him."
Even helmers Paul Greengrass and Clint Eastwood got in on the act. The former with a doctored clip from a "Bourne" movie and the latter relating how Damon's South African accent changed the dialogue in a key scene in "Invictus." Instead of saying "look into my eyes, this is our destiny" Damon appeared to be saying "look into my ass."
Others taking a crack at Damon were Robin Williams, Sarah Silverman, Charlize Theron and Greg Kinnear while George Clooney, former President Clinton and Ben Stiller sent taped messages.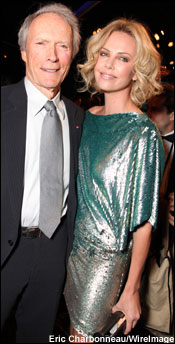 Ben Affleck, intro'ed by Jennifer Garner ("for my darling husband and my husband's darling husband"), gave the actual trophy to Damon. When it was his turn, Damon fired back at each speaker, although he did say, "Clint I'm not gonna fuck with you man" and then proceeded to point out that the director had two awards from AARP but none from the Cinematheque.
Among those enjoying the zingers Cinematheque's Henry Shields and Rick Nicita (who presented the Sydney Pollack kudo to Telluride fest co-founder Tom Luddy).
ABC will air the tribute as a special this spring, presumably after cleaning up the naughty bits.