"King's Speech" tops noms | "Glee" tops TV noms | Nominations list | Scorecard | Reactions to the nominations
The Hollywood Foreign Press Assn. once again spread the noms wealth around, honoring big and small players with a diverse list competing for the 68th annual Golden Globe Awards.
The Weinstein Co.'s "The King's Speech" nabbed seven Globes noms — the most of any film — including bids for best motion picture drama, director, actor, supporting actor, supporting actress and screenplay. Sony's "The Social Network" and Paramount/Relativity Media's "The Fighter" followed with six nominations each, with both landing in the dramatic pic and director categories.
A trio of films followed with four mentions: Fox Searchlight's "Black Swan," Warner Bros.' "Inception" and Focus Features' "The Kids Are All Right," which received the most bids of any musical or comedy film, including for picture in that category.
On the smallscreen side, Fox's "Glee" looked sharp with five noms, the most of any program. HBO, as usual, dominated among the networks with 12 bids.
"King's Speech" and "Black Swan" sprang from the specialty world in the drama race, while "The Social Network" and "Inception" had high-profile wide releases. Par shares credit on "The Fighter" with Relativity Media, which notched its first major showing at the Globes.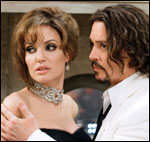 The musical or comedy race likewise delivered a wide spectrum of nominees, with "Kids" competing against "Alice in Wonderland," "Burlesque," "Red" and "The Tourist."
Titles that didn't make the comedy-musical cut include Warners' "Due Date," from director Todd Phillips (whose "The Hangover" was a nominee last year), and Focus' "Greenberg," whose helmer, Noah Baumbach, has history with the Globes via "The Squid and the Whale." "Due Date" star Robert Downey Jr., who won comedy-musical actor honors last year for "Sherlock Homes," would have added more wattage to the red carpet; the same could be argued for "Greenberg's" Ben Stiller.
The inclusion of "The Tourist," which has drawn a rough reception from critics, raised eyebrows among bizzers, as the caper pic is neither a tuner nor, strictly, a comedy. Johnny Depp is a double nominee in the lead comedy-musical actor category for his turns in "The Tourist" and "Alice in Wonderland."
Historically, the HFPA has been a little lax on its comedy-musical definitions; 2005's "Walk the Line" and "Pride and Prejudice" both landed in the comedy-musical category.
Sony scored two of this year's comedy-musical pic noms with "The Tourist" and "Burlesque," while the studio's other category contenders, "How Do You Know," "Easy A" and "Country Strong," failed to make the cut. "Easy A" and "Country Strong" both nabbed just one nomination apiece; James L. Brooks' "How Do You Know," which opens this weekend, was completely absent.
Meanwhile, the leading ladies of "Burlesque," Cher and Christina Aguilera, were not recognized; nor was Gwyneth Paltrow for her musical turn in "Country Strong."
Fox's "Love and Other Drugs" was absent from the comedy-musical category despite noms for leads Anne Hathaway and Jake Gyllenhaal.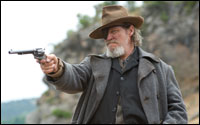 Par's Western "True Grit," directed by Joel and Ethan Coen, was also surprisingly snubbed by Globes voters. Fox Searchlight's "127 Hours" didn't make the drama pic cut but did snag mentions for actor James Franco, screenplay and original score.
Of the picture selections, "Black Swan" may get the biggest boost in its quest for an Oscar bid, as it has been seen as possibly too dark for some Academy voters. Along with the film's pic and director bids, "Black Swan" earned noms for Natalie Portman and Mila Kunis in the lead and supporting actress categories, respectively.
The Globes haul also adds momentum to "The King's Speech" in the wake of "The Social Network's" recent streak of wins from critics' orgs.
The Weinstein Co.'s Harvey Weinstein noted that "Speech's" foreign pedigree made it a good fit for the Globes, which tend to lean toward films with an international flavor. Pic, revolving around the relationship between King George VI and the speech therapist who helps him overcome his stutter, was honored across the board, with acting noms for Colin Firth, Geoffrey Rush and Helena Bonham Carter, directing for Tom Hooper, screenplay for David Seidler and score for Alexandre Desplat.
"I keep hearing about how relevant certain movies are, and I think 'The King's Speech' is one of them," Weinstein enthused. "Some movies you see, but this is a movie you feel and can watch over and over again."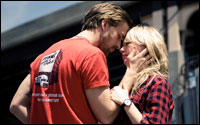 The Weinstein Co.'s "Blue Valentine" also gained awards traction with the Globes announcement, snaring lead drama acting bids for Ryan Gosling and Michelle Williams. Noms come at a fortuitous time for the pic, which recently had its rating revised to an R from an NC-17 prior to its Dec. 31 opening.
Disney's hit toon "Tangled" joined its Disney/Pixar sibling "Toy Story 3" in the animated feature race, where they'll compete against Universal's "Despicable Me," DreamWorks Animation's "How to Train Your Dragon" and Sony Pictures Classics' Gallic toon "The Illusionist." Unlike the Oscars, the Globes do not allow animated features to compete for best picture.
Sony led the list of nommed distribs, with 14 total film nominations, followed by TWC's 10 noms. Searchlight and Par both scored seven mentions; Relativity and Disney tied with six.
The Globes noms were unveiled early Tuesday at the Beverly Hilton by Blair Underwood, Katie Holmes and Josh Duhamel.
The HFPA spread its nominations to four fewer films this year vs. last year, with 34. The broad mix of crowd pleasers and specialty hits should help boost viewership of the kudocast, which will air live Jan. 16 on NBC. Ricky Gervais will host for the second consecutive year.
MOTION PICTURE, DRAMA
"Black Swan"
"The Fighter"
"Inception"
"The King's Speech"
"The Social Network"
ACTRESS , DRAMA
Halle Berry – "Frankie And Alice"
Nicole Kidman – "Rabbit Hole"
Jennifer Lawrence – "Winter's Bone"
Natalie Portman – "Black Swan"
Michelle Williams – "Blue Valentine"
ACTOR , DRAMA
Jesse Eisenberg – "The Social Network"
Colin Firth – "The King's Speech"
James Franco – "127 Hours"
Ryan Gosling – "Blue Valentine"
Mark Wahlberg – "The Fighter"
MOTION PICTURE, COMEDY OR MUSICAL
"Alice In Wonderland"
"Burlesque"
"The Kids Are All Right"
"Red"
"The Tourist"
ACTRESS , COMEDY OR MUSICAL
Annette Bening – "The Kids Are All Right"
Anne Hathaway – "Love And Other Drugs"
Angelina Jolie – "The Tourist"
Julianne Moore – "The Kids Are All Right"
Emma Stone – "Easy A"
ACTOR , COMEDY OR MUSICAL
Johnny Depp – "Alice In Wonderland"
Johnny Depp – "The Tourist"
Paul Giamatti – "Barney's Version"
Jake Gyllenhaal – "Love And Other Drugs"
Kevin Spacey – "Casino Jack"
BEST ANIMATED FEATURE
"Despicable Me"
"How To Train Your Dragon"
"The Illusionist"
"Tangled"
"Toy Story 3"
FOREIGN LANGUAGE FILM
"Biutiful" (Mexico/Spain)
"The Concert" (France)
"The Edge" (Russia)
"I Am Love" (Italy)
"In A Better World" (Denmark)
BEST SUPPORTING ACTRESS, MOTION PICTURE
Amy Adams – "The Fighter"
Helena Bonham Carter – "The King's Speech"
Mila Kunis- "Black Swan"
Melissa Leo – "The Fighter"
Jacki Weaver – "Animal Kingdom"
BEST SUPPORTING ACTOR, MOTION PICTURE
Christian Bale – "The Fighter"
Michael Douglas – "Wall Street: Money Never Sleeps"
Andrew Garfield – "The Social Network"
Jeremy Renner – "The Town"
Geoffrey Rush – "The King's Speech"
BEST DIRECTOR, MOTION PICTURE
Darren Aronofsky – "Black Swan"
David Fincher – "The Social Network"
Tom Hooper – "The King's Speech"
Christopher Nolan – "Inception"
David O. Russell – "The Fighter"
BEST SCREENPLAY, MOTION PICTURE
Danny Boyle, Simon Beaufoy – "127 Hours"
Lisa Cholodenko, Stuart Blumberg – "The Kids Are All Right"
Christopher Nolan – "Inception"
David Seidler – "The King's Speech"
Aaron Sorkin – "The Social Network"
BEST ORIGINAL SCORE, MOTION PICTURE
Alexandre Desplat – "The King's Speech"
Danny Elfman – "Alice In Wonderland"
A.R. Rahman – "127 Hours"
Trent Reznor, Atticus Ross – "The Social Network"
Hans Zimmer – "Inception"
BEST ORIGINAL SONG, MOTION PICTURE
"Bound To You" – Burlesque
"Coming Home" – Country Strong
"I See The Light" – Tangled
"There's A Place For Us" – Chronicles Of Narnia: The Voyage Of The Dawn Treader
"You Haven't Seen The Last Of Me" – Burlesque
TELEVISION, DRAMA
"Boardwalk Empire" (HBO)
"Dexter" (Showtime)
"The Good Wife" (CBS)
"Mad Men" (AMC)
"The Walking Dead" (AMC)
ACTRESS, DRAMA
Julianna Margulies – "The Good Wife"
Elisabeth Moss – "Mad Men"
Piper Perabo – "Covert Affairs"
Katey Sagal – "Sons Of Anarchy"
Kyra Sedgwick – "The Closer"
ACTOR, DRAMA
Steve Buscemi – "Boardwalk Empire"
Bryan Cranston – "Breaking Bad"
Michael Hall – "Dexter"
Jon Hamm – "Mad Men"
Hugh Laurie – "House"
BEST COMEDY OR MUSICAL
"30 Rock" (NBC)
"The Big Bang Theory" (CBS)
"The Big C" (Showtime)
"Glee" (FOX)
"Modern Family" (ABC)
"Nurse Jackie" (Showtime)
ACTRESS, COMEDY OR MUSICAL
Toni Collette – "United States Of Tara"
Edie Falco – "Nurse Jackie"
Tina Fey – "30 Rock"
Laura Linney – "The Big C"
Lea Michele – "Glee"
ACTOR, COMEDY OR MUSICAL
Alec Baldwin – "30 Rock"
Steve Carell – "The Office"
Thomas Jane – "Hung"
Matthew Morrison – "Glee"
Jim Parsons – "The Big Bang Theory"
BEST MINI-SERIES OR MOTION PICTURE
"Carlos" (Sundance Channel)
"The Pacific" (HBO)
"Pillars Of The Earth" (Starz)
"Temple Grandin" (HBO)
"You Don't Know Jack" (HBO)
ACTRESS IN A MINI-SERIES OR MOTION PICTURE
Hayley Atwell – "Pillars Of The Earth"
Claire Danes – "Temple Grandin"
Judi Dench – "Return To Cranford"
Romola Garai – "Emma"
Jennifer Love Hewitt – "The Client List"
ACTOR IN A MINI-SERIES OR MOTION PICTURE
Idris Elba – "Luther"
Ian Mcshane – "Pillars Of The Earth"
Al Pacino – "You Don't Know Jack"
Dennis Quaid – "The Special Relationship"
Edgar Ramirez – "Carlos"
SUPPORTING ACTRESS IN A SERIES, MINI-SERIES OR MOTION PICTURE
Hope Davis – "The Special Relationship"
Jane Lynch – "Glee"
Kelly Macdonald – "Boardwalk Empire"
Julia Stiles – "Dexter"
Sofia Vergara – "Modern Family"
SUPPORTING ACTOR IN A SERIES, MINI-SERIES OR MOTION PICTURE
Scott Caan – "Hawaii Five-O"
Chris Colfer – "Glee"
Chris Noth – "The Good Wife"
Eric Stonestreet – "Modern Family"
David Strathairn – "Temple Grandin"
"King's Speech" tops noms | "Glee" tops TV noms | Nominations list | Scorecard | Reactions to the nominations