The Vatican? Yeah, there's an app for that.
The Catholic Church is jumping on the Apple bandwagon, launching an app for the iPhone for the first time in its history. And while "Daily Sermonettes With Father Mike Manning" may not top downloads of "Doodle Jump" anytime soon, it's a notable step for the church.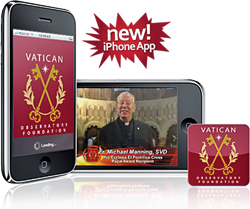 Pope Benedict XVI has been a supporter of spreading the Vatican's message through new media and "Daily Sermonettes," which launched Easter Sunday, will certainly meet that challenge. Beyond the daily inspirational talks from Father Mike Manning, who hosts a weekly program on the Trinity Broadcasting Network and is a frequent guest on television talkshows, the app includes a forum for online discussion and featured Scripture.
Proceeds from the $5.99 app will support the Vatican Observatory Foundation, which focuses on scientific education and research.
Religion is far from a dominant category in the app store — Apple doesn't even officially track apps of faith. A search of "religion," though, finds more than 600 downloadable programs, ranging from Christianity to Hinduism to Rastafarianism.
Some are serious tools to help people explore their faith. Some are books. And some have fun at the expense of organized religion. But until now, none of them has had the pope's blessing.