Europe may be late to the 3D party, but at least eight Continental stereoscopic 3D pics will hit theaters this year, with some 20-plus in the works. However, 3D also crystallizes the strengths, leanings and fault lines of Europe's movie industry at large.
"Six months ago, people were saying 3D's just a passing fashion. Now, there's no way back," says Vincent Maraval at Wild Bunch.
Most European execs see 3D as an opportunity. Though their costs are higher, Euro 3D productions can be easier to finance.
"A lot of projects are being made in 3D because that seems an easier way to raise money," says London-based Julie Bains, who's producing Billy O'Brien's 3D futuristic sci-fi thriller "Creeping Zero."
"This is a $25 million project, but I've never had so much interest in a project so fast. It's extraordinary. Distributors and sales agents and other financiers and private investors are desperately interested."
For governments, 3D pics are new-media flagships.
Animated "O Apostol" has raised ?3 million ($4 million) out of Spain, tapping European Investment Bank credit and a grant from Xacobeo 2010, set up by the Galician government to celebrate Santiago de Compostela's 2010 Holy Year.
"The audience has told the industry what it wants. We will have to be competitive and shoot in 3D, particularly when it comes to family fare," says Martin Moszkowicz, Constantin head of film and TV.
In Germany, Constantin plans to release three 3D films a year, a mix of its own productions and acquisitions, says Moszkowicz. Its hit "Vicky the Viking," which grossed $45.6 million in Germany and Austria, was made in 2D, but its sequel, sold by Ralph Kamp's Timeless, is in 3D.
Olivier Courson, StudioCanal chairman-CEO, agrees. "For certain kinds of movies, 3D will be a must-have: animated movies, which is why we've made this partnership with NWave, which has unique experience and know-how," Courson says.
At February's Berlin fest, StudioCanal unveiled a long-term development, co-financing and worldwide distribution deal with Ben Stassen's NWave, Europe's digital 3D pioneer. StudioCanal will produce one 3D movie a year, he says.
Where exhibition goes, distribution — and production — follows.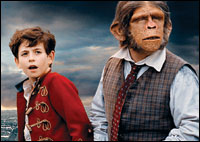 At Cannes, StudioCanal will screen Stassen's toon turtle tale "Sammy's Adventures"; HanWay will be talking up Wim Wenders 3D "Pina," a tribute to choreographer Pina Bausch; "Kon-Tiki 3D," produced by Jeremy Thomas and Nordisk, is on the slate; "Distant Thunder," a "March of the Penguins"-style doc about elephants, looks promising; Timeless is selling "Postman Pat," currently storyboarding; Andrei Konchalovsky will screen footage of "The Nutcracker"; and "Animals United," a 2010 bow from Constantin, is an animated contender.
The biggest 3D Euro-production unspooling this year is Paul W.S. Anderson's $60 million "Resident Evil: Afterlife," with Milla Jovovich and Wentworth Miller, produced by Germany's Constantin and France's Davis/Metropolitan.
Also at Constantin is Anderson's Alexandre Dumas reboot, "3 Musketeers," from an Andrew Davies script, budgeted at $80 million-$100 million, shooting in Germany and France this fall.
Just after Berlin, French producers Aton Soumache and Dimitri Rassam announced a 3D toon movie makeover of "The Little Prince." They're also producing 3D eco-adventure fantasy "Mune."
"S3D is a big bonus for buyers who are already interested in 'Mune,'?" says Kinology's topper Gregoire Melin, who introduced "Mune" at Berlin.
Kamp says his 3D titles are selling "consistently."
Like Europe's film industry at large, many European directors are exploring 3D as much for its artistic as commercial possibilities. Wenders says "Pina" was inconceivable without 3D, which during a performance places an audience right up on the stage.
European execs generally view 3D positively. "Suddenly, we're offering something which is competitive for an audience lost to video games, home cinema and online piracy," says Maraval.
Even so, for Europe, multiple 3D roadbumps could lie ahead.
One's a playdate crunch. In 2010, 20 studio 3D titles and 13-15 indie movies will bow commercially, says Screen Digest's David Hancock, with up to 43 titles prepping for a 2011 release.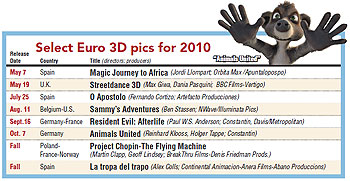 For exhibition, 2009 proved a tipping point: In Europe, digital screen numbers rose 196% to 4,580, and 3D installations rose 506%, according to Hancock.
And there are lingering questions about the long-term. "When 3D started with 'Journey to the Center of the Earth,' we still made most money from 2D screens. Now there's much more B.O. from 3D screens, but market access is far more difficult," says Luis Ortiz at Spanish distributor Tripictures.
Europe's art film-centric industry is not a natural for 3D production.
"In terms of the kinds of films made, U.S. production seems today more adapted for 3D, especially for younger audiences," Courson says.
Stassen fears 3D production, U.S. included, hasn't evolved fast enough: "3D feature films coming on the market are still made with a 2D language, then shot in 3D. I wonder if people are going to get tired of 3D quickly if we don't give them a really unusual experience."
For the moment, however, expect a bevy of Croisette announcements, including of new upscale Euro 3D art pics.
Adam Dawtrey contributed to this story.