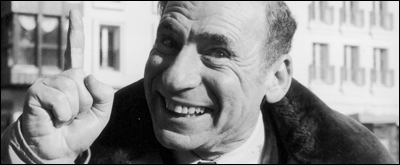 Thanks to "The Producers," "Blazing Saddles," "Young Frankenstein," "High Anxiety" and a slew of other movie, stage, TV and album hits, Mel Brooks' prominent place in the pantheon of comedy stars is assured. But the multi-faceted entertainer — one of a select few who can claim an Oscar, Tony, Emmy and Grammy — hasn't always laughed his way to the bank.
"I've had plenty of times when it looked like a project wouldn't get made — or even released," he recalls. "When we first showed 'Blazing Saddles' to the Warner executives, there were a few embarrassed laughs, a lot of groaning, and at the end (distribution head) Leo Greenfield said, 'I've never suggested that this studio eat a picture, but we can't release this. It's just too much. We'll be sued.' "
Brooks asked, "Who's going to sue?"
And Greenfield replied, "The American public."
"Luckily, he was dead wrong and the audience was right there with the film from the very start," says Brooks.
"Young Frankenstein" also created a studio stir.
"Gene Wilder and I knew it had to be black and white, but Columbia absolutely refused," he says. "So we rushed the script over to Alan Ladd Jr., who'd just got a big job at Fox, and he loved it and understood it had to be in black and white. That was one of the great thrilling moments of my life."
Born Melvin Kaminsky in Brooklyn in 1926, Brooks began his career as a stand-up before he segued to writing, and found success with TV's "Your Show of Shows" and "Get Smart," which he co-created with Buck Henry.
"I've had the most fun acting, but the true joy in my bones is the writing, and I like directing because it protects the writing," he notes. "I never set out to be a director, although I did an incredibly great job on 'Young Frankenstein' — maybe because I wasn't in it, so I could take my time and set up every shot."
Brooks thought they'd never let him direct his script of "The Producers." "But I pointed out to Joseph E. Levine, who ran Avco Embassy, that I'd been directing sketches on 'Your Show of Shows' with Sid Caesar, which was his favorite show, and that I had all the pictures in my head for 'The Producers,' and he agreed."
That 1968 success won him a screenplay Oscar, and led to his writing and directing "The Twelve Chairs," "Silent Movie" and "High Anxiety."
He also branched out into producing, and his Brooksfilms Limited, founded in 1980, produced such varied fare as David Lynch's "The Elephant Man," David Cronenberg's "The Fly" and "84 Charing Cross Road," starring Anne Bancroft, his late wife of 41 years.
Brooks has seen "huge changes" in the industry since the 1950s. "There are no more mom-and-pop studios like there used to be, no more immigrant Jews, the Sam Goldwyns, Warner brothers and Zanucks who were so proud of their movies and who vied with each other, not for money and box office but for quality and awards. Then it became corporate and the bean counters moved in."
Undiscouraged, Brooks is forging ahead with at least one new Brooksfilms project.
" 'Pizzaman,' " he says, "is a flat-out horror film that I'll keep my name away from, in case people think it's a comedy. I'm also having a lot of fun doing 'Spaceballs: The Animated Series,' " he adds. "So life's good. I miss Anne terribly, but I have my kids and grandkids, and I still play tennis. I've had a blessed life."