Although its official name is JICA (short for "Jour-nees Internationales du Cinema d'Animation"), everyone in the animation community refers to its oldest and most prestigious festival as Annecy — the beautiful French lakeside town where it takes place.
Plans for the festival began in 1956, when Association de distribution du film director Pierre Barbin met with the Annecy film club (which boasted more than 5,000 members), proposing to mount a program of animated films during the Cannes festival to counter the lack of interest in animation and animators there.
The organizers also suggested JICA be held in Annecy. Located on the shores of a crystalline Alpine lake, the picturesque old town built on canals was big enough to offer the accommodations attendees would require, but not so large that the event would get lost in a metropolis.
Popular on Variety
The first festival in 1960 brought together some of the most respected names in world animation, beginning with sponsors Alexandre Alexeieff, Max Fleischer, Paul Grimault, Ivan Ivanov-Vano and Jiri Trnka, along with artists from more than 20 countries. The festival was held in odd-numbered years except 1969, when political unrest in France led to cuts in government subsidies.
Even though other animation festivals have since been established (notably in Zagreb, Ottawa and Hiroshima), Annecy remains the premiere venue for the form. The winner of the festival prize for short film goes on to compete in the Oscars animated short category, with many Annecy winners going on to claim the Academy prize as well ("Frank Film," "Sand Castle," "Tango," "A Greek Tragedy," "The Man Who Planted Trees," "The Old Man and the Sea," "Father and Daughter," "Peter and the Wolf" and "La Maison en Petits Cubes").
In 1985, the festival expanded to include a film market, or MIFA (Marché International du Film d'Animation), where producers, studios, networks and distributors met to negotiate properties and rights. Some artists complained that the addition of the MIFA shifted the focus from the art of animation to the entertainment business, though the market quickly became an important forum, and was expanded to include a job fair in 1987.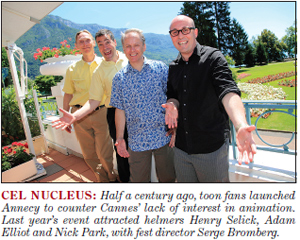 The festival switched from a biennial to an annual event in 1998, reflecting the growing importance of MIFA, a worldwide expansion in animation production and a greater emphasis on features, rather than short films.
"The difference between animation in 1960 and animation today is comparable to the gap between the Stone Age man and an astronaut landing on the moon," observes fest director Serge Bromberg, who celebrates Annecy's golden anniversary with special events and surprises each day of the fest. "Over 50 years, what has remained is the same appetite, enthusiasm and curiosity for all styles, techniques and landscapes of animation. When I look back at a festival that was born the same year I was, I realize that animation lovers have remained the same. The secret of success is to last long enough."