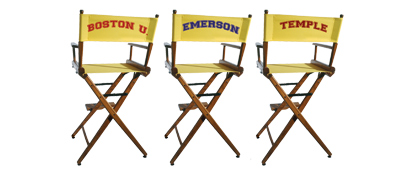 Like moths drawn to a klieg light, many film schools around the country have set up programs in L.A., either year-round like Boston U., Ithaca, Emerson and the U. of Texas or as seasonal visitors, such as Harvardwood and Temple U. All are designed to give hands-on, real-world experience and access to top Hollywood talent. And all — whatever shape and size — are considered essential.
"For a relatively small school like ours, it's a way of competing with the local big boys," notes Jim Lane, executive director of Emerson's Los Angeles Center, which has been running since 1998. Despite Emerson's small size, its program is one of the biggest, with some 250 students a year. "It's a perfect testing ground for a future career here, and probably 65% of students end up staying in L.A. to pursue a career."
Bill Linsman, director of Boston U. in L.A.'s internship program, reports the school has been "very aggressive" in getting students to L.A. for two reasons: "First, there's a deep network of B.U. alumni heavily involved in entertainment here. The school's been going since 1946, and all those graduates moved here and became big executives. Second, we firmly believe in a heavy liberal arts education before students are given cameras to make films, and the school feels it's important for them to see up close how professional films are made and how the environment here differs from, say, Boston."
The result has been "extremely effective," says Linsman. "Since the internship program began seven years ago, hundreds of students have come through here, and the vast majority have moved here and become employed. So the program has become a bridge to their employment."
Other programs are shorter, if no less popular. Temple offers an 11-week program, from May through July, with a similar approach. "We focus on internships and panels I set up with Temple alumni and industry professionals — editors, marketing executives, PR people, the whole gamut," says program faculty director Allan Barber. "We've been coming to L.A. since 1997, and the program's becoming increasingly important to our students, not only for the real-world experience but also for the networking opportunities."
Last year, more than 45 students attended and Barber expects a similar total this year. "We'd love to expand to a year-round program," he says.
Harvardwood, a non-profit affiliated with Harvard, sponsors a week-long "boot camp" every January, bringing two dozen students to L.A. to attend panels and meet with professionals. "This is also followed by internships, where we try to pair a student with an agent or director," explains founder and president Mia Riverton, who believes such programs are "crucial, especially as the business doesn't function in a straightforward way like Wall Street."
In its 10th year, the semester-long Belmont West study abroad and internship program allows music and entertainment business majors "an opportunity to reside, learn, work and network in entertainment epicenters outside of Nashville," comments Sarah Cates, director of strategic programs within the Tennessee-based Belmont's entertainment school. "It augments students' chances for entrepreneurial endeavors and career advancement by exposing them to key players in the entertainment scene."
Notes Linsman: "Without getting exposed to narrative filmmaking and television techniques in Hollywood, the film student in Boston or wherever is getting shortchanged on the realities of filmmaking today." Even experimental and documentary filmmakers benefit from such experience, he adds. "Whether they then choose to move here for the rest of their lives is another issue, but I'd say that interning here is mandatory — and the students feel the same way."