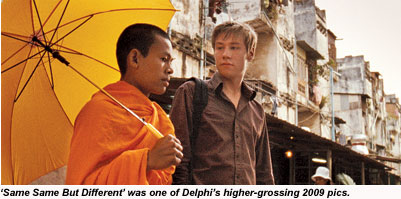 BERLIN — Claus Boje's Berlin-based distrib Delphi Filmverleih has filed for insolvency after a tough year at the box office.
Boje has said he's confident the distrib, which remains in operation, can be restructured.
Delphi's releases over the past year included Paolo Sorrentino's Italian political drama "Il Divo," Michael Glawogger's comedy "Contact High," Lisa Azuelos' French laffer "LOL (Laughing Out Loud)," Ken Loach's "Looking for Eric" and Detlev Buck's cross-cultural love story "Same Same But Different," starring David Kross.
None managed to break the E1 million ($1.34 million) mark at the B.O., although "LOL" and "Same Same But Different" did come close.
Delphi's difficulties reflect the uphill battle local distribs have had with small independent European titles and arthouse fare at the German box office, which has nevertheless boomed this year thanks to the likes of "Avatar" and "Alice in Wonderland."
Delphi's upcoming releases include helmer-scribe Benedek Fliegauf's sci-fi-esque drama "Womb," starring Eva Green and Matt Smith ("Doctor Who"), although the film still has no start date.
The insolvency has not affected Boje Buck Prods., run by Boje and Buck.
Buck is developing an adaptation of author Daniel Kehlmann's "Measuring the World," about the lives of 19th-century explorer Alexander von Humboldt and a contemporary, mathematician Carl Friedrich Gauss.