Bank gap finance used to be a key element of indie film finance, but today it's the exception rather than the rule.
Only Los Angeles banks such as Union, City National, Comerica and U.S. Bank are left in the business, offering conservative deals way below the 20% or even 30% of budgets that producers could secure against unsold territories in the not-too-distant past.
The European institutions that used to dominate film banking, whether for single projects or slate deals — Deutscher, Dresdener, Societe Generale, Bank of Ireland, Allied Irish Bank, Royal Bank of Scotland — are long gone. Even finding one willing to discount pre-sales and tax credits can be a struggle.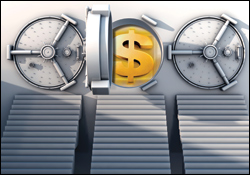 Gap finance is now largely the preserve of a few specialist boutiques that represent private investors, whether rich individuals or funds. Leading players include Toronto-based Aver Media, which mostly backs Canadian and British projects such as "Nowhere Boy," and Diane Stidham and Danny Mandel's Newbridge Capital in Los Angeles, which financed "Machete" and Philippe Rousselet's slate sold by Summit.
"Everyone is just trying to adapt to life after the bubble, but the sector seems well past panic mode so that alone is a noteworthy improvement," Mandel notes. "For established producers, financiers, distributors or sales agents who adapt to the deflated environment, there are attractive opportunities. As you'd expect, everyone is more selective and critical in their decision-making, but that is a good thing."
The U.K. has the likes of Aegis (the debt fund operated by Prescience), BMS Finance run by Ivan McTaggart, and James Atherton's Quickfire. Former Bank of Ireland exec Martin McCourt recently split from Lisa Lambert's Footprint to operate through his own vehicle Oxford Hens. Another former banker, Ian Hutchinson, fronts Silver Reel, a Swiss-based gap financier, which recently backed "Killing Bono" and "Ironclad."
"Nobody is doing the values some of the banks used to do," McTaggart says. These players typically offer modest gap deals as part of a larger debt package including less risky lending against pre-sales and tax credits. BMS has backed 17 films with various combinations of debt, including "Moon," "Fish Tank" and "Made in Dagenham."
"Dagenham" just sealed a splashy U.S. sale to Sony Pictures Classics, which is good news for BMS. "Nowhere Boy" paid off for Aver because of a U.S. pre-sale to the Weinstein Co.
But the problem for gap financiers, McTaggart explains, is that such deals have become wildly unpredictable. "U.S. sales on our titles are either great, for millions of dollars, or you just sell DVD and TV rights to someone like Image Entertainment for $125,000-$500,000. It used to be that the U.S. was worth 40% of budgets, then it dropped to 25%, and now you just don't know."
That uncertainty is mirrored in many other territories.
Japan, historically the second-most-valuable pre-sale after the U.S., has disappeared from the map, and other key countries like Spain and Italy are crippled by the collapse of their ancillary markets. The sales estimates upon which gap financiers rely have become virtually meaningless, because there's no typical or average case any more. Projects either sell widely, like "Made in Dagenham," or not at all, with no middle ground.
Producers are forced to become more creative about exploring new types of funding. One such is offered by the music services group Cutting Edge, which has raised a fund to provide completion finance for film projects in return for the music rights.
"These are rights that nobody previously evaluated, and that we know how to exploit," explains Cutting Edge topper Phil Hope. "We saw an opportunity because the whole structure of financing for the film industry is fragmenting."
As gap finance dwindles, producers are increasingly seeking out private investors to fill the hole.
"Equity does seem to be taking up the slack," observes McTaggart.
Paradoxically, wealthy individuals in the U.K., the U.S., India and the Middle East seem more willing to gamble some highly speculative equity on a film project than to invest in the lower-risk business of debt finance. Lending money to film producers evidently doesn't have the same glamor or excitement as playing the mogul.