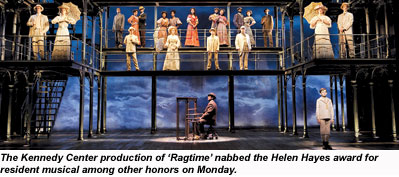 WASHINGTON, D.C. — The Kennedy Center production of the tuner "Ragtime" and the Shakespeare Theater Company and Goodman Theater's modern version of "King Lear" were the top winners Monday at the Helen Hayes Awards, D.C.'s 26th annual tribute to theater. Cate Blanchett scored an acting trophy.
In its initial production before transferring to Broadway, "Ragtime" was named 2009's outstanding resident musical by Hayes judges who also saluted Marcia Milgrom Dodge's direction, Christiane Noll's lead performance and Jimm Halliday's costumes, which were borrowed from the 1998 Broadway production designed by Santo Loquasto.
"Lear" was tapped outstanding resident play while earning Robert Falls top directorial honors for his war-torn 1990's Yugoslavia interpretation. Stacy Keach was named best actor, an award he shared with local thesp Karl Miller in tiny Forum Theater's production of "Angels in America: Millennium Approaches."
Other recipients at the awards fest included the Sydney Theater Company's production of "A Streetcar Named Desire" directed by Liv Ullmann, which earned three kudos for its SRO run at the Kennedy Center prior to New York, including best non-resident production, lead actress (Blanchett) and supporting performer (Robin McLeavy). "Streetcar" trumped the visit by "August: Osage County," which received six noms for its Kennedy Center visit but no awards.
But the judges denied Joel Edgerton an award for his strapping Stanley Kowalski, instead presenting the non-resident acting kudo to Jim Brochu for his impersonation of Zero Mostel in Theater J's "Zero Hour."
Playwright Edward Albee was awarded a special tribute by fellow playwright Terrence McNally.
The award for outstanding lead actress went to Holly Twyford for her sarcastic Hollywood agent in Signature Theater's production of "The Little Dog Laughed," one of three leading roles for which Twyford was nominated. Supporting actor nods went to Eric Hissom and Erin Weaver for "Arcadia" at the Forger Theater, Lawrence O'Dwyer for "The Fantasticks" at Arena Stage, and Eleasha Gamble for the musical, "The Civil War" at Ford's Theater.
Synetic Theater, a troupe that specializes in wordless, movement-based interpretations of classics, was named outstanding ensemble for "A Midsummer Night's Dream," an award it shared with Alexandria, Va.'s MetroStage for "Heroes." Keegan Theater's production of "Rent" drew a top ensemble laurel for a musical. MetroStage's production of "Cool Papa's Party" was honored for William Knowles' direction and Maurice Hines' choreography.
Also on hand for the occasion was Hayes' son, actor James MacArthur, to present the annual Charles MacArthur Award for the year's best new play or musical. Two productions were honored this year, both produced by Woolly Mammoth Theater Company: "Antebellum" by Robert O'Hara and "Eclipsed" by Danai Gurira.
Complete list of winners:
* = winners
The Charles MacArthur Award for Outstanding New Play or Musical
The Rise and Fall of Annie Hall, Sam Forman, Theater J
*Eclipsed, Danai Gurira, Woolly Mammoth Theatre Company
The Bread of Winter, Victor Lodato, Theater Alliance
*Antebellum, Robert O'Hara, Woolly Mammoth Theatre Company
Momia en el closet: The Return of Eva Perón, book by Gustavo Ott GALA Hispanic Theatre
Momia en el closet: The Return of Eva Perón, conceived and composed by Mariano Vales GALA Hispanic Theatre
Outstanding Resident Musical
Adding Machine: A Musical, The Studio Theatre
The Civil War, Ford's Theatre
Crowns, Arena Stage
The Fantasticks, Arena Stage
Momia en el closet: The Return of Eva Perón, GALA Hispanic Theatre
*Ragtime, The Kennedy Center
Rent, The Keegan Theatre
Outstanding Resident Play
A Midsummer Night's Dream, Synetic Theater
Angels in America: Millennium Approaches, Forum Theatre
Arcadia, Folger Theatre
The Dog in the Manger, Shakespeare Theatre Company
*King Lear, Shakespeare Theatre Company
The Quality of Life, Arena Stage
Wittenberg, Rep Stage
Outstanding Non-Resident Production
*A Streetcar Named Desire, The Kennedy Center
August: Osage County, The Kennedy Center
Jersey Boys, The National Theatre
Spring Awakening, The Kennedy Center
Zero Hour, Theater J
Outstanding Production, Theatre for Young Audiences
Barrio Grrrl!, The Kennedy Center Family Theatre
Heidi, Imagination Stage
Lyle the Crocodile, Imagination Stage
*The Tale of the Fisherman and the Golden Fish, Synetic Family Theater
Zomo the Rabbit: A Hip-Hop Creation Myth, Imagination Stage
Outstanding Choreography, Resident Production
Meisha Bosma, Fever/Dream, Woolly Mammoth Theatre Company
*Maurice Hines, Cool Papa's Party, MetroStage
Carina Losano, Momia en el closet: The Return of Eva Perón, GALA Hispanic Theatre
Irina Tsikurishvili, A Midsummer Night's Dream, Synetic Theater
Irina Tsikurishvili, Dante, Synetic Theater
Irina Tsikurishvili, Dracula, Synetic Theater
Outstanding Costume Design, Resident Production
Linda Cho, The Dog in the Manger, Shakespeare Theatre Company
*Jimm Halliday, Ragtime, The Kennedy Center
*Santo Loqasto, Ragtime, The Kennedy Center
Robert Perdziola, Design for Living, Shakespeare Theatre Company
Anastasia Ryurikov Simes, A Midsummer Night's Dream, Synetic Theater
Anastasia Ryurikov Simes, Dante, Synetic Theater
Alejo Vietti, A Christmas Carol, A Ghost Story of Christmas, Ford's Theatre
Norah Worthington, Wittenberg, Rep Stage
Outstanding Director, Resident Musical
Jeff Calhoun, The Civil War, Ford's Theatre
Amanda Dehnert, The Fantasticks, Arena Stage
*Marcia Milgrom Dodge, Ragtime, The Kennedy Center
Thomas W. Jones, II, Cool Papa's Party, MetroStage
Mark A. Rhea, Rent, The Keegan Theatre
Susan Marie Rhea, Rent, The Keegan Theatre
Outstanding Director, Resident Play
*Robert Falls, King Lear, Shakespeare Theatre Company
Jonathan Munby, The Dog in the Manger, Shakespeare Theatre Company
Lisa Peterson, The Quality of Life, Arena Stage
Aaron Posner, Arcadia, Folger Theatre
Jeremy Skidmore, Angels in America: Millennium Approaches, Forum Theatre
Tony Tsendeas, Wittenberg, Rep Stage
Paata Tsikurishvili, A Midsummer Night's Dream, Synetic Theater
Outstanding Lead Actor, Non-Resident Production
*Jim Brochu, Zero Hour, Theater J
Steve Cuiffo, Hell Meets Henry Halfway, Woolly Mammoth Theatre Company
Joel Edgerton, A Streetcar Named Desire, The Kennedy Center
Paul Vincent O'Connor, August: Osage County, The Kennedy Center
Dito van Reigersberg, Hell Meets Henry Halfway, Woolly Mammoth Theatre Company
Outstanding Lead Actor, Resident Musical
David Benoit, Adding Machine: A Musical, The Studio Theatre Quentin Earl Darrington, Ragtime, The Kennedy Center
*Parker Drown, Rent, The Keegan Theatre
Will Gartshore, Show Boat, Signature Theatre
Jahi Kearse, Cool Papa's Party, MetroStage
Ashley Robinson, Giant, Signature Theatre
Outstanding Lead Actress, Non-Resident Production
*Cate Blanchett, A Streetcar Named Desire, The Kennedy Center
Shannon Cochran, August: Osage County, The Kennedy Center
Libby George, August: Osage County, The Kennedy Center
Estelle Parsons, August: Osage County, The Kennedy Center
Angelica Torn, August: Osage County, The Kennedy Center
Outstanding Lead Actress, Resident Musical
Sandy Bainum, The Music Man, Washington Savoyards
Jessica Lauren Ball, Oklahoma!, Toby's Dinner Theatre
E. Faye Butler, Crowns, Arena Stage
Laura Conforte, Momia en el closet: The Return of Eva Perón, GALA Hispanic Theatre
Tara Giordano, Heidi, Imagination Stage
*Christiane Noll, Ragtime, The Kennedy Center
Outstanding Lead Actress, Resident Play
Valerie Harper, Looped, Arena Stage
Lisa Harrow, Rock 'n' Roll, The Studio Theatre
Tana Hicken, Lost in Yonkers, Theater J
Tonya Pinkins, Black Pearl Sings!, Ford's Theatre
Holly Twyford, Arcadia, Folger Theatre
*Holly Twyford, The Little Dog Laughed, Signature Theatre
Holly Twyford, Lost in Yonkers, Theater J
Outstanding Lighting Design, Resident Production
*Colin K. Bills, Angels in America: Millennium Approaches, Forum Theatre
Colin K. Bills, Fever/Dream, Woolly Mammoth Theatre Company
Andrew F. Griffin, A Midsummer Night's Dream, Synetic Theater
Michael Philippi, King Lear, Shakespeare Theatre Company
Daniel MacLean Wagner, The Picture of Dorian Gray, Round House Theatre
Thom Weaver, Arcadia, Folger Theatre
Outstanding Musical Direction, Resident Production
Aaron Broderick, Rent, The Keegan Theatre
Jay Crowder, The Civil War, Ford's Theatre
*William Knowles, Cool Papa's Party, MetroStage
James Moore, Ragtime, The Kennedy Center
Christopher Youstra, Adding Machine: A Musical, The Studio Theatre
Outstanding Set Design, Resident Production
Tony Cisek, Black Pearl Sings!, Ford's Theatre
Misha Kachman, Fever/Dream, Woolly Mammoth Theatre Company
James Kronzer, The Picture of Dorian Gray, Round House Theatre
*James Noone, Design for Living, Shakespeare Theatre Company
Walt Spangler, King Lear, Shakespeare Theatre Company Klyph Stanford, Hysteria, Rep Stage
Outstanding Sound Design, Resident Production
Konstantine Lortkipandze, A Midsummer Night's Dream, Synetic Theater
Ryan Rumery, The Heavens are Hung in Black, Ford's Theatre
*Tom Teasley, Crazyface, Constellation Theatre Company
Veronika Vorel, Arcadia, Folger Theatre
Veronika Vorel, Black Pearl Sings!, Ford's Theatre
Veronika Vorel, Fever/Dream, Woolly Mammoth Theatre Company
Richard Woodbury, King Lear, Shakespeare Theatre Company
Outstanding Supporting Actor, Resident Musical
Nate Dendy, The Fantasticks, Arena Stage
John Dossett, Giant, Signature Theatre
Anthony Manough, Cool Papa's Party, MetroStage
*Laurence O'Dwyer, The Fantasticks, Arena Stage
Harry A. Winter, Show Boat, Signature Theatre
Outstanding Supporting Actor, Resident Play
Edward Gero, King Lear, Shakespeare Theatre Company
*Eric Hissom, Arcadia, Folger Theatre
Irakli Kavsadze, A Midsummer Night's Dream, Synetic Theater
Alex Mills, A Midsummer Night's Dream, Synetic Theater
Frederick Strother, Radio Golf, The Studio Theatre
David Turner, The Dog in the Manger, Shakespeare Theatre Company
Outstanding Supporting Actress, Resident Musical
*Eleasha Gamble, The Civil War, Ford's Theatre Kellee Knighten, The Civil War, Ford's Theatre
Elizabeth Rayca, Oklahoma!, Toby's Dinner Theatre
Kimberly Schraf, Show Boat, Signature Theatre
Delores King Williams, Show Boat, Signature Theatre
Outstanding Supporting Actress, Resident Play
Naomi Jacobson, The Winter's Tale, Folger Theatre
Sarah Marshall, Full Circle, Woolly Mammoth Theatre Company
Jennifer Mendenhall, Angels in America: Perestroika, Forum Theatre
Marni Penning, Hysteria, Rep Stage
Miriam Silverman, The Dog in the Manger, Shakespeare Theatre Company
*Erin Weaver, Arcadia, Folger Theatre
Outstanding Supporting Performer, Non-Resident Production
Morgan David Jones, A Streetcar Named Desire, The Kennedy Center
Mandy McElhinney, A Streetcar Named Desire, The Kennedy Center
*Robin McLeavy, A Streetcar Named Desire, The Kennedy Center
Tim Richards, A Streetcar Named Desire, The Kennedy Center
James Sugg, Hell Meets Henry Halfway, Woolly Mammoth Theatre Company
The Robert Prosky Award for Outstanding Lead Actor, Resident Play
*Stacy Keach, King Lear, Shakespeare Theatre Company
*Karl Miller, Angels in America: Millennium Approaches, Forum Theatre
Karl Miller, Angels in America: Perestroika, Forum Theatre
Cody Nickell, Arcadia, Folger Theatre
Seth Reichgott, Wittenberg, Rep Stage
The Canadian Embassy Award for Outstanding Ensemble, Resident Musical
The Civil War, Ford's Theatre
Cool Papa's Party, MetroStage Crowns, Arena Stage
*Rent, The Keegan Theatre
Show Boat, Signature Theatre
The Canadian Embassy Award for Outstanding Ensemble, Resident Play
*A Midsummer Night's Dream, Synetic Theater
Angels in America: Millennium Approaches, Forum Theatre
Angels in America: Perestroika, Forum Theatre
Antebellum, Woolly Mammoth Theatre Company
Disco Pigs, Solas Nua
Heroes, MetroStage
The Quality of Life, Arena Stage