Fox's Mike Darnell touts show's credentials as star-making machine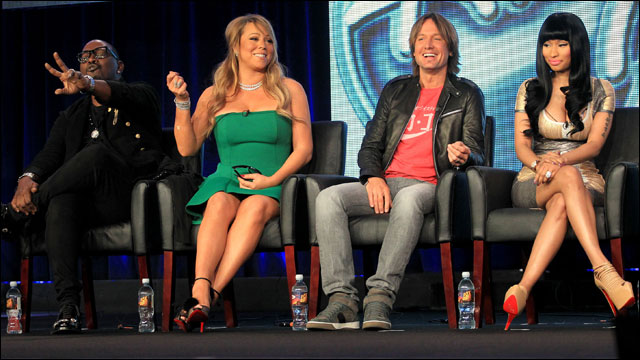 Above: Judges Randy Jackson, Mariah Carey, Keith Urban and Nicki Minaj of 'American Idol' speak onstage during the FOX portion of the 2013 Winter TCA Tour on Tuesday (Photo by Getty Images)
As "American Idol" heads into its 12th season next week, the draining effect of "viewer fatigue" from the proliferation of singing competition shows has become conventional wisdom in the biz.
But Mike Darnell, Fox's prexy of alternative programming, was quick to remind journos: "Yes, there are too many of these shows on the air and they're all taking each other down…but, this is still the king of the shows."
He has a point.
"Idol" is the only U.S. competition program to date to consistently launch contestants into bona fide showbiz careers, from seminal winner Kelly Clarkson to country celeb Carrie Underwood, to crossover thesp-singers such as Jennifer Hudson and Katharine McPhee. (In fairness, NBC's plucky rival "The Voice" hasn't been on the air long enough to determine whether its personalities enjoy lasting careers.)
So while many cite "Idol" as being on the downside of its record-setting run, "Idol's" rep as a star-making machine is still strong.
Speaking at Fox's TCA session in Pasadena on Tuesday, Darnell exuded characteristic confidence that "Idol's" ratings will rebound after declines last season thanks to its overhauled panel of judges, which includes newbies Keith Urban, Nicki Minaj and Mariah Carey.
Refreshing the judges' table has become standard operating procedure for reality shows when ratings wane. If the "Idol" TCA panel hinted at anything, the tension between the pairing of Minaj and Carey will grab viewers' attention. Reports of a growing feud between the two that heated up in the fall after they were confirmed as judges. On Tuesday, the two sniped back and forth — as if on cue — during the program's TCA panel.
Carey and Minaj disputed the suggestion that "Idol" is now a judge-centric show, asserting that their focus is still firmly on the aspirations of the contestants.
"It's a distraction from the show, and the contestants," said Carey of the highly-publicized drama between her and Minaj. "It shouldn't be about any of us up here. It should be about the contestants."
Minaj echoed that sentiment: "Every time we talk about the contestants, we have to field questions about (the tension)."
This earnest approach to judging is touted by most celebs occupying a seat at a judges' table, but at this point in "Idol's" run, there's no question that many viewers tune in during the first few weeks to check out the chemistry, if not the fireworks, among the judges. The thrill of watching a nobody transform into a star has lost some of its edge since "Idol's" debut on the TV landscape in 2002.
But Fox is still banking on the lure of that transformation to keep "Idol" at the top, or at least near the top, of the Nielsen rankings. Darnell is convinced that the storylines that surround the finalists is what gives "Idol" its inherent chops. "Idol" opens Jan. 16 and Jan. 17 with two-hour segs both nights.
"This is the only show that makes stars, period," Darnell said. "I think people will keep coming back to it."