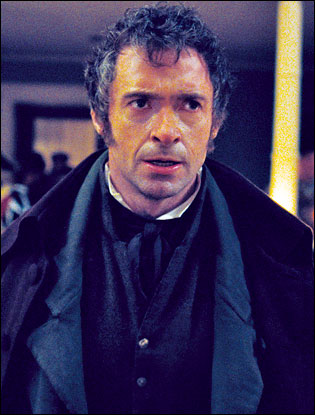 Why he'll win: In addition to the task of live singing and having a camera close enough at times to examine his facial pores, Jackman brings theatrical life to the fabled Jean Valjean. Hitting the right notes while expressing the perfect amount of empathy for Fantine, Cosette, Marius and, even, Javert, Jackman does more than anyone could've asked.
Best scene: Knowing that Marius would make Cosette's life complete, Valjean carries the injured revolutionary through the streets of Paris and into the sewers as well. It's just another moment where he risks his own self for the benefit of others.
Critic's quote: "He embodies this sinner-turned-saint with the requisite fire and gravitas. Whether he's comforting the dying Fantine or sweetly serenading the sleeping Cosette (in the moving 'Suddenly,' a song written expressly for the screen), Jackman projects a stirring warmth and nobility," says Justin Chang, Variety.
| HOME | Joaquin Phoenix >>