Eye on the Oscars 2013: Best Picture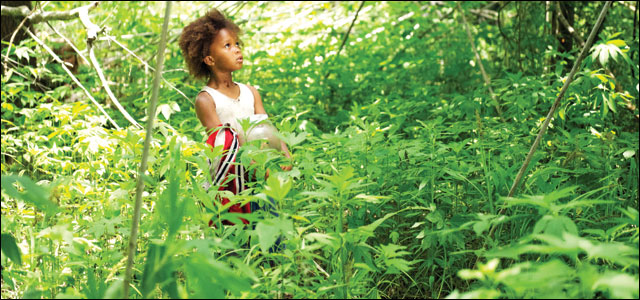 Michael Phillips of the Chicago Tribune declared "Beasts of the Southern Wild" one of the most divisive films of the year back in July. The film "has been critically anointed by some while declared shiny but overbearing by others," Phillips said.
While Phillips himself is part of the latter camp, Benh Zeitlin's debut feature clearly has plenty of backers.
Christy Lemire
of the Associated Press called it "an explosion of joy in the midst of startling squalor and one of the most visceral, original films to come along in a while." Miami Herald's Rene Rodriguez added that it's "dreamy and poetic, but also grounded in grit and swamp mud." In talking about the film, a feat of magical realism about a young girl coping with a devastating flood and an ailing, degenerate father in Southern Louisiana, critics have been as likely to comment on the astounding production of the film as they are its actual content. The movie, based on
Lucy Alibar
's play "Juicy and Delicious," was produced on a shoestring budget by a New Orleans film collective. While overall impressions are mixed, impressions of star Quvenzhane Wallis are uniform. Phillips called the Oscar-nommed thesp "a compelling force of nature" and
the Washington Post
's Ann Hornaday, another of the film's detractors, called her character Hushpuppy "one of the most memorable protagonists — and debut performances — to grace the big screen in a long time." She was 6 at the time the film started production. A running motif regarding long frozen prehistoric behemoths dislodging from polar icecaps and drifting down to wreak havoc on the Gulf Coast — the "beasts" after which the film is titled — opens "Beasts of the Southern Wild" up to its largest source of criticism. "Some of the magical realism imagery may seem too literal, too obvious, and may not work for everyone," Lemire noted. However, most critics accepted the metaphor as the little bit of magic children use to access some of the darker stuff of life at such a young age. Variety said: "An emotionally wrenching if somewhat meandering parable likely to register strongest among critics and cineastes." — Peter Debruge
Eye on the Oscars 2013: Best Picture
Are directors behind punishing run times? | The upset that wasn't an upset: 'Shakespeare in Love'
Critics praise, punch nominees
Pointed critiques accompany plaudits for the contenders, giving voters plenty to chew on
"Amour" | "Argo" | "Beasts of the Southern Wild" | "Django Unchained" | "Les Miserables" | "Life of Pi" | "Lincoln" | "Silver Linings Playbook" | "Zero Dark Thirty"