Eye on the Oscars 2013: Best Picture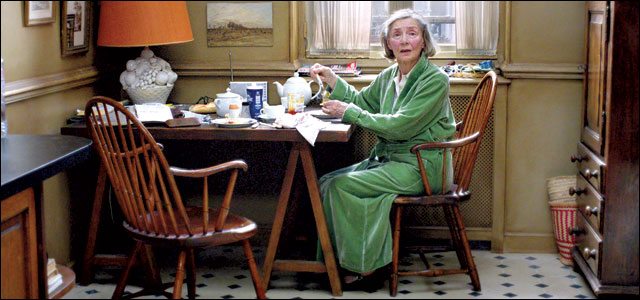 'Old age isn't for sissies, and neither is this film," Roger Ebert posited in his review of "Amour," riffing off of a Bette Davis quote that might well serve as the thesis for critical consensus around helmer Michael Haneke's unflinching portrayal of a couple's ponderous descent into decay.
The film introduces its audience to Georges and Anne well into their 80s, wearing what Ebert called "a sense that they had earned the right to be together" from their many years as a couple. After a pair of strokes, Anne is left paralyzed along her right side, forcing Georges to become a full-time caretaker and testing his patience as a lifelong partner.
The pair is played by an elderly Jean-Louis Trintignant, most famously of 1966's "A Man and a Woman," and Emmanuelle Riva, the love interest from 1959's "Hiroshima, mon amour."
"Roles as radiant figures from earlier in their careers add a poignant note to their work here," said Colin Covert of the Minneapolis Star Tribune. "Each actor draws on a lifetime's worth of experience, performing with grace and rare, uncompromising realism."
Praise for "Amour" divided almost equally between its two stars and Haneke, who is lauded for his deliberate pacing, delicate shot placement and subtext. Covert noted he has directed "one of the most moving, intelligent and thought-provoking studies of personal crisis since the era of Ingmar Bergman." Added USA Today's Claudia Puig: "Haneke doesn't sentimentalize serious illness."
Each compliment for Haneke ultimately ties back to his steadfast depiction of faltering health. As Ty Burr from the Boston Globe wrote, "There's a hard, hushed sanctity to the film that comes from the act of seeing, finally, without blinders on."
Variety said: "This poignantly acted, uncommonly tender two-hander makes a doubly powerful statement about man's capacity for dignity and sensitivity when confronted with the inevitable cruelty of nature." — Peter Debruge
Eye on the Oscars 2013: Best Picture
Are directors behind punishing run times? | The upset that wasn't an upset: 'Shakespeare in Love'
Critics praise, punch nominees
Pointed critiques accompany plaudits for the contenders, giving voters plenty to chew on
"Amour" | "Argo" | "Beasts of the Southern Wild" | "Django Unchained" | "Les Miserables" | "Life of Pi" | "Lincoln" | "Silver Linings Playbook" | "Zero Dark Thirty"