Shatner helps with hosting hurdles as show segues into Vegas-style revue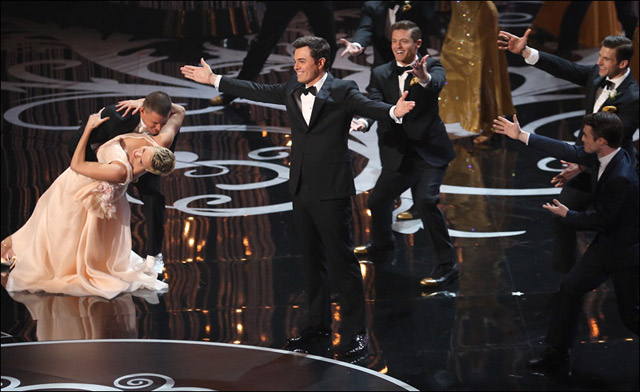 Like David Letterman, Jon Stewart and Chris Rock — all recruited to add to the Oscars' hipness quotient — Seth MacFarlane has relatively little to gain in trying to solve the telecast's age-old problem, which is to say, the old age of its audience. Still, it's hard to remember a more self-referential opening segment, much of it dwelling on whether the "Family Guy" producer — considered an unorthodox choice — was up to the task. The result was genial enough, but had a certain Vegas revue quality, and dragged on a whopping 17 minutes. By the end, one suspects many were thinking, "Beam me up, Scotty."
Although MacFarlane has a reputation for juvenile humor — and had raised some hackles at the nomination announcement — he possesses an obvious love for old Hollywood-style entertainment. Perhaps that's why most of the jokes hewed toward latenight talkshow territory, albeit with an insider bent — Ben Affleck being overlooked in the director bids, Meryl Streep's frequent nominations, the tumultuous Chris Brown-Rihanna relationship.
Somewhat cleverly, all the even-remotely questionable stuff was dispatched by having William Shatner show up as Captain Kirk, flashing back with the benefit of futuristic hindsight on how MacFarlane ruined the show. That allowed the host to do a song about actress nudity ("We Saw Your Boobs") and make out with Sally Field.
As for the dance number featuring stars like Channing Tatum and Daniel Radcliffe, it was sort of fun but probably played better in the room.
MacFarlane appears relaxed, but based on the opening and the night's music theme, he's not going to turn the Oscars into a Comedy Central roast or reinvent the wheel. Rather, they're going to be the Tonys — albeit for an audience about six times larger.