Former President says industry can help world educate children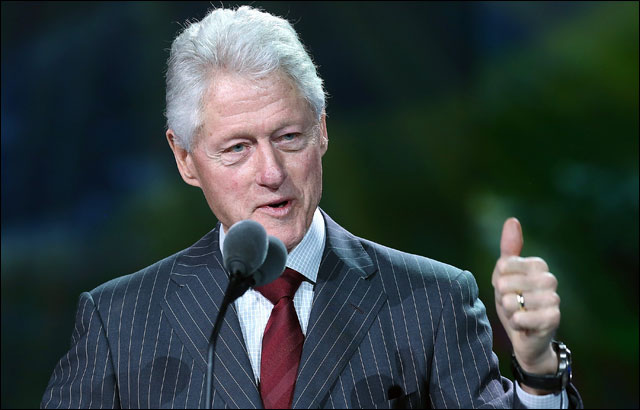 Above: Former President Bill Clinton speaks during a Samsung keynote address at the 2013 International CES in Las Vegas (Photo by Justin Sullivan/Getty)
In a surprise appearance at the Consumer Electronics Show, former president Bill Clinton called on the technology community to help bring the world together and address the world's challenges.
"The world has huge challenges which I think technology can help to overcome, that are not economic," said Clinton during his 20-minute speech in Las Vegas at the Venetian Conference Center.
Clinton appeared at the end of a Samsung keynote focusing on mobile devices and advanced components but also extending to the Samsung Hope for Children effort, which educates children in the developing world and partners with the Bill Clinton Foundation.
"I ask you to think about how all these devices can bridge the remaining divides in the world," he said."We don't have all the time in the world to do something serious about climate change. I think we can do it and make it good economics.
He noted that social media helped topple oligarchies in the Arab Spring, but "the messy real world still requires more than virtual interconnections to do political protests." He praised the State Department's use of social media (under his wife, Sec. of State Hillary Clinton) to raise awareness of global problems and to empower women and girls worldwide.
"The three biggest challenges the world faces are vast chasms of inequality and education, health care, access to capital, access to jobs that pay a decent living; instability on everything from the financial crisis to vulnerability to terror; and the looming crisis of climate change," Clinton said. "None of them can be solved unless we are committed to a positive vision, one of shared prosperity and shared responsibilities when we meet with our challenges, and a shared sense of community that embraces our diversity. And we're not there yet."
He recited a litany of conflicts and tragedies: the recent rape and death of a woman in Delhi; the shooting of young women's education activist Malala Yousafzai; the "denial of the legitimate aspirations of the Palestinians by some"; Tibet versus China; human trafficking; and "the raging debate we're about to have about the absolutely unjustifiable neglect of gun safety."
The mention of the gun debate was the only time in the speech Clinton was interrupted by applause.
He called the availability of high-capacity gun magazines "nuts" and said that in the U.S. these issues aren't addressed because the populace is divided, and has even sorted each other geographically so they don't have to live around people with differing views.
"And it is an example of the kind of divisions that threaten the modern world," He said. "Is our diversity going to be a source of division or strength? Will we look at each other as adversaries or opportunities? In this too, the virtual world offers us an opportunity to come together and have an honest conversation.