Women's Impact Report 2012
If 1992 was the year of the woman in American politics, a decade later, the 2011-12 season was its made-for-TV equivalent.
A burst of femme talent hit the smallscreen during the last primetime campaign, including a notable rise in the number of women serving as series creators and, most important on TV's power scale, as showrunners. The antics of Zooey Deschanel's lovable-loser in Fox's "New Girl" were guided by
Liz Meriwether
.
Emily Kapnek
brought teenage fish-out-of-water tales of "Suburgatory" to ABC.
Emily Spivey
birthed a laffer about new parents in NBC's "Up All Night."
Nahnatchka Khan
and Krysten Ritter became roomies in ABC's "Don't Trust the B in Apt. 23." Lena Dunham partnered with
Jenni Konner
to lift the veil on the life of twentysomething women in HBO's "Girls."
Whitney Cummings
earned the overachiever badge by creating and starring in her own NBC comedy, "Whitney," and co-creating (with "Sex and the City's" Michael Patrick King) CBS' raunchy hit "2 Broke Girls" (which broke new ground in the volume of references to "vagina.") And because that wasn't enough for one year, Cummings also landed a latenight show on E! There was action on the drama front as well with shows including CW's "Hart of Dixie," created and steered by Leila Gerstein. Cynthia Cidre was head wrangler for the very tricky job of reviving "Dallas" for TNT.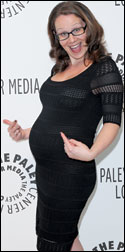 The femme feast has continued this fall with everything from Fox comedies "The Mindy Project" (created by and starring Mindy Kaling) and "Ben and Kate" (created by Dana Fox) to the CW's "
Emily Owens
, M.D." (Jennie Snyder Urman) to CBS' "Made in Jersey" (Dana Calvo). Why such a surge? Industry vets cite the high number of women in top exec posts at the major networks and studios as a factor in the growing number of series revolving around femme characters. That influence is compounded by the seemingly endless growth in the number of cablers now commissioning original scripted series — even Netflix and Hulu are joining the bandwagon. Behind the camera, the influx of first-time showrunners is attributed in large part to the natural meritocracy that generally governs the careers of TV scribes. After enough time logged in on the lower rungs of the writers' room, those with talent and a distinctive creative vision move up and eventually get a shot at their own development. (Unless you're Lena Dunham and catch fire with a DIY pic, "Tiny Furniture," at Sundance.) What's changed during the past 10-15 years is that more femme writers have logged their dues-paying time and now are stepping up to bat. On a proportional basis, the number of women serving in top TV producing posts is still modest when measured against the expanse of primetime series. Women comprised 25% of all exec producers on primetime series (though not all exec producers are showrunners) on the Big Four networks and CW in the 2011-12 season, according to the annual survey conducted by
Martha Lauzen
, exec director of the
Center for the Study of Women in Television and Film
at San Diego State U. But there is no denying the anecdotal evidence that a major generational transition is under way. As in other traditionally male-dominated industries, the ranks of women showrunners cannot help but continue to grow in the coming years. It's noteworthy that last season's brigade of femme laffers on the Big Four were all renewed for a second season. Other prominent women following in the footsteps of primetime dynamos like Tina Fey, Shonda Rhimes and "CSI's" Carol Mendelsohn include Betsy Beers ("Scandal"), Jenji Kohan ("Weeds"), Suzanne Martin ("Hot in Cleveland"), Julie Plec ("The Vampire Diaries"), Stephanie Savage ("Gossip Girl"), Veena Sud ("The Killing"), Janet Tamaro ("Rizzoli and Isles") and Pam Veasey ("CSI: New York"). The swelling ranks of femmes at the top has been keenly observed by seasoned female showrunners such as DeAnn Heline and Eileen Heisler, creators and exec producers of the ABC domestic laffer "The Middle." "The validation that more female-led shows are working makes networks less afraid of shows that are about the life of a woman," Heisler says. Heline notes that they've had trouble finding women writers for "Middle" in the past two years because so many experienced writers are developing their own shows. (And because the demand for comedy writers had been so weak until about two years ago, there's a dearth of scribes of both genders who are qualified for middle-rung posts.) Assuming the role of showrunner is challenging for any scribe because it demands CEO-style managerial skills in addition to being able to juggle a punishing schedule of writing, producing and post-production on each episode. For first-time female showrunners, the pressure to command the authority needed to lead a staff of 150-200 people, from thesps to grips, is intense. "A lot of times during the first season people would think I was someone from hair and makeup," says "Suburgatory's" Kapnek. "I'm not sure my presence was as commanding as it should have been. I'm comfortable in the writers' room, naturally, but when you get into the bigger physical aspects of production you've got to let everyone know what your role is," she says. "Now in the second season everyone knows who I am." "Hart of Dixie's" Gerstein frequently has to stand on a box when addressing her cast and crew in order to be heard. The job was jarring at first but she quickly settled into the role of the big boss. "I was just a writer at all the other shows I've worked on," Gerstein says. "Suddenly when you're a showrunner you have five jobs. Your responsibilities are increased by a factor of 10 and you wish you could clone yourself at work. There's a certain amount of it where you have to rise to the occasion. …(But) the management side wasn't hard for me. I'm a bossy person." To a woman, showrunners say the key to making the job work is assembling the right team and knowing when to delegate. But that's easier said than done, especially for first-time showrunners who have a tendency to micro-manage out of fear. "Just because you have the talent to write a great script doesn't mean you have the talent to manage people," says "Middle's" Heline. "I think women approach it differently than men. Sometimes you're like a mom, and you approach it like you'd deal with your family. You set clear expectations. It's hard because early on you think you want to please everybody. You have to constantly make hard decisions and that's difficult." Some have found that experience outside of the entertainment biz also can be helpful. "In college, I worked as a waitress in a deli during football (season)," says "New Girl's" Meriwether, who didn't have much TV experience when her show bowed last fall. "When people come in and are starving and drunk and want their sandwiches immediately, you learn how to balance the needs of the kitchen with the needs of the hungry. A lot of life lessons from that job helped me be a showrunner." Konner of "Girls" echoed Meriwether's sentiments. Waitressing helped her "learn a lot about prioritizing and trying to be realistic about time management and people management." Konner values that experience so much that she has "Girls" unit production manager Regina Heyman ask job applicants if they've ever waited tables. "It's a marketable skill," says Konner. Dunham credits her background in indie filmmaking when it comes to prepping for her life as a showrunner. "The world of low-budget (film) prepares you for the multitasking awareness you need to have," Dunham states. "The fact is, I was acting, directing, writing, running errands and answering the door — all the time. When you're the showrunner on a TV series, you're thinking: Are we staying on schedule? What about the happiness of the crew? How does it fit into the season as a whole? You need a multitasking brain that doing small film projects prepared me for." "Whitney's" Cummings cites her time on the standup circuit as a kind of "boot camp" that prepared her for bigger roles. "You write your material, tape it, record it, edit your set, rewrite it, all while doing things like going through airport security," Cummings says. "You're a one man show. By the time I started working on a TV show, working hard was second nature." As is the case for so many working women, one of the toughest aspects of being a showrunner is balancing a grueling schedule with, for some, the demands of being a wife and mother. There's no easy answers to finding the time other than determination, whether it be for turning in the final cut of an episode or making it to back to school night. "At the end of (last) season I re-introduced myself to my children," Kapnek quips. "It would probably be 20 times more fun to be a showrunner if I didn't have child waiting for me at home," Gerstein says. "I could spend time hanging out on set let myself enjoy the moments of what it means to have your own show."