Philanthropic initiative recognizes young stars' charitable activities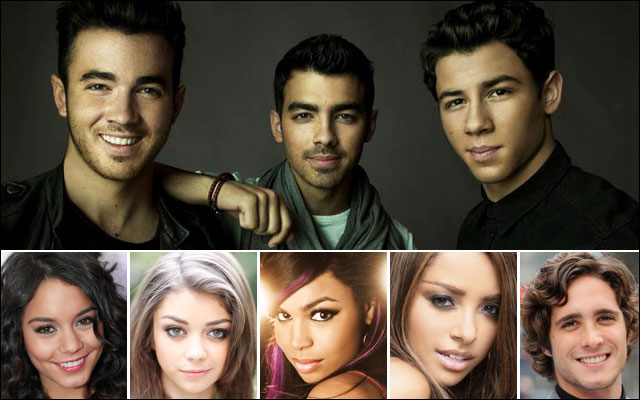 The
Jonas Brothers
, Vanessa Hudgens, "Modern Family" star
Sarah Hyland
, "American Idol" winner
Jordin Sparks
, "Vampire Diaries" thesp Kat Graham and "90210" and "Rock of Ages" trouper
Diego Boneta
have been selected as
honorees
at Variety's sixth annual
Power of Youth
event. The block party celebration, to be held on Paramount's Streets of New York set on Sept. 15, recognizes young entertainers and their charitable efforts with the Power of
Youth
Philanthropy award. "Six years into this incredible initiative, we continue to be amazed by the philanthropic leadership of Hollywood's young entertainers," said Brian Gott, publisher of Variety. "We're so proud to once again be shining a spotlight on their extraordinary work and dedication to their respective charities. The goal of all our 'Power of' events is to foster our community's generous spirit and to celebrate how the individuals within the entertainment industry can serve as powerful charitable ambassadors — encouraging their peers and fans around the globe to get involved, give back and make a difference." Each honoree has chosen a philanthropic organization to spotlight: Change for the Children Foundation ( Jonas Brothers); the George Lopez Foundation (Hyland); the Water Project (Graham); Make a Wish (Hudgens); Child Help (Sparks) and the Vannie E. Cook Jr. Children's Cancer & Hematology Clinic (Boneta). The cast of Cartoon Network's "
Level Up
" will host the event, which is presented by Cartoon Network and will include a musical perf by Graham. Variety's Power of Youth initiative encourages the next generation of entertainers to support philanthropic and humanitarian causes, using their stature to encourage their peers and fans do the same. Power of Youth supporters have included Miley Cyrus, Justin Bieber, Selena Gomez, Dakota Fanning, Darren Criss, Miranda Cosgrove,
Jesse McCartney
, Hayden Panettiere, Corbin Bleu, Hillary Duff, Shailene Woodley, Victoria Justice, Abigail Breslin, Hailee Steinfeld,
David Henrie
, AnnaLynne McCord, Keke Palmer, Lil Romeo, Jesse Eisenberg, Bow Wow and Angus T. Jones.
Stuart Snyder
, president/COO of Turner's young adults and kids media group added, "Cartoon Network is always looking for ways to support events that highlight the unselfish work being done by today's youth and those organizations that are making a difference."