Eye on the Oscars: Art Direction, Costume & Makeup
Three costume designers who made a difference on three very different films:
Mark Bridges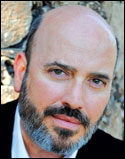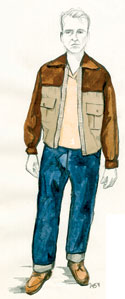 Even after 17 years,
costume designer
Mark Bridges still finds working with Paul Thomas Anderson "a new, fresh challenge." "The Master," their sixth movie together, is a parable on faith and religion set in the post-World War II world and across a range of geographic locations that "run the gamut of a Bakersfield farm, English pub, Navy men on leave, and Phoenix," says Bridges, whose sartorial designs reflect the financial and emotional ups and downs of the characters, in addition to complementing Anderson's adherence to the color palettes used in mid-century films. Bridges has maintained a high profile on the awards-contenders circuit. He won an Oscar last year for "The Artist." This year another film he worked on, "Silver Linings Playbook," helmed by another longtime collaborator, David O. Russell, is also in the awards conversation.
Sharen Davis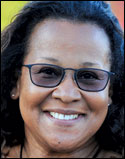 Initially shocked to get a call from Quentin Tarantino to work on "Django Unchained," a "spaghetti southern" set in the slave-owning American South, costume designer Sharen Davis quickly embraced the cult movie director's genre-twisting sensibility. "The roles are so big and the characters are so big, I could go ahead and make my costumes big," says Davis, adding that there is an intentional "voyage of color" throughout. Having designed mostly for realistic characters and stories, notably for "The Help" and "The Pursuit of Happyness," this science- fiction fan's work also appears in the time-traveling "Looper." "I really enjoyed the switch up," she says.
Eiko Ishioka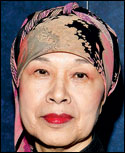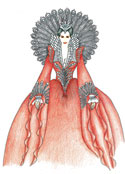 A joyful and light-hearted side of multi-talented costume designer and artist Eiko Ishioka, who died in January, is on display in the more than 300 costumes adorning the actors and extras of "Mirror Mirror,"
Tarsem Singh
's retelling of the Snow White fairy tale. A respected art director prior to entering the film world, Ishioka forsook her trademark sculptural and at times unforgiving avant-garde approach for an equally inventive, nature-inspired re-imagining of European period looks from the 16th through 19th centuries. Swans, peacocks and other birds inspired her whimsical creations, as did other types of flora and fauna. "She never pulled from fashion, or clothes. It was always completely from a different place, from architecture … from the bark of a tree to show you textures," says Singh. Ishioka was undergoing chemotherapy for pancreatic cancer while working on "Mirror Mirror" and never saw the final movie. The stage-like set, which Singh described as "Ivan the Terrible, Eisenstein movie meets gaudy architecture," served as a backdrop and tribute to Ishioka's wildly imaginative vision and was designed "very much with her sensibility in mind."
Eye on the Oscars: Art Direction, Costume & Makeup
All the film's a stage | Shopping meets showbiz at the Grove | Prosthetics shape up 'Cloud Atlas' | Re-creating the '50s on a budget | Masters of the craft