CIA operative planted fake info in trade as cover for hostages
photos/_storypics/argo_wide.jpg" vspace="0″ hspace="0″ align="center">
It's been a big week for Variety, landing a new owner and playing a small but pivotal role in "
Argo
," which opens today. Variety has been used in countless fictional pieces, from "Yankee Doodle Dandy" to "Singin' in the Rain," to "Entourage" and "The Simpsons." But the use in "Argo" is based on fact. One paragraph in Daily Variety on Jan. 15, 1980, and a full-page ad the following day, were parts of a plot by the CIA and the Canadian government to secure the freedom of six American embassy employees who were caught behind enemy lines in Iran. Were Variety staffers suckers in falling for the plot, or is it flattering that the CIA chose the paper to lend an air of credibility to a plan that would seem far-fetched and silly if it weren't true? Maybe both. Ben Affleck directs and stars in the film, playing Tony Mendez, a specialist in extracting personnel from hostile environments who was working with the CIA. Mendez came up with the idea of disguising the six hostages as a Canadian film
crew
in Iran who were scouting locations for a fake sci-fi movie titled "Argo." To lend credibility, they recruited
makeup artist
John Chambers (who did the makeup for the 1968 "Planet of the Apes") and other Hollywood personnel to set up a
production company
. Scenes of that company are filmed on the Burbank lot of Warner Bros., which is releasing the pic. Part of selling the fictional cover story involved planting seeds of key information in the media, and Variety published the following news brief in its Pix, People, Pickups roundup: "Studio Six Prods. has announced that sci-fi thriller, 'Argo,' will begin filming in March on various locations in Asia and Europe. Indie is keeping mum on any plot and cast details until just before pic is released." The blurb appeared inches away from a story about CBS News prexy Bill Leonard addressing the stormy news coverage of events in Iran.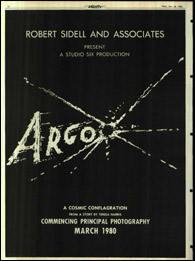 The following day, the faux
producers
of "Argo" took out a full-page ad in Daily Variety announcing the start of principal photography in March 1980. The production company, Studio Six, of course, took its name from the six Americans being held hostage in Tehran, while fictional scribe Teresa Harris was a nom de plume for embassy worker Cora Lijek, played by Clea DuVall in "Argo." The "Argo" mission was declassified in 1997 by President Clinton, which led to a 2007 Wired article by
Joshuah Bearman
that was later adapted by screenwriter Chris Terrio. Spoiler alert: The climax of Affleck's film finds the Iranian militia guarding the Tehran airport looking at a copy of Variety and phoning the fake production company to confirm the authenticity of the film. With a CIA operative posing as producer, the cover story holds and clears the way for the hostages' escape. The faux "Argo" never saw the light of day, but the story behind its inception was declassified in 1997, paving the way for the Affleck-directed backstory. It seems that neither Hollywood nor Washington can resist a good subterfuge plot.