Artists, companies feel squeeze but are too afraid to stand up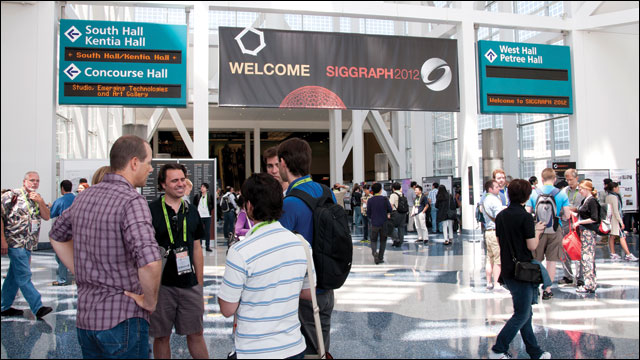 The
Siggraph
computer graphics conference earlier this month should have found the visual-effects biz on top of the world:
Visual effects
blockbusters and CG-animated family pics dominate the annual box office, and vfx have become the strongest marketing hook for the majors' biggest pictures. But beneath its justifiable pride, the business is full of fear. Everyone's feeling squeezed. Vfx companies say the major studios are shaving their margins down to nothing, but fear retaliation if they try to form a trade organization. Artists, who receive no health or retirement benefits, say salaries are falling though demand for their craft increases, but worry that vfx companies would retaliate if they try to unionize. Beneath it all, American artists and companies alike fear the visual-effects business itself may go extinct in the U.S. Those collective fears were reflected in a number of business developments over the past few weeks, including a no-press-allowed address to the Siggraph Business Symposium by Digital Domain CEO
John Textor
on Aug. 5. Textor told the gathering the future of the industry in the U.S. won't be decided by executives or even studios but by six to 10 powerful directors who can choose whether to work with artists and filmmakers in the U.S. — or with whoever turns in the lowest bid, wherever they may be. Textor, an avowed economic nationalist, told Variety: "It's time for the key filmmakers in our industry to decide how important it is for the vfx industry to thrive in the United States. We do what the filmmakers want. They drive the decisions." Textor challenged the CEOs of the visual-effects industry to overcome their own fear and stand up for their companies. "We need to have greater courage," Textor said he told those gathered. "We need to hold the industry accountable for how we're treated." Textor also told Variety every conversation he has with a studio executive starts with the exec telling him, "I'm not the guy who tries to put vfx companies out of business, but I need to get this movie made at this budget." Such talk irks Textor. "We're not here to finance their films," he said. "If you're not the guy who squeezes visual effects companies, then don't squeeze visual effects companies." That sentiment led to a surprise announcement in Textor's speech: His pledge that Digital Domain will put up $100,000 to support a visual effects trade association — if DD's competitors will step up and do the same. There has long been talk of both a vfx trade association for companies and a union or guild for its artists, but neither has gained much traction to date. The most recent push for a trade association came from a blog post by Digital Domain founder and former topper
Scott Ross
, who is no longer associated with the company. Ross and Textor are not close, but Textor read Ross' post and agreed that Ross had a good idea. Ross told Variety: "While there may be a lot of people who can do wire removal, there are only seven to 10 vfx houses that can do the kind of effects that put butts in seats. Without those effects you don't have a blockbuster, event film." A trade association wouldn't be able to set prices, but it could let companies share info about their capacity, so they're not bidding against each other for work they will end up having to subcontract out anyway.
Skeptical cohorts
Many artists are skeptical of Textor's push because of his efforts to use free or inexpensive student labor for vfx work and because of the financial rumors that swirl around the company. Textor concedes the industry could do a better job taking care of its artists, and said he thinks a trade association would help. "Individuals have unique needs," he said. "Frankly, I think companies can be in much better positions to take care of those needs if they come from strong companies. Healthy employees come from healthy companies." But Steve Kaplan, an organizer for the Animation Guild and a former vfx artist himself, isn't so sure the vfx houses would pass along whatever gains they're able to make through a trade organization. "This sounds a little like trickle-down economics to me," Kaplan said. "Employers have to be held legally accountable for how they treat their employees, and that's where the power of a union comes in, because we can negotiate these contracts, set minimums for pay, set up pensions and health care and then take action if employers don't follow through." Ross told Variety on Aug. 8: "The steering committee (of the trade association) has already formed, but they don't want to come forward because they are afraid of retaliation. But I can come forward because I am no longer in the business." The next day, he announced he had emailed the top 15 visual effects houses with his trade association proposal. As of Aug. 21, he said, he'd received six responses, all positive. As for artists'
unionization
efforts, IATSE and the
IBEW
announced efforts to organize the vfx industry in November 2010, but public progress has been slow. Though there's been a lot of Web chatter from vfx artists about the benefits a union might provide, many of those tweets, posts and blogs are anonymous. Some of those artists told Variety they're remaining anonymous because they fear repercussions of being visible in the discussion. "With so many jobs going offshore, you don't want to do anything that might result in you getting passed over for a job," said one vfx artist who asked to remain unidentified. "It's the same reason you don't usually question the amount they offer to pay you for a job." This vfx artist said wages have declined over the past decade. Another veteran vfx artist, Steven Rogers, concurred: "Wages have gone down as much as 40%, based on my top pay during my time in the business, and on average they're down about 20% from what they were."
Negotiating in the dark
Vfx pros often have no idea what other vfx artists of similar background and experience are making. With no union to establish minimums and no agents to negotiate for them, each flies blind in salary negotiations. The union push isn't limited to the U.S. A group of anonymous artists calling itself SpiUnion is trying to organize Sony Pictures Imageworks in Vancouver. Their report: "Lots of fear, jobs are tenuous, no one wants risk." A Vancouver-based vfx artist who asked not to be identified said artists moving there are being told upfront that salaries are lower there. This artist said while some are hired at higher rates, they're usually for "9-1-1" emergency calls, where they're asked to work long hours to save the show. "And those jobs and salaries are gone as soon as the show wraps. … Hardly anyone pulls that kind of cash on a regular basis." Rogers added, "Honestly, I wouldn't mind if wages were less as long as we had health care and a pension, but we don't have either." Without such benefits, it's difficult for vfx artists to stay in the business — unless they're willing to do without health insurance and forego saving for retirement. Kaplan says he is familiar with the problem. "These artists are often 24-year-olds who think they're invincible, so they're not asking for a pension or health insurance and they don't realize when they turn 30 that things might change and they might actually need to see a doctor," Kaplan said. "I could not have started a family or bought my house as a freelancer, and most of the people in this business will have to leave if they ever want to do those things." IATSE rep Vanessa Holtgrewe encountered apprehension about organizing efforts. "We came to Siggraph to meet people face to face so they know we're here," Holtgrewe said. "And I do think that vfx artists can overcome the obstacles for unionization because other film and TV people did it, but this really is a period of great change in this industry, and I think there is definitely some fear out there." Rogers believes co
llective bargaining would address that fear. "There are plenty of people willing to starve and kill themselves for these jobs," Rogers said. "But a union would prevent companies from exploiting that desperation and set a minimum standard for what someone gets paid."
(Katherine Brodsky in Vancouver contributed to this report.)