Big names more comfortable committing to unscripted TV
As NBC recruited coaches for its new singing competition reality show "The Voice," exec veep of alternative programming Paul Telegdy was aiming high.
"Cee Lo (Green) had the No. 1 record on the planet when we were casting," he says. "That's the barometer of relevance that we were targeting." "The Voice" succeeded in bringing in some big guns: not only Green, but Christina Aguilera, Adam Levine and Blake Shelton as well. When it premiered in April, the show gave NBC its biggest launch in years, earning a 5.1 rating/13 share in the 18-49 demo.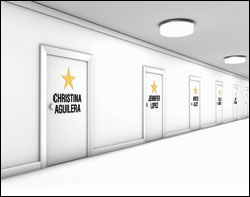 Big names mean big numbers, and the good news for a TV world that is chasing ratings as furiously as ever is that major celebrities are no longer afraid of
reality competition
shows. In fact, they're embracing them. Fox has overcome the loss of Simon Cowell on season 10 of "American Idol," finding success with new judges Jennifer Lopez and Steven Tyler. On ABC, season 12 of "Dancing With the Stars" premiered in March and steadily produced the show's highest ratings ever. "The last few seasons, we've been getting people we'd been asking for five years," says "Dancing" exec producer
Conrad Green
. "That stigma of shame with reality competition shows is gone. They see we're not 'Fear Factor': We don't humiliate our contestants, and that it can be beneficial for careers. "There are very few nationally unifying, water-cooler events anymore. But millions of people are watching these competition shows. It really helps people re-engage and grow their audiences." Lopez and Tyler have proven as much. Both have graced the cover of "People" magazine since the season premiere of "Idol," Lopez has an endorsement deal with Gillette's Venus razor and boasts a hit record with "On the Floor," and Tyler is promoting his new memoir.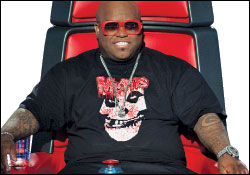 Carson Daly, host of "The Voice," says his show has been "a great tool" for Aguilera, who was officially announced as a coach March 2. Only the day before, the singer was arrested in West Hollywood for public intoxication. "The average person had this view of her through gossip," Daly says. "The reality format offers a looking glass into who these people are." Bret Michaels, a reality TV veteran thanks to NBC's "Nashville Star" and "
The Celebrity Apprentice
" and VH1's "Rock of Love," affirms the potential for huge reward. "I know my music isn't going to get massive play anymore," he says. "But shows like 'Apprentice' allow celebrities to continue their careers and add to their fan base, because it goes into everybody's living room if the show is successful. You can reach new demographics." But competition shows can be a double-edged sword for the famous, notes Michaels, who won "Celebrity Apprentice" in 2010. "When you sign up to do these shows, you better know what you're signing up for," he says. "If you have a meltdown — and I had one on 'Apprentice' — it's there for all to see. Reality TV is an absolute risk." Daly cautions that "reality is controlled in post-production," after the cameras are off. "If you ask kids from 'The Real World' about the show," notes Daly, "they say, 'Holy shit.' They add mood music, freeze frames, and things get made into a bigger deal than they are. So you have to be careful with which program you sign up for." BBC Worldwide Prods. programming and production executive VP Jane Tranter says the famous can't head into these shows solely hoping to revitalize their careers. "If you're doing it just for exposure, it won't work," she says. "Our audience sees through that. You have to be willing to open yourself up. "The relationship between the audience and celebrity competitors is more complex than other
reality shows
because the audience had a previous awareness of who these people are." Adds Knoxville News Sentinel TV critic Terry Morrow: "People like Kirstie Alley (on 'Dancing With the Stars') because she comes across as sincere," he says. "This show has given her a shot at having a career again. It did for Cloris Leachman; she made a splash on that show, and before you know it she's on 'Raising Hope.' The show reminded audiences why they loved her." And when stars are willing to be honest is when the magic happens. "The possibility of transformation, or the reveal — that who these people are is a surprise — is what everyone in TV loves," Tranter says. Kathy Griffin, who appeared on ABC's "Celebrity Mole: Hawaii" in 2003 before getting her own show, "My Life on the D-List," on Bravo, has plenty of advice for entertainers considering reality. "Good TV is good TV: You can do reality shows well or narrative shows that are terrible," she says. "And in reality, you will look as raw as you ever have on your most raw day. Look at Meatloaf — I didn't need to be afraid of him, but thanks to 'The Celebrity Apprentice,' I am."
ROAD TO THE EMMYS: REALITY COMPETITION
Stars embrace reality competition shows | Competition series wrestle with change | Treated like equals on reality TV | Social media draws live auds to reality shows | Why we watch | Playing the reality-competition field