Appeal is indisputable, but execution requires careful treatment
With sports and their stars earning unprecedented sums to wow us with amazing on-field performances, the big question nowadays is how to translate that excitement into other forms of entertainment and media.
The games we watch are already television's biggest hitter. NBC's regular season telecasts of the NFL's "Sunday Night Football" delivered higher ratings than almost any other broadcast series last season, and ESPN's "Monday Night Football" performed similarly on cable. In June, NBC retained the rights to four future Olympics Games for a staggering $4.38 billion. Building on that success, Jeff Jenkins, who is the exec producer of "Khloe & Lamar," which focuses on the marriage of Khloe Kardashian and Los Angeles Lakers forward Lamar Odom, believes the reality genre is poised for increased athlete involvement.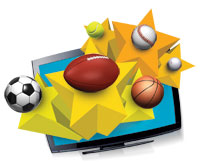 "I think this is only the beginning," he says, adding that "Khloe & Lamar" proves "it is safe to come play in the reality television world because it can add to what you're doing. "A lot of athletes fear that they can be thrown under the bus, but that's not what we do. We may show a dark side or a conflict, but we work hard to tell a well-rounded story." Indeed, along with Odom's series, ABC's popular "Dancing With the Stars" has been a strong vehicle for numerous sports personalities with athletes winning six of the season's 12 contests. On HBO, the documentary skein "Hard Knocks" has helped elevate the personas of those in the sporting world, such as New York Jets coach Rex Ryan. Nevertheless, Wasserman Media Group chairman Casey Wasserman, whose conglom represents numerous top players from professional leagues, isn't convinced that players in front of the camera are going to prove the type of boon that Jenkins suggests. "There is no question that athletes continue to move up the value chain in the world of media, but as valuable as sports are, you'd be hard pressed to find more than a small handful of (entertainment) projects that can be built on the backs of the athletes," Wasserman says. Wasserman says sports are such a ratings winner because they are the ultimate reality television. As a result, centering other entertainment programming on sports would feel relatively flat. "Sports have high drama and an unpredictable ending," he says. "That's what makes sports sports, and it is why there hasn't been a lot of reality television based on sports. There isn't an 'American Idol' to be a player in the NFL, because if you have the skill it's already identified." At the same time, Wasserman sees the uptick in player stature as an opening for another area: social media and e-commerce. Because players have been savvy with their use of online tools such as Twitter and have built-in local audiences, they are very well-placed to leverage those networks. "Athletes are in a position to take advantage of that commercially," Wasserman says. "They have a home team … and they already have fans who want to buy their jersey. What if athletes could have their own branded shoes that they could sell directly? (Social media) is a great channel. Those conversations are and will happen." Taking a broader look at this question, Peter Guber, Mandalay Entertainment CEO and co-exec chairman of the NBA's Golden State Warriors, suggests the answer is more holistic. It requires looking broadly at why sports succeed and then adapting those practices elsewhere in the entertainment world. For example, Guber believes areas where sports get it right, like delivering information to fans quickly or emphasizing crowd participation at games, should be considered in other entertainment ventures and tailored to that experience. "There are silos of entertainment that we grew up with — movies, theater, radio, TV — and there is sport entertainment," he says. "What you realize is the same audience watches all with different values. If you can learn what is the most engaging part … you're more likely to create an energy that is tremendously compelling."