Once again Emmy voters left off the previous year's reality series winner from the current crop of nominees.
It seems a second helping of 2010 winner "Jamie Oliver's Food Revolution," which decidedly fizzled with viewers, wasn't part of this year's Emmy menu plan.
Even 2009 winner "Intervention" failed to earn another return trip, although A&E's illness-related series "Hoarders" made good on its increasing popularity with a first nom. Left out was History's top-viewed and infinitely peppier look at collectors, "American Pickers."
While the resurgent History didn't make an impression on voters here, Discovery had a strong showing with noms: "Hoarders" and "Mythbusters."
"Hoarders" is joined in the debut circle by the cabler's ratings stalwart "Deadliest Catch," which made headlines in its sixth season for its unvarnished depiction of a popular cast member's tragic passing. Two other series set in the wilds of America's largest state had a harder time making an impression, however: Discovery's "Gold Rush: Alaska," and TLC's much-ballyhooed "Sarah Palin's Alaska."
Regulars make up the rest of the bunch, including a ninth nomination for PBS mainstay "Antiques Roadshow," a sixth (and final chance) go-round for two-time winner "Kathy Griffin: My Life on the D-List," a third for fun-with-science show "Mythbusters," and a second at-bat for CBS' primetime hit Sunday night "Undercover Boss."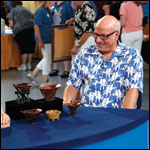 "Antiques Roadshow"
PBS
Why it might win: Long a staple in this category but always coming up short, this popular 15-seasons-strong PBS series could finally see some love for being so patient, not unlike one of the show's attic curios seeing the light of day as suddenly prized possessions.
Maybe not: There's undeniable creakiness to the format and the subject matter, which might make it hard for Emmy voters to recognize it in a category known for outrageous personalities and shockable moments.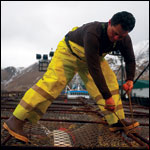 "Deadliest Catch"
Discovery
Why it might win: A trend-setting ratings smash that only continues to grow, this you-are-there portrait of Alaskan king crab fishermen earned plenty of respect for its handling of the death of one of its most beloved subjects.
Maybe not: The distinctly rough-hewn, profane and treacherous nature of the men's lives could make it a tough sell for more delicate Emmy-voting sensibilities.
"Hoarders"
A&E
Why it might win: A&E's ratings hit is a canny combo of heartbreaking family drama and psychological train-wreck parade, and its cult status shouldn't be undervalued. Like its own shame-filled participants, there are probably lots of secret "Hoarders" watchers among Academy members. Also, A&E's similar "Intervention" won this two years ago.
Maybe not: Its categorically unsettling subject matter and depictions of humanity at its most self-destructive might be too much for voters.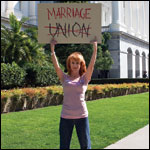 "Kathy Griffin: My Life on the D-List"
Bravo
Why it might win: Outside the show's established comedy bonafides, the red-haired comedian's political side saw her venture to Sarah Palin land and to Washington, D.C., to fight for gays in the military, which could appeal to liberal-minded Emmy voters. Also, a final-season Emmy win could make for a fitting send-off.
Maybe not: Will A&E's tongue-in-cheek for your consideration ad for "Hoarders" — using Griffin's own laudatory comments — ultimately undercut the popular funnywoman's third-time chances?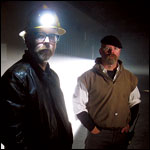 "Mythbusters"
Discovery
Why it might win: There's undeniable charm in a couple of science-minded geeks fusing pop-culture legends and what-if experimentation, and its steady appearance in this category could finally spell victory for hosts Jamie Hyneman and Adam Savage.
Maybe not: The resolute un-seriousness of the show might keep it an also-ran with Emmy voters looking for a little more dramatic heft.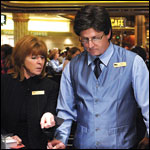 "Undercover Boss"
CBS
Why it might win: A rock-solid ratings hit for CBS, this slick, warm-hearted vision of management and workers in corporate harmony (after a bigwig pretends to be an underling) may resonate in an economically stressed time.
Maybe not: The show's gimmicky predictability could turn off Emmy voters who see nothing more than an hourlong infomercial for various businesses.
ROAD TO THE EMMYS: REALITY, NON-FICTION & COMPETITION
Nonfiction series, specials have H'wood aura
Series | Competition series | Non-fiction series | Non-fiction special|