Fest Traveler: Montreal World Film Festival
At the ripe young age of 35, the Montreal World Film Festival is way beyond its exuberant youth, adolescent angst is but a distant memory and the midlife crisis is still a good decade off. So where is the Canuck fest's head at?
photos/_specials_arts/montreal_highlights150.jpg" vspace="3″ hspace="3″ align="left">

Well it's fair to say that it's right smack in the midst of an identity crisis. Since it made its bow back in 1977 — with an impressive inaugural guest list that included Ingrid Bergman, Howard Hawks and Jean-Luc Godard — the Montreal fest has had its ups-and-downs. In the early days, it was arguably Canada's leading film showcase, but in the years since, the Toronto Intl. Film Festival has handily surged past Montreal to become not only Canada's top sprocket opera but also one of the world's most important film fests. But as it preps to celebrate its 35th birthday, it's clear the Montreal World Film Festival is still trying to find its place on the global stage. This year, the fest moved its dates forward a couple weeks to avoid overlapping with Venice, which continues to snare the A-list pics for its competition while Montreal has to make do with lesser-known helmers' films for its World Competition. Still, Montreal maintains some international profile, particularly when it comes to French-language fare. Looking at the 2011 edition, which runs Aug. 18 to 28, much of the star power comes from France and French Canada. The best example of the Montreal fest's Gallic flair is the fact the event has managed to snare the North American premiere of "The Artist," the made-in-France, black-and-white silent film that earned star Jean Dujardin the actor prize at Cannes this year. Adding to the French flavor, iconic actress Catherine Deneuve will be on hand to receive a lifetime achievement award; helmer Claude Lelouch will give a master class and screen his latest pic, "What Love Will Bring"; and writer-director Bertrand Tavernier returns to present some of his favorite films, including what he considers to be forgotten French classics and lesser-known American film noirs. In addition, thesp Vincent Perez will be at the Montreal festival for the screening of his latest pic, "A Butterfly Kiss," directed by his wife, Karine Silla.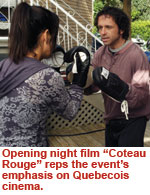 As has been the case for the most part in recent events, the festival will kickoff with the world premiere of a Quebecois film. This year the honor goes to Montreal helmer Andre Forcier's "Coteau Rouge," a drama about a family on Montreal's South Shore. Though Toronto nabs the Hollywood premieres and attracts the U.S. acquisitions activity, Montreal serves as a very useful local launch-pad for homegrown French-language movies. The Forcier film is part of the World Competition, amongst 19 other features and 11 shorts from 19 countries. As usual with the competition, the selection is short on name auteurs and has little U.S. presence. The only U.S. pic in competition this year is first-time feature helmer Joel Fendelman's "David," the story of a Muslim boy in Brooklyn.