Oscar's final five on the ideas and feelings that drive their films
"The Fighter" – Family
David O. Russell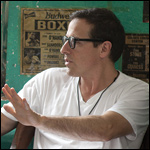 What resonated to me about the family is its humility. They are down-to-earth people — what you see is what you get — yet there are so many different passionate personalities and they never give up on each other, even through the really bad times when they may be heartbroken or furious or feel like it's all just too hard. This is the heart and soul of my own family, especially the extended one spreading out into the working-class boroughs of New York. I don't like pretense — and there is nothing pretentious about these people — their emotions and their flaws and their loves and their hates are all right there to see and feel. The last shall be first and the first shall be last — meaning at any moment the one that seems to be "important" or on top can become the humbled one, and the "loser" or the one you counted out can become the one who shines. No one can lord it over anyone else. And at the heart of it is a core of determination and toughness that stands up to whatever life dishes out, without complaint. Each character finds their way to a place of gratitude — and somehow what seemed to suck can be turned into a gift that inspires. And all of it with that one-of-a-kind, I-can't-believe-who-these-people-are world — a world that is as hilarious and alive as it can be heartbreaking and inspiring. It's really, really alive, and really, really passionate and I fell in love with it.
"The King's Speech" – Friendship
Tom Hooper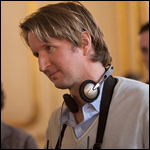 We live in quite selfish times in which looking into yourself to become a better person has become fashionable, which is unfortunate because it's in collaboration with others that you move beyond who you are and find your voice. That's what happened to King George VI in this film. It's only by reaching out to someone else that he's able to find his voice.
In many ways this is also the process of being a director. You can't tell a story by yourself. It's only through a great collaboration with others that your story comes alive. You have to be receptive to their ideas and willing to hear what they say, even if it conflicts with what you think. It's only through opening yourself up to what others have to contribute, what others have to say, that you find your own voice.
This story also mirrors the process of what it's like for a director to get a performance from an actor in many ways. You find your voice as a director as you are helping the actor find his or her voice in the film. And the friendship that develops in this process becomes a key part of what you're doing. You have to make actors feel safe in exploring their characters, and a friendship and a trust often develops in the course of doing this work.
The friendships that develop in the process of getting a performance are often very deep because you know each other quite well after going on this journey together. They become the kinds of friendships that endure for years because you've come through something together and come out on the other end having accomplished something quite special.
"Black Swan" – Perfection
Darren Aronofsky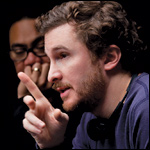 In art there is the idea of perfection. There's the idea that it exists and that it can be measured. In architecture it's something that can be measured. In Greek architecture there's the idea of the perfect proportions of the Ionic column. And there was a time when I believed in the idea of the perfect film. I was even a little obsessed with that idea early in my career. It's definitely there in "Pi," the idea of numeric perfection. But that's not something I believe in now.
I've learned by working with actors, who are these amazing organic, unpredictable beings and not mechanical in any way, that you have to open yourself up to the chaos of creating something to really find a great performance. Each time you do a take, an actor will do something in a slightly different way; they'll find something different in the material. You need to be open to that chaos to find what's unpredictable and magical in the material.
These last two films — "The Wrestler" and "Black Swan" — have really been my homage to actors. Both main characters in these films have been obsessed with a kind of perfection in their art, and they both find themselves coming to an end to that search in a similar way. I've learned a lot from actors about opening yourself up to the kind of discoveries that can only happen when you've accepted the chaos of their artistic process and the chaos of your own process.
"True Grit" – Self-determination
Joel and Ethan Coen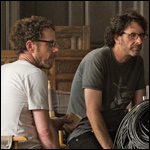 Joel Coen: She's this 14-year-old girl and she's the toughest, baddest character among a whole group of men who are tough and bad. There's really not a lot that can stop her because she's so focused on her quest for revenge. In a way, she shows them what it means to be tough, and that makes it strangely humorous when it's coming from what looks like on the outside to be just a young girl. And Hailee (Steinfeld) did a tremendous job with that part. We liked the idea of this journey to get vengeance and kill someone comes from an unpredictable, unfamiliar source. It's part of what makes it good dramatic fodder.
Ethan Coen: I think it's also her lack of fear that makes it humorous. Each one of the men is scared or run down or broken in some way, but she's relentless and willing to go as far as she has to go to get what she wants. She never wavers. She's the most determined character in the story. She's the toughest character in the story. She's the character that starts the process that causes the violence. And she has the innocent face of a young girl.
"The Social Network" – Motivation
Editors Angus Wall and Kirk Baxter, who have also been nominated for an Oscar this year, spoke about David Fincher's handling of the theme of motivation.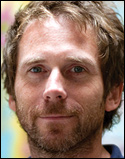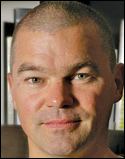 Wall: These characters are all really very young and experiencing an amazing kind of success for the first time in their lives. In some ways they've forgotten to look around them and see what else is happening. I think there's also ambition and motivation between the characters, in their relationships. The Sean Parker character is motivated to befriend (Mark) Zuckerberg, and their ambitions are part of what lead to Eduardo (Saverin) being pushed out of the business and of having a friendship with Zuckerberg. All of that was right there in the script.
Baxter: Eduardo really becomes the jilted lover in a way. He's the one who says, "But we were friends!" He can't believe that Zuckerberg would do this to him. Later on the Zuckerberg character starts to treat the Parker character the same way he treated Eduardo.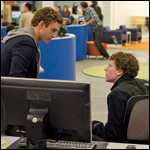 Zuckerberg's ambition is really about making Facebook what it has become. He's not there to join in the celebrations. There's a scene where everyone is celebrating in the house and opening champagne because Facebook has become so successful. Zuckerberg isn't in the house with them. He's outside watching them celebrate. He's an outsider even in his own success.