As Outfest rolls into Los Angeles, bringing 163 feature films and 96 shorts to the org's 29th annual gay and lesbian film festival, things are looking more star-studded than usual.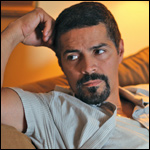 The opening- and closing-night pics, "Gun Hill Road" and "The Perfect Family," respectively feature Esai Morales and Judy Reyes, and Kathleen Turner, Richard Chamberlain, Emily Deschanel and Jason Ritter. That opener will also serve to honor popular filmmakers Fenton Bailey and Randy Barbato ("The Eyes of Tammy Faye").
The star fest continues with Dolly Parton, Chloe Sevigny, Jennifer Coolidge, Julia Ormond and Carol Channing, all of whom appear in features or docus.
It's also a year, says fest exec director Kirsten Shaffer, that has "a lot of return filmmakers. Filmmakers are finding the resources to continue to make films, and they are continuing to choose to make stories that address the LGBT community."
Like Madeleine Olnek, who has had three shorts in competition over the years. She brings her first feature film, the black-and-white comedy "Codependent Lesbian Space Alien Seeks Same," to the fest on July 16.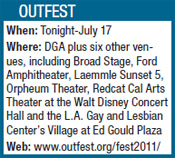 Olnek, whose movie showed to great acclaim at Sundance in winter, is particularly fond of Outfest, because "you are not going to have an audience responding to the novelty of the homosexuality of the character," she says. "Everyone has already 'been there, done that,' so now tell me something compelling on humanistic terms, give me a really meaty story."
Other returning filmmakers include Andrew Haigh ("Weekend"), Eldar Rapaport ("August"), J.C. Calciano ("eCupid") and at least 10 other helmers.
One of the other pleasures of heading up Outfest, Shaffer says, is "showing films that seem radical one year, and then five years later, you're seeing the same themes on television. I remember a movie in the mid-1990s called 'Late Bloomers,' about lesbian moms. That was way before you were seeing that on television. So we're breaking in the audiences."
Persuading straight movie fans to come to Outfest is not quite as easy, and remains "a goal of our 30th anniversary," Shaffer says.